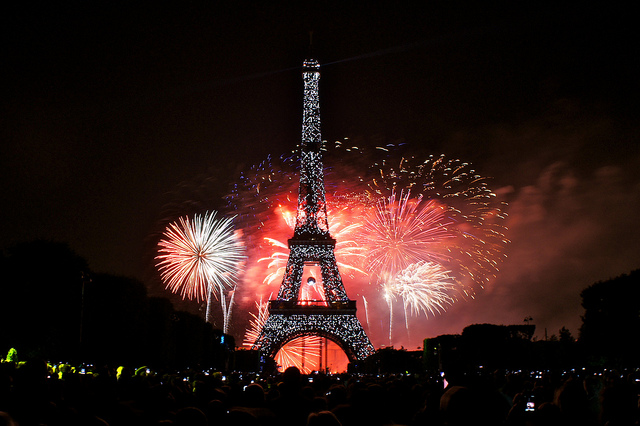 Happy Bastille Day! Lauryn gave some great dining options to properly celebrate this national French holiday in her post the other day. However, if you can't be in Paris to see the fireworks, and are more inclined to stay home and enjoy Steak au Poivre with a Right Bank Bordeaux watching Midnight in Paris, or a steaming bowl of Moules Frites while sipping Provencal Rose with an Audrey Hepburn Paris film marathon…I love Charade…head over to Sigel's Fine Wine and Spirits today as they celebrate Bastille Day with a 20% off sale of all French wine including every region from Provence to Bordeaux to Burgundy and Champagne to Loire and Alsace. Over 1000 wines are on sale at all of the Sigel's locations throughout the city.  The sale runs through July 19.
If you are more inclined to enjoy libations from our own great state (that some think is a country in and of itself….we are bigger than France) head over to Goody-Goody as they celebrate all things Texan with a massive sale on all Texas wines, beers and spirits.  Texas wines are continuing to get more and more recognition, with some of my favorites like Duchman, McPhearson Cellars and Pedernales making some of the best in the state. However, in addition to our wines, Texas distilleries and breweries are popping up in every community throughout the state, like Herman-Marshall, JEM Beverage, Four Corners Brewery and Lakewood Brewers right here in Dallas.  Today through Friday almost 500 Texas made products will be on sale at all Goody-Goody stores.
I am traveling to France today for an in-depth look at the wines of Loire, as guest of the wineries of the region, focusing on the whites of Sancerre, Quincy and Vouvray.  Stay tuned for tips on some of the best from the region, ideal for summertime enjoyment.