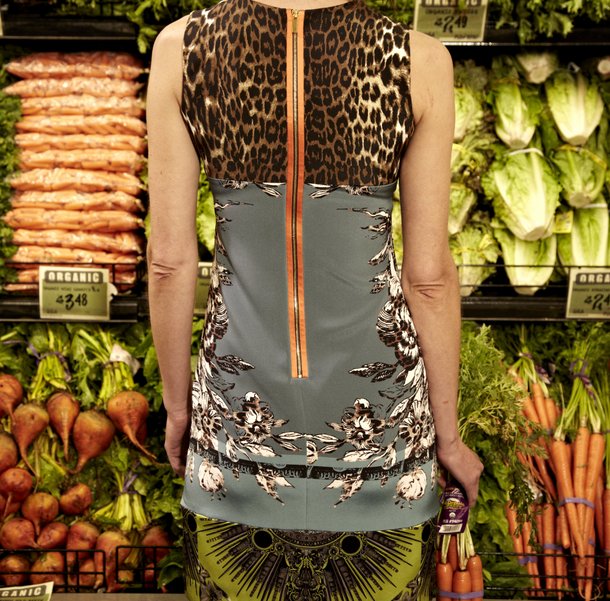 By Dawn Marie Mellon
The way we dress is important. As I wrote last week, the way we look on the outside is one of the most powerful ways we have of expressing who we are on the inside. It has the ability to affect how people react to us; often tells people how we regard them; and, plays a significant role in how we feel about ourselves.
After reading Joslyn's confession about the expectations she has of her wardrobe, I was on a mission to fulfill her wish to find "… dresses that make my bum look smaller, my IQ higher, and take me from school drop to power meeting to after-work party, without missing a beat." After exhausting all my resources, I came to the conclusion that the only garment and accessories capable of meeting all her requirements are Wonder Woman's red-white-and-blue, star-spangled get-up, complete with her Indestructible Bracelets of Submission and her razor-sharp, jewel-encrusted gold tiara.
Before Joslyn or anyone else resorts to Lynda Carter's signature look, however, I think I can help with one request – a smaller-looking bum. It all begins with knowing your body type and understanding how to draw attention to your best features while, simultaneously, drawing attention away from the more challenging areas of your figure.
For example, if you are well-endowed, the most flattering necklines are those that are open, such as V-necks or sweetheart necklines. Choose wrap-style tops and dresses in solids or simple patterns. Fitted jackets will draw attention away from your bust and to your waist.
On the other hand, if you've been sporting a padded, push-up bra your whole life, try drawing people's eyes toward your face with higher necklines such as turtlenecks. Halter-style tops and blouses with cut-away sleeves give the illusion that you have more of a womanly figure. You can also, literally, add volume on top by wearing blouses and jackets with ruffles or breast pockets.
If the top of your arm is still swinging even after you've stopped waving good-bye, then opt for tops, blouses and/or jackets with sleeves that are long, three-quarter length, bell-shaped or styles like raglan, dolman or kimono. But, let's face it, we live in Dallas and wearing long sleeves in the summertime isn't always practical. So, the next best sleeve length is one that comes to the top of your elbows, and if you simply can't take the heat and want to go sleeveless, choose a halter-style top or one with cut-away sleeves to draw attention to your shoulders and elongate your arms.
Perhaps your arms are toned, but your shoulders are a bit broad, then you'll want to choose tops in darker color with open necklines, especially v-neck styles, to break up the space between your shoulders. Narrow shoulders, on the other hand, can look larger with shoulder pads (but proceed with caution or you may find yourself looking like Alexis Carrington, circa 1985). Collared shirts and tops cut in a boat-neck style also are good choices, as are structured, tailored jackets.
Now, on to Joslyn's concern: the 'bum.' Wide-leg or boot-cut slacks and jeans are good choices because they create a more balanced look, as opposed to skinny or tapered bottoms. Low-waisted slacks also are a good choice. A-line skirts and dresses are weapons in the fight against this figure challenge, as well. And, of course, longer jackets can hide a multitude of sins.
If saddlebags are weighing you down, A-line skirts and dresses as well as longer jackets are very effective. So are wide-leg or boot-cut slacks and jeans.
The best approach for creating the illusion that you're taller, aside from wearing high heels, is to wear the same color, or different tones of the same color, from top to bottom. Also known as a 'column of color,' this strategy also creates the illusion that you're thinner. You can wear this look by itself or underneath a jacket or cardigan. Petite women should also lean toward wearing wide-leg or boot-cut slacks and jeans, as well as high-waisted slacks and skirts or maxi skirts and dresses to elongate your frame as much as possible.
Last, but not least, if you don't have washboard abs, pair a longer top with a low-waisted pair of slacks or jeans. Or, slip into a ruched dress.
I used to recommend wearing a belt to accentuate your waist – washboard or not – until one day, when I gave this advice to a group of women and was met with what could have been a career-altering situation.
I was in the midst of suggesting that belts should be worn around the smallest part of the torso, which I explained was typically the point at which your body would bend in half when touching your toes. As soon as those words came out of my mouth, a woman who had not seen her waist or her toes in quite some time raised her hand.
I panicked.
Her question, "What if the smallest part of my torso is my neck?"
As I simultaneously searched for an answer and the nearest exit, she, much to my relief, and, quite frankly, everyone else in the room, let out a big chuckle, which gave me time to muster up my response, "Then buy the most fabulous necklace you can find!"
The bottom line is, sometimes, we just have to do the best with what we have…and be happy!
Dawn Mellon is a Dallas-based fashion stylist and mother of two teenagers, Andrew and Erica, known for effortlessly dressing some of our fair city's loveliest ladies for all manner of tony appearances. Over the next few months, the fashion maestro will be joining us here on D Moms daily to share her expertise on how to build a killer wardrobe and don it with confidence. 
Get the D Brief Newsletter
Dallas' most important news stories of the week, delivered to your inbox each Sunday.