Gensler architect Steven Upchurch drives past Campbell Centre every day on his way to and from work. Despite being called the "fugliest" building by the
Dallas Observer
, the twin gold towers—flush with history—still manage to spark interest for the esteemed designer.
Located at the intersection of North Central Expressway and Northwest Highway, the first tower at Campbell Centre was built in 1972 using glass with a microscopic coating of real gold. The second building was added in 1977.
Cementing a place in American television, the buildings were portrayed as the office of Cliff Barnes—the nemesis of J.R. Ewing on the popular television show 
Dallas
from 1982 to 1988.
But, as the investors who purchased the building (Fenway Capital Advisors and Waterfall Asset Management) put it, the building has lost some of its luster over the years.
Patrick Tribolet, managing partner of Fenway Capital, had been eyeing Campell Centre since pre-COVID and, about a year into the pandemic, purchased the 20-story towers. It is said the property sold for about $105 million, or about $120 per square foot. At the time (in April), it was the second-largest office acquisition in 2021 to take place in North Texas.
While total investment was not shared, the renovations are said to be several million dollars and will mainly modernize the aging asset. Once complete, the famed gold-clad office complex will officially debut as The Gild.
Breathing in New Life
"When the opportunity came to us, I started thinking, what do you do with something like this? It's so iconic," Upchurch told
D CEO
. "I moved to Texas in the late 80s, and I worked near and around those buildings. They were always sort of like these jewels, and then they became dated."
Upchurch took a post in Los Angeles with Gensler in 2007 and returned to DFW about a decade later. "[The towers] are still there and no one had done anything with them," he said.
With a portfolio flush with mixed-use hospitality and entertainment projects, Upchurch was tapped by investors to lead the restoration project at The Gild.
"COVID presented a lot of opportunities for a lot of our clients, like the Magnolia Hotel downtown," he said. "It was an opportunity for some people that were waiting for something big to put a stake in the ground in Dallas."
With a property already in Northern Dallas, the repositioning of Campbell Centre (The Gild) presented itself as the perfect opportunity for Fenway to make a big difference closer to the city's urban core.
The New Normal
Upchurch said when he and the clients started looking at what to do with the renovation, they instantly started drawing inspiration from other successful redesigns of older buildings in urban cities.
"Nothing presents an opportunity for us coming out of COVID as this project does," Upchurch said, pointing to a push in design to healthy work environments.
"Clients want flexibility in their workspace. They want resources for their staff to allow them to feel adaptable and flexible with how they work—and that means technology, collaborative spaces that feel comfortable and open, and greenspaces whether indoor or outdoor," he said.
The Gild will feature numerous updates to the exterior and interior spaces for enhanced tenant and visitor experiences. The "greening" of the parking deck and improvements to the building entrances will provide a "dramatic park-like arrival experience."
A new connector park and office courtyards will offer outdoor spaces that support a healthy work environment. Interior improvements will encourage a more people-centric work culture with social spaces in public corridors designed to foster human connection.
"Being able to escape from your actual desk and go to other areas where you feel a sense of well-being and calm is really important," Upchurch said. "We are taking that notion from our other projects, similarly as to what we did at American Airlines corporate headquarters project and what we created at AT&T Discovery District, and applying that to creating a great outdoor space."
On the exterior of The Gild, Upchurch said they really focused on landscaping to deliver on greenspace.
"It's a new identity and a much more welcoming environment," he said about the first vision visitors will get thanks to efforts made to add trees and shade to the parking deck.
Upchurch said much of the groundwork being done now stems from the history of what was happening with tenant space during COVID and what the opportunities are about how people were coming back to work.
"We know (the investors) are very focused on a creative tenant mix, and the more diverse the tenant mix, the more exciting and successful I think this project is going to be.
"We're designing for that potential creative use of space and different types of tenants whether its collaborative work type environment, a shared workspace, or individual offices. And that's great. That's the type of project you want—you want some of the bigger tenants mixed in with some of the smaller boutique Mom and Pop tenants, right, because that interaction between them, creates a lot of energy."
Raising an Eyebrow
But the real showstopper is a reimagined entrance—or, as Upchurch calls it, "the eyebrow" of the North Tower of the building.
"Right now, there isn't really anything that pulls you into the building, so it's going to be much brighter and cleaner and much more modern than what it is today," Upchurch said.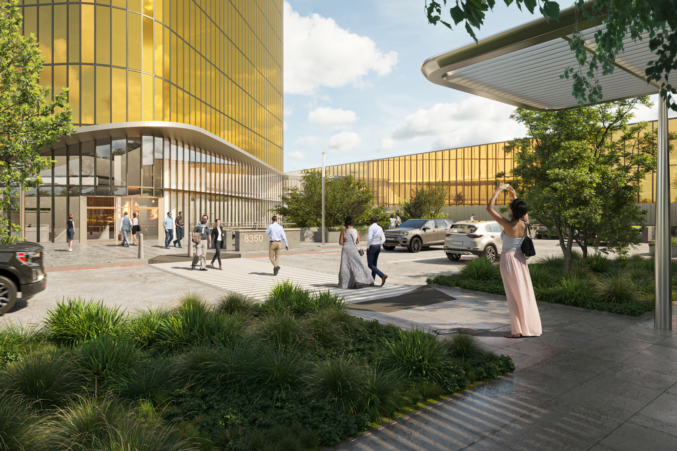 Basically what they did was peel away the gold skin on the corner of the building and raised it up—like an eyebrow.
"There really is no sense of great identity," Upchurch said about the old-feeling entrance of the building currently. The entrance, he adds, "will open up the lobby and create much more daylight coming into that space."
While the lobby is large, it also is sunken—and dark. To create more light, Upchurch said they took advantage of the double-height and raised the opening on the second level to create an opportunity for sunlight to flood the lobby.
"It's going to be advantageous to anyone who is in there," he said.
All of the tenant and public spaces also are being improved and modernized as well.
But don't worry, the building will still be gold.
And yes, that is challenging.
"Most people see it as a glass box in gold, and you've got to intervene and be very sympathetic to the fact that it is an iconic building," Upchurch said, adding that he approached it by focusing on nature when developing a color palette.
"All of these things that we're doing are going to create a new identity and pull you into the lobbies of the building—today; it just doesn't do that."
Fenway retained Stream Realty Partners to manage and provide exclusive leasing representation. Stream's Executive Vice President of Leasing Matt Wieser, Vice President Kristin Millington, and Senior Associate Marissa Parkin, will lead the effort
Get the D CEO Real Estate Newsletter
Get weekly updates on breaking commercial real estate news and relevant industry reports.