The way we work continues to change every day, and as a result, office design and workplace organization have followed suit. It is important to keep in mind that law design is a unique subset of office design and will be as long as attorneys are granted private offices.
Like all other workplaces, law offices—regionally, nationally, or globally—have been adapting to recent trends.
These changes have been ongoing over the last 15 years, but as we continue to navigate the pandemic, designers need to rethink law firm design and come up with innovative design solutions rather than rely on past benchmarking as the mentality, and working style in law offices has and continues to evolve.
Many of the trends we are seeing in law office design, like hybrid working, the shift to single size offices, and the addition of more collaboration spaces, were already gaining popularity, but have been accelerated due to the pandemic. Firms were hesitant to embrace these pre-pandemic but are now eager to adapt.
Hybrid Working
With hybrid working becoming more common, attorneys and their guests will constantly be in and out of the office at different times. Designers are recommending hybrid work settings rather than only a conventional office.
One solution is implementing a cluster of reservable cockpit offices. A cockpit office is half the size of a single office and provides an efficient work setting for just one person. These offices won't accommodate guest seating and offer minimal storage space, but provide an ideal, quiet setting for attorneys to complete heads-down work. Small meeting rooms and locker-type storage should be provided near a bank of cockpit offices.
When it comes to hybrid working, technology is vital. As designers and architects, we must provide attorneys with the necessary technology capabilities within the office. This includes the proper screens, video cameras, and microphones to allow employees to be seen and heard while video conferencing. Additionally, room scheduling systems will need to be made available for employees for conference rooms and cockpit offices.
This program is critical for managing space when attorneys will be working on a hybrid schedule. They give employees the ability to schedule a room from their phone, so they know exactly where they will be working for the day when they walk into the office. Another tool that helps with the firm's form and function is the custom Law Office Design Predictive Planning Tool— which Perkins&Will created.
This tool helps law firms determine the exact ratios of time employees will be in the office each day. This tool not only helps with scheduling office space and conference areas but provides designers with additional data and insight when it comes to creating the necessary spaces for attorneys.
Making the Office an Attractive Destination
After months of having attorneys work from the comfort of their homes, it is up to designers to create spaces that give employees a reason to come back to the office. Many senior attorneys are longing to be with their teams and see people's faces while young attorneys miss aspects of mentorship that can't occur through remote interaction.
One way we are helping draw people back to the office is by creating a less formal workplace. We are adding things that are not so typical within a law firm, like lounge seating and high-top tables. With these lounge areas comes collaborative and communal areas where people can gather with laptops, work in groups and have conversations.
These types of spaces specifically cater to the needs of younger attorneys as they are more apt to pick up their laptops and work somewhere else for part of the day. Designing flexible, collaborative space zones where furniture is approached with a kit of parts allows some user control over furniture configuration in offices and workstations and enables different table or storage configurations in team rooms.
This change in informality will also help law first retain and attract new employees. In Texas, we do not see a shift in moving away from private offices. Instead, there is an increased focus on ergonomics and alternative work settings. Since privacy is still valued when it comes to focusing on heads-down work, attorneys are looking to see a flexible space that is more attractive than their home office.
This includes multiple monitors that can be viewable to clients when they are in the office, sit-stand desks, and flexible furniture. Attorneys want to have some control over the arrangement of their office.
Creating an attractive office is vital, specifically for the Texas area, due to a significant presence of global and national firms in town that recruit groups of attorneys from the local firms. A large percentage of the revenue generated in Texas now goes to global firms, which caused a shift in lateral hiring and a competitive recruitment process.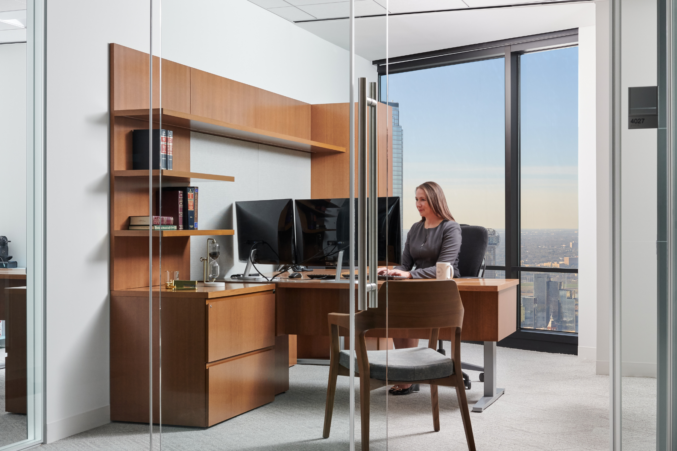 Changes in the Traffic Patterns Within the Office
Lastly, the overall office layout is shifting. Today, some firms have turned to a more team-oriented approach in practice areas, where legal assistants are assigned to partners only rather than to associates and partners.
Other firms have decided to move all legal assistants to one floor where they can sit together as a team and leave a vacant station within the attorney work area where secretaries can be posted when needed. In public areas, a big trend is to upscale the break room area and place it adjacent to the main client center.
Doing so gives law firms a larger and different footprint for functions and allows these spaces to easily be shifted to serve as a waiting area or entertainment space for guests.
Anne Kniffen is the Corporate Interiors Principal with Perkins&Will.
Get the D CEO Real Estate Newsletter
Get weekly updates on breaking commercial real estate news and relevant industry reports.