The historic Winfield Place in Fort Worth is for sale after undergoing nearly $7 million in renovations to transform the century-old building into a modern office.
The showpiece of the original building was the car lift that once transported vehicles to each level of the garage. After undergoing renovations in 2016, the space was transformed into an operational elevator serving as a glassed-in conference or board room that allows tenants to use the meeting space on each floor with the press of a button.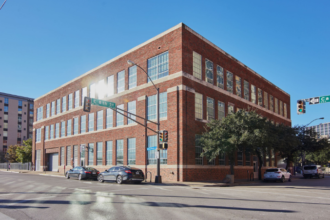 Transwestern Real Estate Services was brought on as the exclusive sales agent for the 33,064 square-foot office building. 
Originally constructed in 1919 as Fort Worth's first parking garage for the nearby Hotel Texas—now the Hilton Fort Worth—the extensive conservation goals during the renovation earned the Preservation Award in 2017 by the Historic Fort Worth Association.
"Winfield Place presents a rare opportunity to purchase a fully renovated and iconic office building," said Transwestern Principal Kirk Kelly. "The property is ideal for an investor or user that is looking for a plug-and-play office opportunity, and it is well-suited for a single or multiple tenants." 
According to Transwestern's Second Quarter submarket report, the Fort Worth Central Business District is expected to remain relatively stable in the long term due to high-quality space for users throughout the broader Fort Worth office market.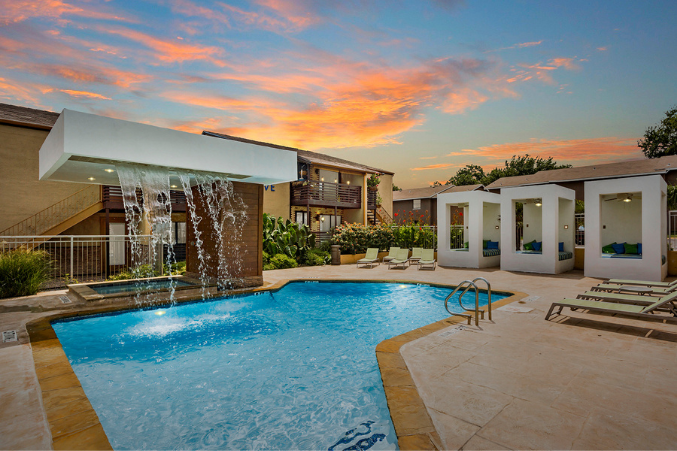 Several local nonprofits are benefitting from the sale of Vickery Meadow apartment community, CityScape. Greystone Investment Sales Group's  Chibuzor Nnaji and Mark Allen represented the seller and procured the out-of-state Buyer, Wedgewood Inc. Through the sale, Wedgewood and Greystone ISG were able to contribute $615,000 to the seller's charity of choice.
The charities benefited on behalf of the seller were: The Pollination Project, Physicians Committee for Responsible Medicine, The Good Food Institute, The Humane Society Of the United States, and 50by40. "During the best and final process, the seller recognized that giving back to charity was a core principle all parties involved held in high regard, and we were able to agree on the level of giveback that this transaction would represent," Nnaji told D CEO.
Dallas brother Evan and Jordan August have launched a new development company with two Deep Ellum investments already in their portfolio. August Real Estate Co. has announced plans to redevelop the iconic Continental Gin Building and 333 1st Avenue—a total of 100,000 square feet—in the historic downtown neighborhood.
The duo has an extensive background in the DFW commercial real estate market; Evan August brings 15 years of investment sales experience, participating in more than $10 billion of transactions in addition to initiating the launch of Eastdil Secured's Texas office. Jordan August's background ranges from investment sales and finance to architectural design, construction management, and development—like the financing and development of the Statler Hotel in downtown Dallas.
Their father, Tom August, serves as chairman of August Real Estate Co., focusing on strategy and oversight and brings more than 40 years of executive-level experience that includes CEO roles at both Prentiss Properties and EOP, Blackstone's office platform.
"With an asset like The Continental Gin Building, we are restoring, rather than redeveloping, an iconic part of the Deep Ellum neighborhood that will honor the building's history while also creating a modern space with current amenities and technology that will attract today's creative tenants," said Evan August.
Built in 1888, the Continental Gin Building has been designed to provide a boutique hotel feel, taking advantage of its impressive 14-foot ceilings, large exposed wood beams, and hardwood floors. Common Desk will lease and manage the space and has pre-leased 22,000 square feet. Fiction Coffee will operate in the main building lobby. August Real Estate Co. will also deliver 22,000 square feet of spec suites that can accommodate needs starting at 1,100 square feet but can be combined for a full-floor user.
Renovations at 333 1st Avenue have recently begun. The building, which was most recently occupied by Nordstrom's Trunk Club, was built in 1926 and last renovated in 2006. It offers more than 36,000 square feet of office space.
August Real Estate Co.'s new improvements will include exterior building upgrades, the construction of a new brick and glass circulation tower that will house a new passenger elevator and a feature stairwell, extensive hardscape improvements, including a rideshare drop-off zone, and upgraded landscaping throughout the 1.5-acre site. CBRE is the leasing team for the project.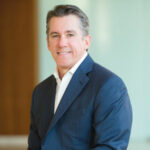 Commercial real estate firm Granite Properties was named one of the 2020 Best Workplaces for Women by Fortune and Great Place to Work, a global people analytics and consulting firm. The company is one of four Dallas-Fort Worth area companies to make the list.
The ranking considered feedback representing over 4.9 million employees working at Great Place to Work-Certified organizations. Granite Properties took the No. 19 spot on the "Small and Medium" workplaces list. The process includes evaluating more than 60 elements of team members' experience on the job. These included the extent to which employees trust leaders, the respect with which people are treated, the fairness of workplace decisions, and how much camaraderie there is among the team. Rankings are based on employees' feedback and reward companies who best include all employees, no matter who they are or what they do for the organization. 
"Granite is proud to employ women at every level in our organization as we continue our commitment to provide a supportive and inclusive environment where all can succeed and grow," said the firm's president and CEO, Greg Fuller.
Get the D CEO Real Estate Newsletter
Get weekly updates on breaking commercial real estate news and relevant industry reports.