When 7-Eleven Inc. announced in 2005 that it would move its headquarters to the Arts District, it was a big win for Dallas. After all, the world's largest convenience store operator had been based in the city since the late 1920s.
Facing a lease expiration in Cityplace, 7-Eleven had been considering other options in the suburbs. Instead, though, it signed a 15-year lease for 240,000 square feet in One Arts Plaza. Developed by Billingsley Co., the 24-story tower was the first big office play in the Arts District, and the first high-rise developed in downtown Dallas in nearly 20 years.
Now it appears that 7-Eleven's move to the suburbs may happen after all. According to local real estate sources, the global retailer is in closely guarded talks to relocate to another Billingsley project, Cypress Waters, a 1,000-acre development that surrounds North Lake, near the northeast intersection of Interstate 635 and Belt Line Road.
Most of Cypress Waters lies within an island of land that was annexed by the City of Dallas in the 1950s for a power plant. It's bounded by Coppell to the north and west, and by Irving to the south and east. Sources say that 7-Eleven is eyeing a build-to-suit site along LBJ Freeway, south of Hackberry Road/Ranch Trail Drive, on a strip of land that lies within Irving. The property previously was marketed for retail use.
7-Eleven, which was acquired by Seven-Eleven Japan Co. Ltd. of Tokyo in late 2005 but maintains its headquarters in Dallas as a wholly owned subsidiary, has been on an expansion kick. Last year it announced record store growth, achieved through acquisitions, business conversions, and organic growth.
The retailer said its business strategy was to "build market concentration in metropolitan areas, in order to increase efficiencies and leverage the company's scale and daily-delivery infrastructure." According to its website, 7-Eleven now has 52,100 stores in 16 countries, more than 10,300 of which are in North America.
Sources say 7-Eleven's needs have changed since it signed its headquarters lease nine years ago, requiring more space and more parking. At the same time, the downtown Dallas real estate market has changed, too.
In 2005, 7-Eleven signed a lease for about $20 per square foot. Asking rents at Craig Hall's new Arts District tower nearby are about double that. If the Cypress Waters deal comes to fruition, 7-Eleven's departure would free a significant chunk of space in One Arts—also home to law firm Thompson & Knight—at a time when scores of downtown tenants are on the prowl for new digs.
Billingsley's Build-to-Suit Bonanza
A key to making it all work is Billingsley's ability to relocate 7-Eleven to a new site within its portfolio. The developer is riding a big wave of activity, with projects under way on many of the strategic land plays it has locked down across North Texas.
It's developing a 165,000-square-foot build-to-suit for Monitronics at its Mercer Business Park in Farmers Branch, where it can accommodate three additional 200,000-square-foot buildings. In Plano, it's building a 180,000-square-foot facility at 6111 W. Plano Parkway, near the intersection of the Dallas North Tollway and State Highway 190. ReachLocal Inc., a growing tenant at Billingsley's nearby 300-acre International Business Park, has already signed on for 100,000 square feet. The project should be ready for occupancy this summer.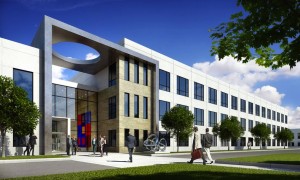 Billingsley's latest gem is Cypress Waters. What began as a 355-acre site the company acquired from Luminant in 2004 has grown to more than 1,000 acres. Plans call for up to 4.5 million square feet of office space, 100,000 square feet of retail space, and 10,000 residential units, along with schools, trails, parks, and a lakeside town center.
Three lakeside apartment and townhome communities—Parson's Green, Scotch Creek, and Sycamore Park, are already either open or under construction. Office activity, too, is brisk. There's a 180,000-square-foot spec project that will be ready for occupancy later this year, and a second 165,000-square-foot spec facility that will follow.
There's also a 31,450-square-foot headquarters for Cheddars Inc., as well as a much larger build-to-suit for what sources say is Nationstar Mortgage, already under construction. 7-Eleven's building would bring the total to five.
Lucy Billingsley acknowledged having a number of development projects under way, across all sectors, but declined to confirm a potential 7-Eleven move or provide specifics. In a recent interview for a separate story, she spoke about the current velocity of activity. "This market is unlike any we have ever been in," she said. "Every aspect of the industry is expanding right now. We're like a beaver standing in front of a forest, chomping away."
Officials at 7-Eleven Inc. did not respond to a request for comment for this story; nor did Duane Henley of Transwestern, who represented the retailer in its original One Arts lease. Economic development sources at the Greater Irving-Las Colinas Chamber of Commerce were not immediately available for comment.
Get the D CEO Real Estate Newsletter
Get weekly updates on breaking commercial real estate news and relevant industry reports.