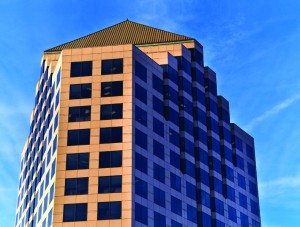 The leasing group at Stream Realty Partners is working its magic at Chateau Plaza, taking the 18-story, 172,000-square-foot Uptown asset from 13 percent to 62 percent occupied in just a matter of months. The newest leases include 28,841 square feet to NexBank and Barrier Advisors, subsidiaries of NexBank Capital Inc.; and 11,483 square feet to IP Navigation Group. Both tenants are moving to Uptown from the LBJ Freeway corridor.
Stream has inked 85,000 square feet in transactions at Chateau Plaza so far in 2011. It took over leasing of the building late last year, after luring away its largest tenant, Dean Foods, to the Towers at Cityplace. Dean Foods, which occupied about 150,000 square feet at Chateau Plaza, had run out of expansion room in the building. It ended up taking about 320,000 square feet at Cityplace.
Stream's Sarah Erickson, senior vice president and co-manager, says she was "a little sheepish" about pursuing the Chateau Plaza assignment after snagging its largest tenant for another landlord. But a colleague encouraged her, saying the ownership—an institutional investor advised by J.P.Morgan Asset Management—would either be furious with her or respect what she and her team had accomplished at Cityplace.
The latter turned out to be the case. Erickson and Tommy Nelson, senior associate at Stream, took over leasing at Chateau Plaza last fall; Dean Foods moved out in December, leaving the building 87 percent vacant.
The first order of business: repositioning the asset. Chateau Plaza is located at 2515 McKinney Avenue in the highly desirable Uptown submarket. But in the shadow of other newer buildings, and after having been occupied by a large single user for such a long time, it had dropped off the radar of tenant reps and companies out searching for space.
The Stream team worked with the asset's owners to execute a $1 million renovation of the building's lobby. A deli was swapped out for a conference center, serving area, and WiFi lounge. "We realized there were so many excellent dining options within walking distance, there really wasn't that need within the building itself," Erickson says.
The 13th floor shell space was "white-boxed" and a leasing center was added. Marketing efforts focused on "walkable amenities and view corridors," Erickson says. "Chateau Plaza has one of the best view corridors in Uptown, as well as balconies on some of the floors—a huge amenity."
One indicator that the repositioning has been a success, she says, was Chateau Plaza's inclusion in a recent RealPoints post about the coveted McKinney Avenue address. The dropping vacancy in the building, of course, is a more obvious sign—as are the climbing lease rates. "Compared to when we started the renovation, the deals we're striking, the effective lease rates, are 20-25 percent higher—in the span of five months," Nelson says.
The largest available block at Chateau Plaza is 45,000 square feet, although leases are out for a portion of that space. Erickson says the Uptown market is tightening; a year ago, she says, there were nine blocks of Class AA office space 50,000 square feet or larger in the submarket. Today there are just two.
"Activity is very strong," she says. "Our goal is to get to 100 percent occupied—but at the right rental rates. We believe the market is improving, so we may hold off on striking some of those deals."
Here are more details on the latest transactions at Chateau Plaza:
• NexBank and Barrier Advisors, subsidiaries of NexBank Capital Inc., has leased 28,841 square feet. The companies are relocating from Galleria Towers. Nora Hogan and Robert Deptula with Transwestern negotiated the deal on behalf of the tenants.
• IP Navigation Group, also known as IPNav, is a group of patent monetization experts. It's moving from Lincoln Centre to 11,483 square feet in Chateau Plaza. Scott Hobbs with CB Richard Ellis represented the tenant in the transaction.
Get the D CEO Real Estate Newsletter
Get weekly updates on breaking commercial real estate news and relevant industry reports.