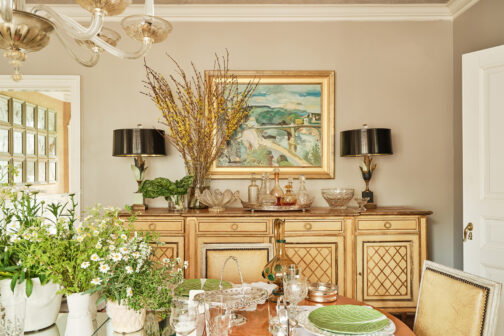 Interior Design
Local designers share their prized pieces from their personal collections.
Home Tours
Wishlist items became reality for a University Park family with a penchant for entertaining, thanks to design and build partners who understood their every need.
Home & Garden
Looking to ditch the city's crazy real estate market and build your own custom home? Here's who you should call.
Home Accessories
We polled the pros on which mass-market retailers they're loving right now.
Party Pics
On Thursday, April 28, an intimate gathering was held for D Home's Premium Partners.
Home & Garden
Everyone knew the white Preston Hollow two-story with the crossbuck fence and riot of roses. When it changed hands, I found the girl who grew up in it and learned how much history I'd driven past every week of my life.
Home & Garden
Dallas socialites have long set the standard for style. Now they're showing how to set a stunning table.
Home & Garden
Decorating a home is all about balancing high and low pieces. Local designers talk where you should invest money and what you should get on the cheap.
Home & Garden
Local designers share their best tips for maximizing a minimal footprint with decor.
Interior Design
Together, Ashkan and Philippa Agahzadeh design calming and minimalist carpets that double as bespoke art for their clients.