Omni Hotels & Resorts recently opened the doors to its newest property: Omni PGA Frisco Resort. Encompassing 60 of the 660 acres that make up the more than $500 million development project, which includes 36 holes of championship golf, two putting greens, the PGA headquarters, golf clubhouse, and more, the 500-room resort is the most complicated project the brand has undertaken, according to Blake Rowling, president of Omni parent company TRT Holdings. "It was about a year to design the whole thing. We went back and forth with what to build, how to build it, and what to put where, and had so many iterations that I have forgotten more than I remember. I think what we ended up with is incredibly unique, and I don't think there's anything like it in the country," he says.
With nearly 130,000 square feet of indoor-outdoor meeting space, the property is appealing for corporate travel, booking 30,000 group room nights before opening. "I think it's going to be a billboard for our brand, and not just in DFW, not just in Texas, but nationwide and around the world," Omni CEO Kurt Alexander says. He adds that the property expects to add more than 10,000 additional group night bookings this year.
The resort portion of the property showcases 10 four-bedroom ranch houses, 13 food and beverage concepts, four pools, a spa, retail concepts, and several meeting and event spaces. The Dallas office of San Francisco-based SB Architects and New York-based Jeffrey Beers designed the property's architectural elements in collaboration with Omni's design team, led by head of design Laura McKoy. "We kept calling the golf [courses] our beach," McKoy says. "We wanted as many spaces as possible to have a view. Natural light was important, as was trying to make sure it worked for operations."
The interior design often evokes local materials and the history of the property throughout. Much of the exterior and the lobby's interior are made with limestone, which is native to the region, and many of the resort's art pieces pay homage to the land's original owner, Bert Fields. "Mr. Fields was, by all accounts, a man of his word, and his word was his bond. His handshake meant everything, and there's an authenticity, an honesty, and a simplicity with that. And I think you see that in our design. I think you see that in some of the art, and you see the experiences that we have on property," Alexander says.
Each guest room features a painting inspired by McKoy and her team's conversations with Fields' original ranch hands. "[Fields] acquired the land by working in the oil fields, and people weren't able to pay him back. So they were giving him land in return, and he had this truck that he was servicing. The truck was up there, so we photographed it, and it's in all the guest rooms," McKoy says. The resort's two golf courses are named for the original Fields Ranch and their corresponding clubhouse.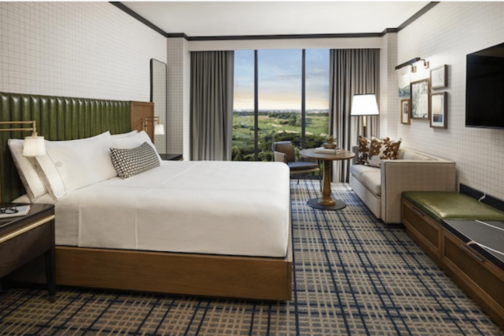 More than 185 art pieces decorate the property's public spaces, many incorporating references to Frisco or Texas. There are also references to the Rowling family in a few spots, including a painting by Mrs. Rowling in each of the resort's ten 2,300 square-foot, four-bedroom ranch houses and a piece showcasing Blake's cowboy hat.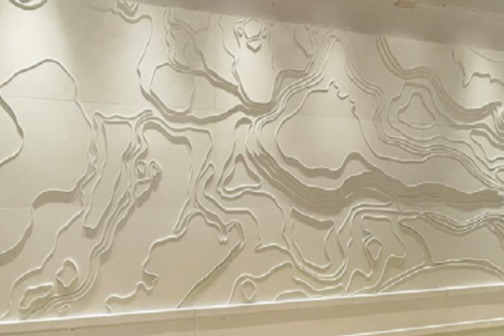 The more than 3,500 square-foot lobby features an all-white, custom plaster piece based on the topography of one of the courses' 18th holes behind its all-marble check-in desk. Custom crystal chandeliers by Czech company Preciosa hang above. A painting of a classic wood barn by Austin-based contemporary artist Rachel Dory adorns the area surrounding the fireplace. "It resonated with us because there's a barn that looks similar up the street. We felt it represented the site," McKoy says. Other pieces include a shot of the golf course at sunrise, surrounded by an oak wood frame and an installation of peeled-back papers that together form the image of a Texas oak tree.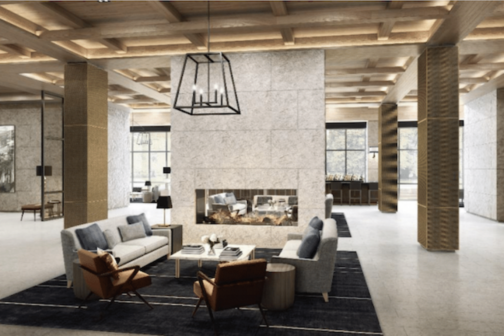 Just beyond reception lies the Lookout Bar & Lounge, which seats 14 and showcases small plates of tapas and bar bites. It features marble counters and custom cowhide area rugs by North Carolina-based Carroll Leather. The nearby library lounge area is accented by a piece called Golfing Bandolero. "In the bandolier, instead of bullets, it's golf tees," McKoy says. "We called all of the golf courses that held the Ryder Cup in the United States, and they're all put in the bandolier."
Meeting and Event Spaces
The resort's 19 meeting rooms are found on the lobby level and sixth floor and are named for famous golfers, many from the North Texas area. "We reached out to them or their families to ask their permission to use their name on the meeting room and then create custom artwork," McKoy says. Among the golfers is Byron Nelson, Lenny Wadkins, Lee Elder, Harvey Penick, Kathy Whitworth, Sandra Palmer, and more. Each room is accented with blue carpet using a custom golf plaid that McKoy's team created and showcases photographs and/or paintings of its namesake golfer. "We were super inspired by plaid," she says.
Art in the areas surrounding the meeting rooms on the lobby level includes a collection of pieces by photographer James Friedman that make the inside of golf balls look like geodes. Several abstract works are inspired by the Frisco landscape and local fauna, including riffs on bluebonnets and agave. Another piece showcases a print on top of old PGA tournament programs.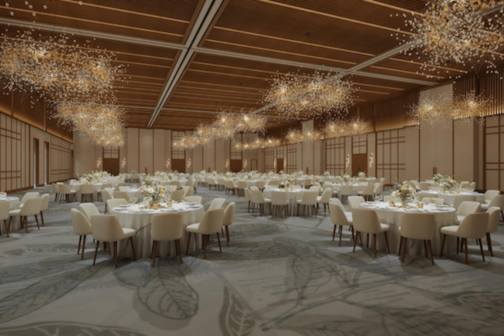 A staircase accented by a series of pressed Texas wildflowers by local florist Christy Beard guides guests to the ballroom level. The resort's two larger ballrooms are named for golf tournaments, the Ryder Cup Ballroom and the Wanamaker Ballroom. Both feature outdoor patios and event lawns, part of the resort's nearly 43,100 square feet of outdoor event space. The larger of the pair, The Ryder Cup Ballroom, can host 1,200 and is 23,000 square feet. At roughly half the size of its sister, the Wannamaker Ballroom was designed for social events. "We think galas and weddings," McKoy says. It showcases wood on its ceilings with more feminine chandeliers that McKoy says look like floating golf balls. Both ballrooms are accented with carpeting inspired by Texas foliage: the junior ballroom is based on an oak leaf motif. It also showcases a whimsical chandelier inspired by a bird's nest.
Outside the ballrooms, paintings of PGA trophies continue the golf theme. Trophies depicted include the rooms' two namesake tournament cups, as well as the Women's PGA cup.
Food and Beverage
The resort's 13 food and beverage outlets are spaced throughout the property, both inside the main resort and at the Monument Realty PGA District, the property's retail, dining, and golf clubhouse area overlooking its neighboring courses. Steakhouse Trick Rider is inside the clubhouse and is inspired by a woman trick rider at the rodeo. It seats 168 and stars a crystal chandelier hanging above the bar in the shape of a horse. "There's a woman named Sydna Yokley Woodard who was a rodeo trick rider. She also was the founder of the American Quarter Horse Association. We're saying [the chandelier] is a quarter horse named Cinnamon. That supposedly was her favorite horse's name," McKoy says. "We shipped it to Prague, where that chandelier was made so that they could position each one of those strings that hold the horse on the exact same spot, and then they deconstructed all of it, shipped it here, and then came here and installed it."
Black and white photos from 1920s–1950s rodeos adorn the walls in the restaurant's restrooms, and artwork near the entrance includes an installation of vintage belts hand-painted with a chevron pattern commonly seen in Native American and Western wear. A similar installation of hanging horse hitches decorates the wine room.
The private dining room includes a piece called "Jewels for Supper," a nod to women's femininity in rodeo. "It looks like they're cutting food, but when you look up close, it's all jewelry," McKoy says. The restaurant's ceiling is covered in wallpaper with a print of the Texas sky. Each banquette in the restaurant's dining area has a Texas Lone Star sewn into the back. "It's all these little things that if you start to look, you'll see," McKoy says.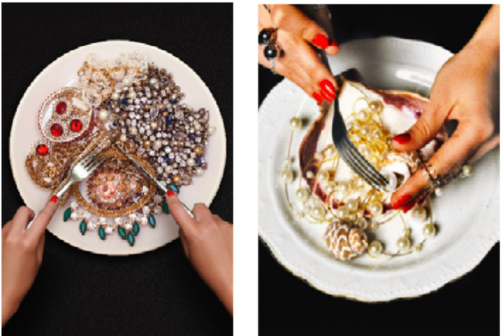 Other restaurants inside the resort include The Lookout Lounge and Bar, Toast & Tee Coffee Collective, Bluestem Bar on the resort's rooftop, and The Leisure Pool Bar on the sixth floor. The Apron, named for the grass fringe that frames a golf course's green, showcases an art installation featuring six custom aprons made from various golf materials. "There's one made of golf pencils, and one made out of golf gloves," McKoy says.
The Monument Realty PGA District has four more restaurants, including the Ice House, a burger and bar concept inspired by historic Texas barns with six hitting bays at its rear. Lounge by Topgolf also offers cocktails and areas to practice the perfect golf swing. Swing Bar, the Casamigos bright blue bar truck, serves margaritas, beer on tap, and canned cocktails to golfers walking the nearby course. Margaret's Cones & Cups is named for TRT President Blake Rowling's daughter and showcases hanging sconces in the shape of ice cream cones as well as polka dot wall coverings and terrazzo flooring. The ice cream is sourced from Plano-based Henry's Homemade ice cream. "On the front of the counter, it looks like ice cream is dripping down. It's all very purple and painting—very feminine," McKoy says.
Retail concepts in the Monument Realty PGA District include Vineyard Vines, which will open in July, a PGA shop selling PGA and Frisco merchandise, a children's shop called Gimme Toys, St. Bernard, and signature boutique Blue Lacey Mercantile. A shoot runs above the children's store, where children can watch a ball fly around. "You can buy a token that you put in this slot down there and you can race, and the ball goes all the way around and the money goes to First Tee Greater Dallas," McKoy says. The organization is a local youth development program centered around golf.
Blue Lacey, designed by McKoy's team in-house, features an antler chandelier surrounded by cowboy boots and designer western wear.
A mural inside the district displays a partnership with UT Southwestern, featuring tiny, hidden golf items within it. "We are working on a QR code so you can help your kids find them," McKoy says.
The Spa
The same local muralist also painted a plant-focused piece near the pool and spa. The resort's Mokoara Spa is themed for succulents and Texas flora, featuring the Green Cactus Café, which offers coffee, cocktails, and light bites. "[The theme] seemed to resonate with the idea of the black prairie land, the story of the area, Texas, but in a more profound way," McKoy says. Art above the mani-pedi stations is a series of six Texas landscapes and above the banquette a prickly pear cactus, succulent, and pencil cactus triptych adorns the wall. The co-ed lounge highlights a photo series of succulents in North Texas and many of the 20 treatment room stars a plant painting by Austin-based artist Anna Kamburis Swanson and acrylic pieces by East Texas artist Sarah McInroe. Two of the rooms feature flora-focused work by Texas-based Croatian American artist Mishna Maynerick Blaine.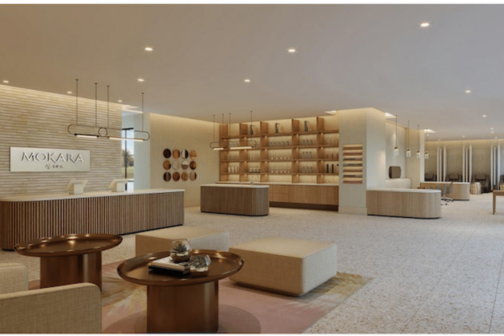 The spa offers body and facial treatments, salon services, and steam room, sauna, and vitality pool access. Treatments highlight a German skincare line, and a lounger with compression boot treatments improves recovery for golfers or exhausted travelers.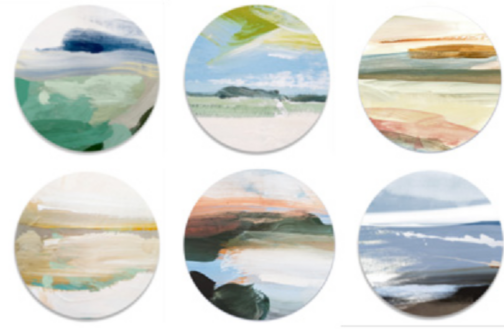 Omni's Next Moves
Now that Omni PGA Frisco's doors are open, the company is focusing on ongoing expansion and renovations. "We have a hotel under construction in Fort Lauderdale, and we're going to break ground on a new resort in [Punta Mita], Mexico," Alexander says. "We've owned land down there since 2006 or 2007, and we're going to finally develop it. It's going to be a 250-room resort." The company has also committed $150 million to redo The Omni Homestead Resort in Virginia's Allegheny Mountains. It's also adding 400 new rooms to its hotel in Fort Worth and repositioning its resort in Carlsbad, California. "It's about a billion dollars [total] of capital that we have committed," Alexander says.
Get the D CEO Newsletter
Stay up to speed on DFW's fast-moving business community with weekly news reports, interviews, and insights.
Author
Kelsey J. Vanderschoot came to Dallas by way of Napa, Los Angeles, and Madrid, Spain. A former teacher, she joined…