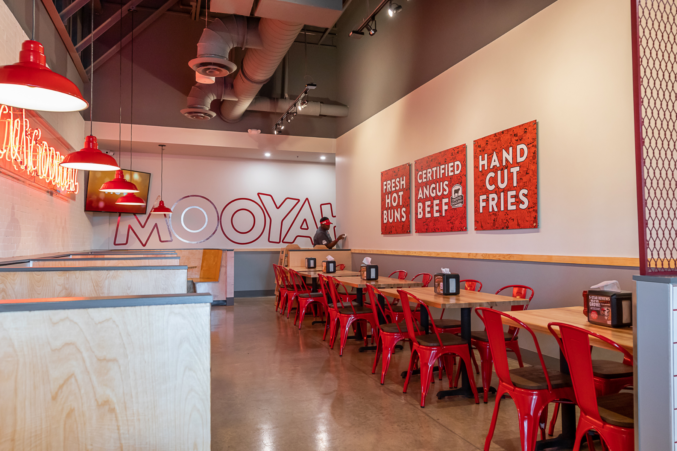 Former KidZania Executive Trio to Open 10 Mooyah Restaurants in DFW
The deal is part of the Plano-based burger chain's plan to grow its local presence to about 20 locations—and 150 nationally—over the next four years.
Three former KidZania executives are helping to drive Plano-based Mooyah Burgers, Fries & Shakes' home market growth plans. The Mexican entertainment brand's former U.S. COO Sean McCullough, CFO Ted Beaman, and CEO Greg Stevens will open 10 Moooyah locations across North Texas. The franchise deal will add about 250 local jobs.
"In my mind, this is a recipe for success," said Tony Darden, president of Mooyah."You have good operations folks and good financial folks who know the industry and run great restaurants, and, oh, by the way, they want to do 10 of them in our home market … that is something that that we absolutely jumped at."
Beaman and Darden worked together at Metromedia Restaurant Group, the company behind Bennigan's Irish pub, and kept in touch over the years, collaborating on a partnership between KidZania and Mooyah at the close of last year.
When KidZania began experiencing internal issues, Beaman and his colleagues, all of whom have deep entertainment and restaurant backgrounds, struck out on their own, forming Agape Management Co. to take on restaurant, entertainment, and children's education opportunities. Mooyah is their first undertaking as a team.
"It's hard to find people who are like-minded," Beaman said. "So, when you do, you've just got to run with it."
The group plans to relaunch a Mooyah space that had previously shuttered due to COVID on Dec. 7 in Frisco. Another two, entirely new, locations will follow next year. Both will be the start of a plan to build out the brand's home market, which Darden says will grow to include roughly 20 restaurants over the next four years.
"If we are meeting the results that we expect to get, we would want to be, and expect to be, the franchise partners building out the rest of the entire market in partnership with Mooyah," Beaman said.
For now, Stevens, Beaman, and McCullough are seeking real estate opportunities in both DFW's suburbs—where Mooyah currently has a more established presence—and Dallas proper.
"We've got five trade areas that we are looking at," Beaman says. "Two of them have Dallas addresses."
Mooyah hopes to expand to roughly 150 locations domestically in the same four-year time frame; eventually, the Agape Management Co. trio hopes to play a role in this larger expansion, too.
"We hope to take on some additional territory, whether that's building more restaurants in DFW or maybe heading south down 35 somewhere, or even going to a different state," Beaman said.