Laser tag isn't necessarily a contact sport (although it can be), and neither are bowling or arcade games. But just like other North Texas businesses reopening in a post-pandemic world, Main Event Entertainment is reinventing the way it operates.
Addressing social distancing in an environment built around playtime was one of many challenges the Plano-based "eater-tainment" company has had to figure out.
In March, the company made the difficult decision to close its 44 centers nationwide when the coronavirus pandemic triggered non-essential shutdowns and stay-at-home orders. Last week, it began to reopen some of its 16 Texas locations, including seven in Dallas-Fort Worth. The move was swiftly followed by an announcement that Main Event had secured an $80 million investment from RedBird Capital Partners.
The move gives New York-based RedBird a 24.2 percent stake in the company—and an option to acquire 26.8 percent between July 2022 and July 2024. The investment values Main Event at $424 million.
Main Event CEO
Chris Morris
said the infusion would help Main Event become "the premier family and social entertainment brand" in the United States.
"We are thrilled to partner with RedBird during the next phase of growth for Main Event," he said. "After undertaking an extensive review of potential partnership opportunities for the company, it has become clear RedBird and Main Event share the same core values, commitment to growth and vision for the future of our company."
Morris shared more insights in a one-on-one interview:
D CEO: Wall Street views the "eater-tainment" industry as one that will have the hardest time bouncing back. What are your thoughts?
MORRIS: "Our mission is to connect people and make memories. That's our purpose. One of the things that we've all, as a community, learned during COVID, as we've been quarantined, is the value of connecting with family, friends, and loved ones. And as we start to adjust to this new normal and start to get out of our houses, we don't want to lose those connections that we've made during this period of time where we've all been kind of on pause. I think Main Event is just a perfect solution for that. We provide a phenomenal out-of-home experience, but one that's safe and allows our guests to still keep those same connections that they've had during the quarantine.
"The way that we're going to survive coming out of this is staying true to who we are. That's why you see us doing the Play Smart, Play Safe plan. We want people when they walk in just to be overwhelmed by the care that's gone into this new service model—that we've got everything taken care of for you. If you want to bowl, we're going to take care of your bowling balls and take care of your shoes; you just show up, and you have fun. We've got everything else covered. You want to keep safe, or if you need more cleaning resources, we've got sanitation centers throughout the entire center for you. We know that we focused on that, and we stay true to who we are, we're going to be fine."
D CEO: What was the thought process behind implementing the "Play Safe, Play Smart" standards?
MORRIS: "It was all driven by safety and standardization. Keeping our team members safe and keeping our guests safe has always been a cornerstone of what we do. That's always been a primary focus. We're in the family entertainment business, and so we know how important it is to have extremely high standards. (Since closing on March 17), we've been trying to gauge what the new normal is going to be like for all of us. We realize it's important for us to be nimble and adapt. Even though we already had very high standards, we knew that it was necessary to elevate based on the challenges that are out there in today's marketplace."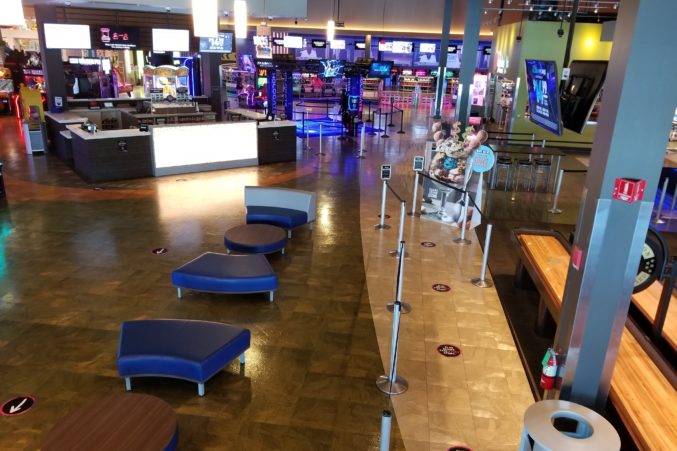 D CEO: What are some of the changes you've made?
MORRIS: "We followed the guidelines from the CDC very closely, we followed the guidelines of local authorities closely, and it starts with keeping our team members safe. All of our team members go through a health screening before they clock in, and part of the health screening is a temperature check. Once they pass through the health screening, and they are allowed to clock in, every employee wears a mask and gloves. Every single employee plays a role in the cleaning process, and that includes me. When I go out to a center, I'll be wearing a mask and gloves, and I will be helping out cleaning the center.
"On the guest side, we have social distancing markers throughout all areas. We have redefined the service model every single area of the Main Event experience. From bowling to laser tag to gravity ropes, we've elevated our safety and sanitization standards."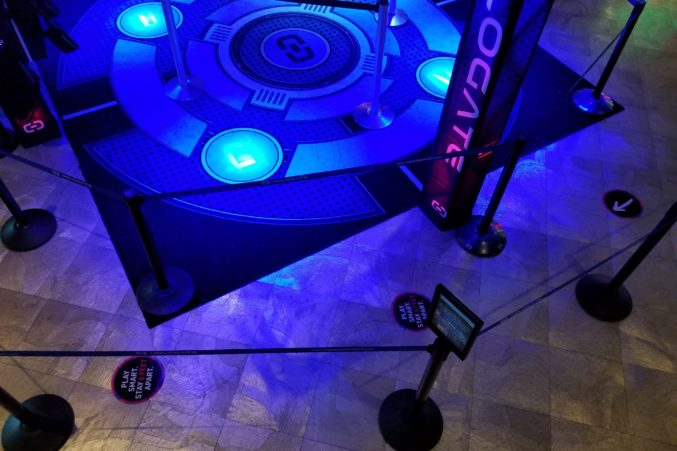 D CEO: How did you do that for laser tag?
MORRIS: "In our laser tag arena, depending on the size of the arena, we've created eight to 12 zones—marked with glow in the dark tape. We assign one player per zone, and what that does is it allows you the freedom to kind of roam around within your zone, but we don't allow more than one person to be in each zone. So you can have social distancing and still have a great time. Then, every two minutes, we rotate players from one zone to another zone. And when we go through the rotation, we announce a winner. So every player will have four chances of being a winner during a laser tag experience. And then we have a referee in the arena to make sure that everybody's doing what they're supposed to be doing. It's a very safe experience."
D CEO: How are guests reacting so far?
MORRIS: "People are being respectful. Our sales volumes are still lower than what they were before we made the decision to close, but every week they get better and better. I think that is the trend line. The trend line is that people are getting more comfortable being out. People are getting more comfortable with our safety standards and our new service model, and word is starting to spread. Every week, sales start to improve.
"We've taken advantage of the size of our facility; it's easy for guests to navigate and still keep a six-foot separation."
D CEO: Have you started to look at what changes may stick around for the long haul?
"Our focus is on the real-time, present time, you know, what do we need to do to adhere to the local authorities and what do we need to do to keep our team members safe, based on the facts and circumstances in front of us today. That's kind of where we're focused. We're not trying to think through where we're going a year from now. We know the role that we play in the communities, and we want to make sure that we're keeping everybody safe today.
"If there's something that we've learned, it's things like we talked about a laser tag where we had to be creative and evolve that type of experience. And now we've done that, and we have these laser tag zones, and it's a fun new, exciting type of experience. I think that type of innovation and type of creativity is something that we want to continue to embrace and to make sure that we're always evolving our products in a way that meets today's needs."
Get the D CEO Newsletter
Stay up to speed on DFW's fast-moving business community with weekly news reports, interviews, and insights.