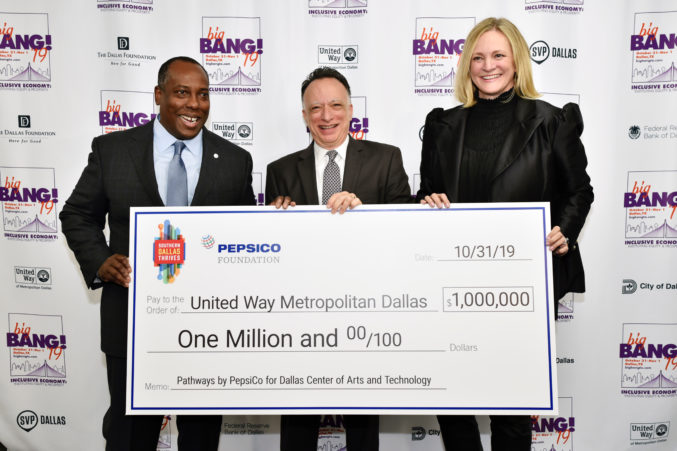 PepsiCo Frito-Lay Deepens Commitment to Southern Dallas
PepsiCo Foods North America CEO says the initiative is both a pipeline to jobs and a way to inspire corporate responsibility.
Steven Williams, CEO of PepsiCo Foods North America, was recently asked how he felt about the Business Roundtable redefining the "purpose of a corporation" to go beyond shareholder value. The response to cultural change led the group of chief executive officers from major U.S. corporations to broaden the purpose to invest in employees, delivering value to customers, dealing ethically with suppliers, and supporting outside communities are now at the forefront of American business goals.
"I'll tell you, I personally believe the same thing, and PepsiCo is at the exact same place," the newly appointed CEO told a room full of community changemakers at the 2019 bigBANG! conference at Paul Quinn College. "It is the responsibility of companies to make sure you do right by business, right by your shareholders, but you also have to do right by your employees, community, and the planet."
Last year PepsiCo's Plano-based Frito-Lay North America joined forces with the United Way of Metropolitan Dallas to launch Southern Dallas Thrives. The initiative works to increase the quality of preschool education in the area, provide families with nutritious meals, and prepare high school students with the career and college preparation they need to succeed–all while giving unemployed parents access to childcare they need to enter and participate in the workforce.
Looking back, Williams says the initiative has seen significant progress–they have given away 250,000 meals, touched more than 700 people when it comes to providing childcare, and volunteered about 3,000 hours targeted toward school, mentorship, development, and college readiness.
"As we continue to support our neighbors in Southern Dallas, my greatest hope is that the community feels they have the resources they need to thrive–from childhood to entering the workforce," he says. "While our work is not done, I'm proud of the progress we've made against our long-term goals to create meaningful improvements to Southern Dallas."
Williams announced that Frito-Lay and The PepsiCo Foundation were expanding the initiative with a $1 million grant to focus on what he called the most significant gap: Employment Development.
The additional funding brings the company's total commitment to Southern Dallas to more than $3 million.
"You know, when we first started thinking about 'why Southern Dallas,' it goes back to the people that live and work there," Williams says. "We have jobs there, and I don't know how much major progress we've made developing people to go into those jobs. That's the area to strengthen, and this grant is really designed to do that. I believe we can have a big impact."
The Pathways by PepsiCo grant will focus on workforce readiness and development programming for women in Southern Dallas. In partnership with United Way of Metropolitan Dallas and Frito-Lay, The PepsiCo Foundation committed funding to Social Venture Partners Dallas to invest in a first-of-its-kind program for Texas, the Dallas Center for Arts and Technology (DCAT).
DCAT is expected to open in a permanent location in spring 2021 and will provide free childcare for children up to five years of age, immersing youth in the arts during after-school programming, and providing in-demand workforce training to adults.
Williams says he also sees the efforts as a pathway to jobs not only with his company but also other jobs in the community.
"I hope I can come back and say we've created a pathway for x amount of people into gainful employment," he says. "We're building for the long term; this isn't just an in and out. We have always, for many years, done so much in the community. We're just trying to get a little more targeted to makes sure that the impact is significant and unique."
While the permanent location is being secured, DCAT will start pilot programming and workforce training at the headquarters of For Oak Cliff this spring.
"The support of a partner like Frito-Lay is essential to the growth and development of DCAT," says Tony Fleo, CEO of Social Venture Partners Dallas. "We hope a coalition of corporate funders will support this multi-faceted resource as it begins serving the community."
In addition to its commitment to DCAT, Frito-Lay also will sponsor the development of a resource center at the newly renovated South Oak Cliff High School, opening in January 2020.
South Oak Cliff High School remains a top priority for Southern Dallas Thrives as nine out of 10 of its students are economically disadvantaged. One of the initiatives' primary goals is to help 85 percent of South Oak Cliff Collegiate Academy students graduate prepared for college or become career-ready through tutoring, mentoring, and community engagement efforts at the school.
"Nearly one in three adults and nearly four in 10 children live in poverty in Southern Dallas," says Jennifer Sampson, McDermott-Templeton president, chief executive officer, United Way of Metropolitan Dallas. "In addition, the unemployment rate is more than triple that of the Dallas-Forth Worth average, and less than three out of 10 students graduating from high school are prepared for success in college and or a career."
Sampson says such initiatives provide the wraparound services for the families that live in the communities where the corporations have plants or are headquartered. Often, she says that is a single mother who has a job and also a child that needs high-quality pre-k childcare. And, she added that it's often preparing adults for success after graduation–whether in college or career.
"If a student is not going to a university, or even community college, there are opportunities for them to get the certification and training they need to go to work with great companies, like Frito-Lay, where you know if you perform at a high level over a period of time, you can earn a six-figure salary, you can have benefits and health insurance for your family, you can send your kids to college," she says. "And so that's the long game–to ensure that these kids are graduating, ready for success, and success is right here in the Southern Dallas sector."
Both Williams and Jennifer Sampson, McDermott-Templeton president, chief executive officer, United Way of Metropolitan Dallas, say they hope that the initiative will be a springboard catalyst to get other companies involved.
"If you want to build the workforce of the future and want people to have the skills necessary to thrive and work in their jobs, why wouldn't you want to be involved in this?" Sampson asks.
Sampson says she believes North Texas is in the position to take the risk of being more socially responsible. And that the result is United Way stepping out of its "raise money and sprinkly goodness across the community" model and also focus on attacking the root cause of systemic issues.
"It's a very different work," she says. "There has to be a level of trust from the funders, from the community, and the partners that we're working with for us to do something like that.
"Being able to partner with corporations and around new and innovative approaches and initiatives to solving community challenges has been really exciting."