Ave (1973) 
One of Mark Di Suvero's signature steel girder sculptures, Ave looms large over the DMA's south lawn, standing tall over the two-story building and weighing in at 12,000 pounds. The sculpture was acquired by the museum in 1976, three years after its completion and subsequent tour of Europe. The sculpture's brother, Ad Astra, a similarly scarlet steel monument, lives in NorthPark Center. The outdoor location of Ave allows the viewer to walk beneath the sculpture and experience it from all angles. View it from Ross Avenue near N. Harwood.
Tatlin's Sentinel (2001) 
Only a few blocks down Ross Avenue stands another monumental, vibrant steel sculpture. Tatlin's Sentinel is the tallest sculpture made by artist John Henry, standing at 101 feet tall and weighing in at 60 tons. The striking piece presides near the Hall Arts Hotel, where you'll find a small sculpture garden that holds other pieces of contemporary art, like the human-sized figures crawling up the side of the building by Icelandic sculptor Steinunn Thorarinsdottir. 
Eye (2007) 
Tony Tassett's gargantuan, realistic eyeball sculpture is a strange icon of Downtown Dallas' cityscape. The three-story-tall artwork lives on the evergreen lawn outside of Forty Five Ten, watching guests enter and exit The Joule and eat brunch at Americano. During the first wave of protests against police brutality in response to the murder of George Floyd, the sculpture was marked with a strong message to the monied clientele of the neighborhood: "Now U C us." Despite the significance behind the graffiti, Tassett apparently disapproved. He told the Dallas Morning News, "It's one of those pieces that is ripe for puns, which I guess even the protesters weren't able to resist. I empathize with their feelings, but I really don't think hurting my piece is helping anything." The piece has since been restored to its original state. See it on Main St. between Akard and Ervay.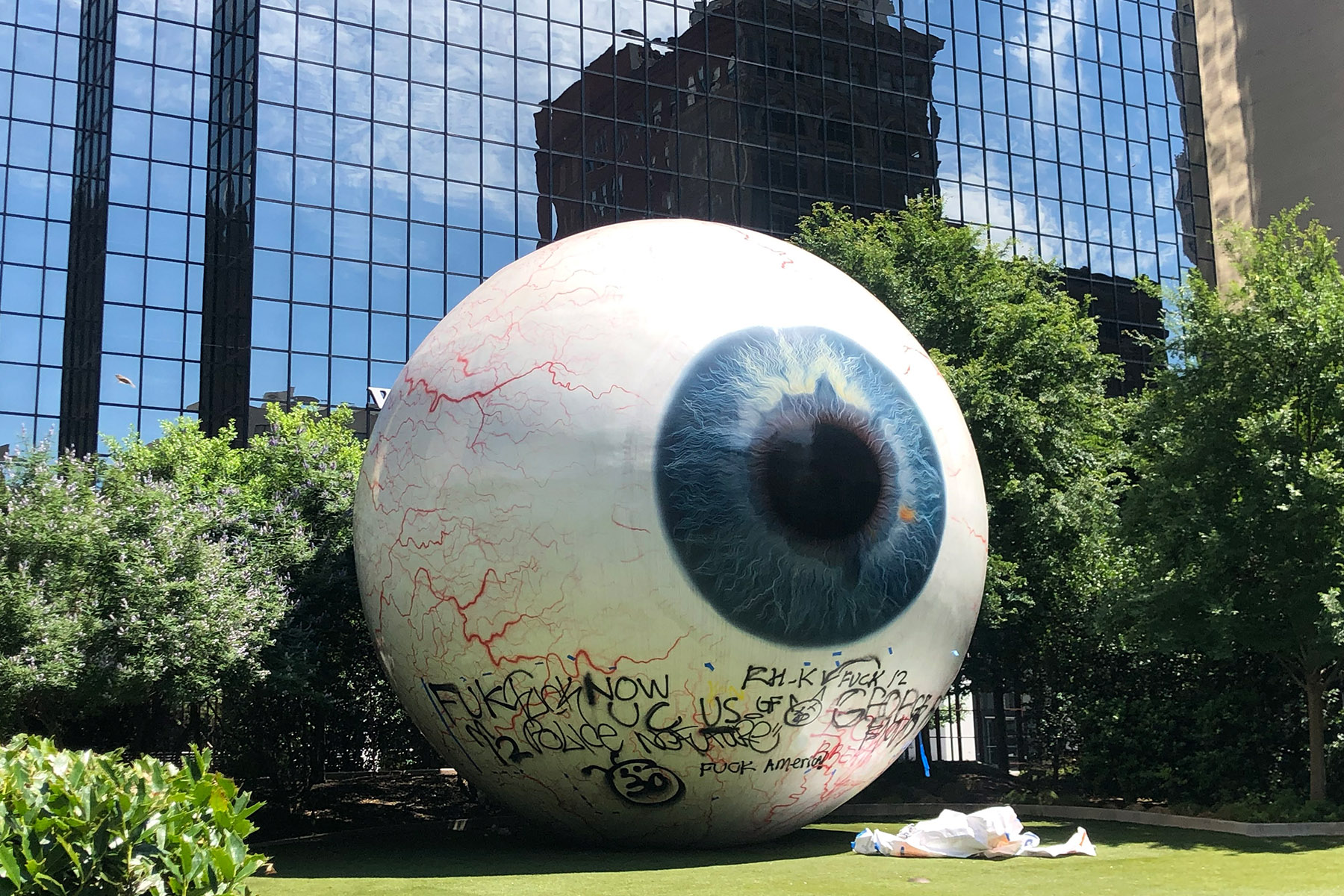 Thanksgiving Square Chapel (1976) 
Merging architecture and art, Thanksgiving Square Chapel may be Philip Johnson's most whimsical contribution to Dallas. The non-denominational chapel and its surrounding square are set 15 feet below ground level, creating an oasis from urban noise and traffic. You'll find serene water features and sitting areas outside of the chapel, which twists 90 feet into the air like an off-kilter wedding cake. Inside, a spiral of rainbow-hued stained glass covers the ceiling and paints the interior with warm colors. The Chapel of Thanksgiving is currently closed due to the pandemic, but the square is open and the building's unique exterior makes it worth a visit. 
John F. Kennedy Memorial Plaza 
The somber JFK Memorial in downtown's West End Historic District is another piece of architect Philip Johnson's significant legacy in Dallas. The minimalist concrete monument is a cenotaph, or empty tomb, which holds a dark granite block inscribed with John F. Kennedy's name. The memorial was erected in 1970 at 646 Main St, near the site of the president's murder. The Sixth Floor Museum, which reopens to the public in mid September, gives visitors further insight into JFK's 1963 assassination.
Trail Drive (1994) 
Dallas isn't really known for its Western flair, but that didn't stop billionaire Trammell Crow from placing a massive cattle drive in the center of the city at Pioneer Plaza–even after a group of local artists banded together to protest the artwork in favor of something more historically accurate. Glen Rose-based artist Robert Summers created the dynamic scene, which includes 49 bronze steers (each taller than six feet) and three trail riders crossing a limestone ridge and stream.
[d-embed][/d-embed]
Three Piece Sculpture: Vertebrae (1979) 
Henry Moore's three-piece bronze sculpture, often called "The Dallas Piece," acts as a beautiful complement to architect I.M. Pei's modernist vision for Dallas City Hall. The piece is the largest of an edition of eight (plus an artist's copy), another of which is housed in Dallas at the Nasher Sculpture Center. 
Floating Sculpture (1973) 
A stone's throw away from Moore's sculpture, two red orbs float in the expansive fountain in City Hall Plaza. The piece by French sculptor Marta Pan was brought to Dallas by Mary "Billie" Cantrell Marcus, wife of Stanley Marcus, who died the night before she was scheduled to dedicate the artwork. The sculpture now belongs to the collection of the Dallas Museum of Art in memory of Mrs. Marcus, though it still holds its spot in front of Dallas City Hall.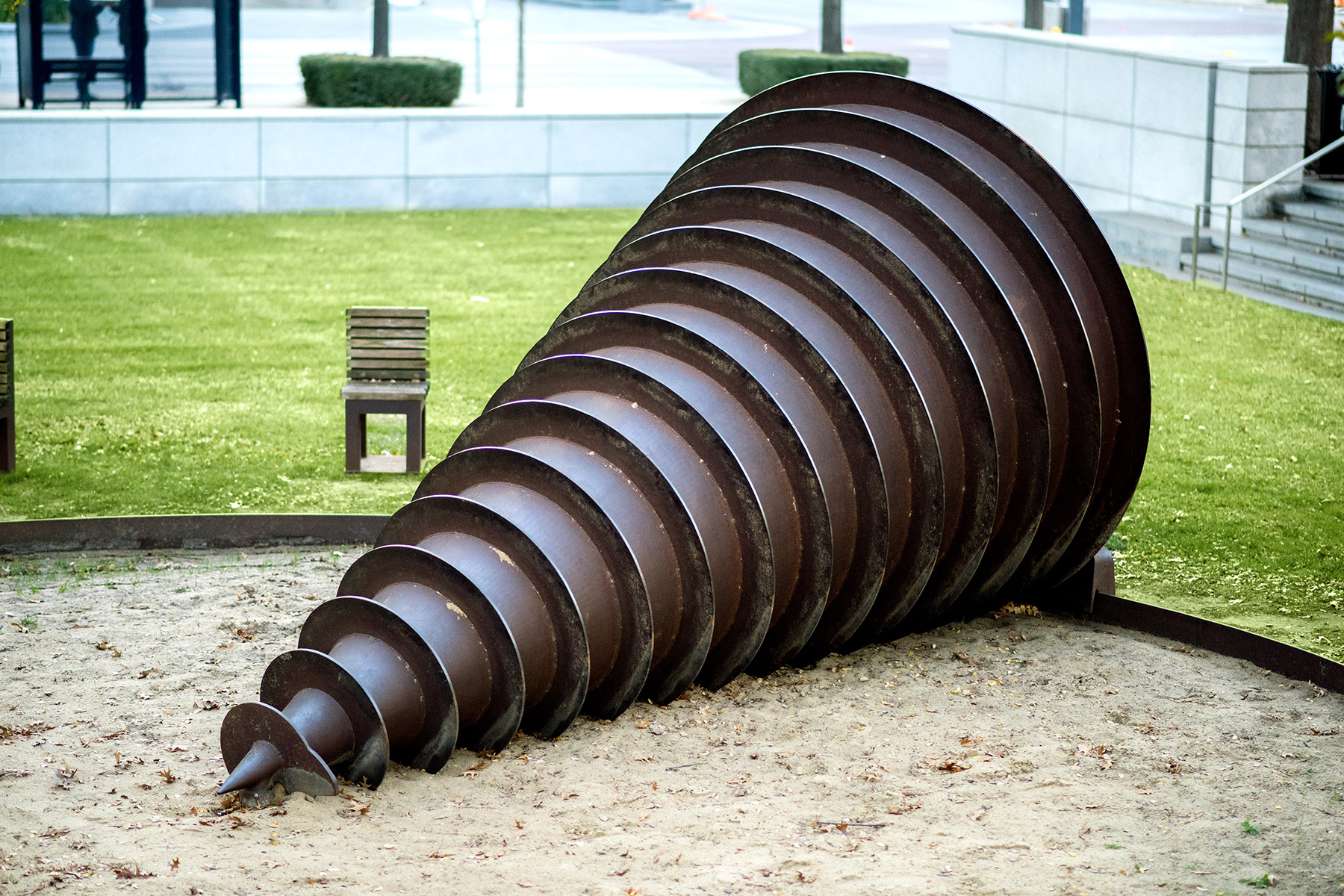 Harrow (1992) 
The only sculpture on this list made by a local, female artist (Linnea Glatt) is actually in danger of being decommissioned from its post in Lubben Plaza downtown. It needs an estimated $120,000 of repairs. The sculpture, a screw-like steel cone, makes a full revolution around a circular pit of sand every 24 hours, a commentary on time and the cyclical nature of life. Last year, however, it came to a standstill due to mechanical issues. It needs to be taken off site, rewired, and reinstalled in order to orbit once again. Officials say it's likely that the sculpture will be decommissioned rather than repaired. See it while you still can–even without motion, the piece maintains its poetic meaning. 
Gateway Stele (1994) 
Another locally sourced sculpture located in Lubben Plaza Park, this granite arch was made by late, Oak Cliff-raised sculptor Jesús Bautista Moroles, who attended El Centro College and University of North Texas. The artist was known for his masterful use of granite, which you can see in Gateway Stele as well as Spirit Inner Columns, a sculpture that was installed in the Hall Arts complex shortly before Moroles' death in 2015.
Whaling Wall (1999) 
Artist and conservationist Robert Wyland completed a giant, eight-story tall, 170-long mural depicting humpback whales in Downtown Dallas in 1999, but the dreamy scene was lost beneath advertisements for years after. As the pandemic brought down the economy this spring, the advertisements stopped and the mural was uncovered for the first time in 15 years. The vibrant marine tableau is no. 82 of 101 "Whaling Walls" painted by Wyland around the world.
Get the FrontRow Newsletter
Get a front row seat to the best shows, arts, and things to do across North Texas. Never miss a beat.