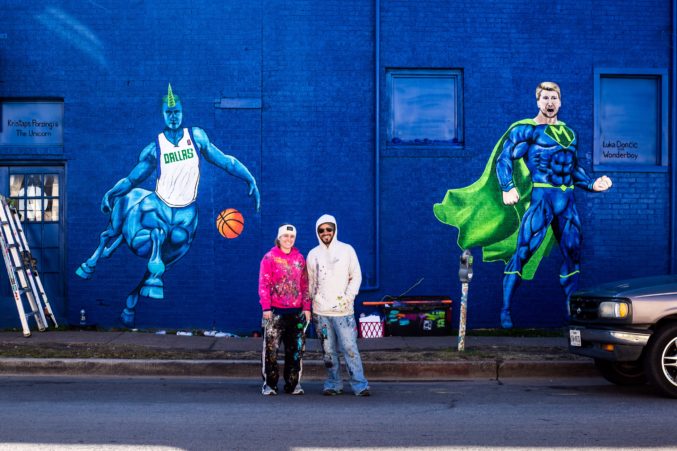 Mavericks Luka and Kristaps Get Their Own Mural in Deep Ellum
Artist Preston Pannek shows Dončić and Porziņģis in superhuman form in a new mural on Crowdus and Commerce.
Preston Pannek remembers the moment he fell in love with basketball. It was the turn of the century, and the artist, a lifelong Dallas resident, was captivated by the sight of a seven-foot German blithely outwitting some of the NBA's best defenders.
"I fell in love with basketball because of Dirk Nowitzki," Pannek says. "And when I fell in love with Dirk, I fell in love with the Mavericks."
Pannek has been a fan through the ups and downs. He remained a devotee when the team shipped off Finley and Nash. He was loyal even after the team's 2006 NBA Finals collapse, and he was the happiest man in town when that tall German finally hoisted a championship trophy above his head in 2011.
A lot has changed for Pannek in the years since Nowitzki captured his heart, and those of a million other Texans. He founded a couple of business, he found love, and he found a niche for himself in his hometown. Alongside his fiancé Adrienne Creasey, Pannek paints the kind of vibrant, creative murals that have become synonymous with Deep Ellum (this kind, not this kind).
Yet, the sports fanatic hadn't created a mural inspired by his beloved Dallas teams until this fall.
"I don't want to put up a mural of someone that kids can't look up to," Pannek says. That ruled out Ezekiel Elliot. He also wanted to do something no one had done yet, which ruled out Dirk. "I want to put one up of someone who defines the city, someone we can all love."
Pannek's basketball fandom expands beyond the States, so he had been tracking Slovenian superstar Luka Dončić before he was drafted then traded to the Mavericks.
"I kept telling Adrienne's stepdad, 'I hope we get him! I hope we get him!'" Pannek says, his voice rising an octave as he literally bounces, recalling his excitement. "Then we got him, and I was like, 'Mural time.'"
Still, he waited out Nowitzki's farewell season–and because, well, you never know.
"Sometimes stars don't pan out, and even if they do, you don't know if that money is going to change them," he says. "Sometimes they do stupid stuff." See: Elliot.
When Dončić began the 2019-2020 season on a tear, Pannek knew it was time. With Creasey's help, Pannek painted the "Wonder Boy" mural on the side of St. Pete's Dancing Marlin. The duo captured Dončić mid-roar, his fists clenched as, in Pannek's mind, the Slovenian celebrates dropping 40-plus points on the Houston Rockets. In the "Wonder Boy" mural, Dončić is clad in a skintight blue super suit that shows off impeccable abs, while a green cape flows behind him. The mural represents the superhuman feats Dončić frequently accomplishes on the court; in real life, Pannek admires the Mavs star for his more human qualities.
"The kid hates to lose," he says. "Some players just want to fill up the stat sheet and collect paychecks; this dude just hates to lose, and he seems like a great guy."
But no Dončić-decorated wall would feel complete without an accompaniment from the Wonder Boy's fellow Eastern European star. So Pannek added Kristaps Porziņģis to the side of St. Pete's, painting the Latvian big man as a unicorn in honor of the nickname given to Porziņģis by Kevin Durant.
It's an odd pairing: A 20-year-old boy wonder who looks harmless but can outfox even the staunchest defender, and the 7'3" Latvian who would be downright terrifying if he wasn't as adorable as his shorter Slovenian teammate. Somehow, it works. '
Pannek and Creasey are an odd pairing as well. He is a boisterous ball of energy who decided to start an eyelash extension business just for the heck of it, and she is his soft-spoken partner-in-crime with a penchant for baking. But they work, too, and now they have one more thing in common.
"He turned me into a big Mavs fan," Creasey says. "Now I see every game."