Textile artist and abstractionist Anni Albers once wrote, "Along with cave paintings, threads were one of the earliest transmitters of meaning." From beautiful ornamental pieces destined for display to more functional articles worn daily, textiles were elemental components of daily life for bygone peoples, especially those across South America. Inspired by the ancient artifice, 84-year-old fiber artist Sheila Hicks began to incorporate the discipline into her own works and has done so for about 60 years. In a captivating display of colored threads and texture, the Dallas Museum of Art presents Sheila Hicks: Secret Structures, Looming Presence, a knit of contemporary and ancient indigenous weaving techniques.
Although based in Paris since 1964, Hicks has lived and worked extensively in various South American countries, including Mexico, Peru, and Chile. During her time abroad as a student specifically, Hicks discovered her interest in ancient Andean textiles as she was conducting research on the subject for her master's thesis. This academic interest turned artistic and personal when she began weaving herself.
"In my conversations with Hicks, she told me with joy in her voice that she didn't want to just 'study' things. She wanted to make them," says Michelle Rich, the Ellen and Harry S. Parker III assistant curator. "I found that very profound and really spoke to Sheila's level of creativity and her ability to appreciate the skill and craftsmanship of artisans from the past and bring that into the present and translate it in a new a different way."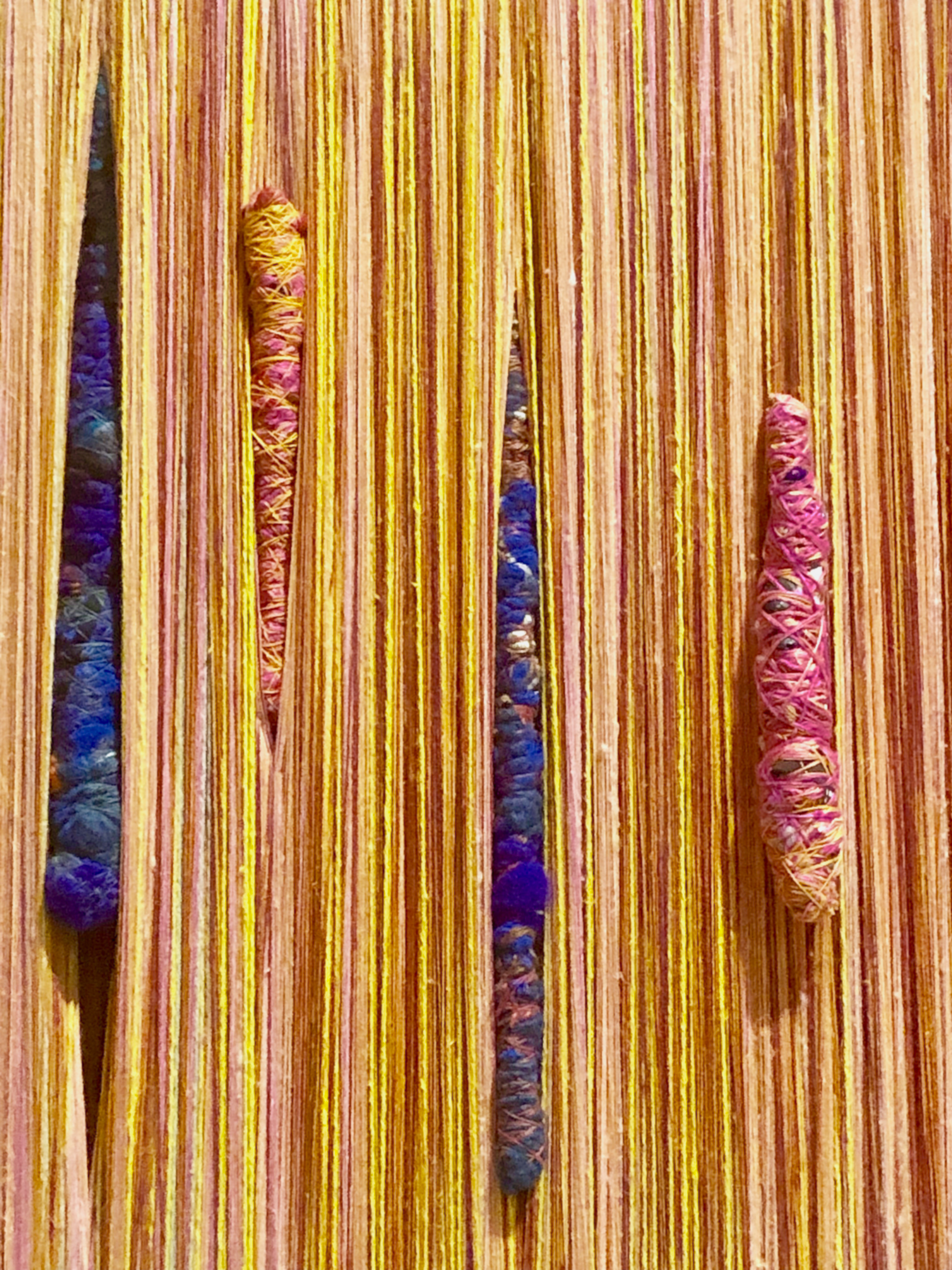 The exhibition begins up the stairs on the fourth floor, in the Atrium Overlook. Take a look at the few Hicks pieces adorning the walls on either side of the entrance to the Art of the Americas gallery before heading inside. Upon entering the gallery's second room, you will be greeted by an apt display.
Hanging from the wall are three Hicks pieces. Protected under the display case are four from the Nora and John Wise Collection of Ancient South American Art. Though created thousands of years apart and by a number of different hands, some similarities stand out. The four-salvage panel–an ancient weaving technique used to ensure the piece has four finished edges–appears in Hicks' smaller pieces, which she calls "minimes."
Wrapping and bundling, another Andean staple, manifests in Zihzabal. With this piece, Hicks plays as much with depth as she does with texture. Spools of colorful twine envelop several bamboo skewers, and while some lay prevalent in the foreground, others peak out from their fiber dens, physically parting curtains of thread as they do so. This playful work stands apart from the exhibition, thanks to both its vibrant appearance and to its recent purchase by the DMA. Zihzabal will be the first Hicks in the Museum's collection, coming shortly before Hicks' surprise donation of another woven piece.
In some ways, viewing these Hicks pieces alongside Andean artifacts feels like seeing her work as it was meant to be seen. In this exhibition, the viewer is given an extra contextual thread, one which emphasizes both the artist's veneration for the works of weavers past and the undeniable cultural nuance of the discipline.
Sheila Hicks: Secret Structures, Looming Presence is on view until January 12, 2020. Admission is free, and while you're there, check out another focus show you won't want to miss.
Get the FrontRow Newsletter
Get a front row seat to the best shows, arts, and things to do across North Texas. Never miss a beat.