Xxavier Carter will present his MFA Thesis Qualifying Exhibition tonight at SMU, but it's not the work that he had been planning for two years. About 48 hours before the pivotal moment in the artist's career, the university told him to change the core of the project.
The point of controversy: Carter was going to cut himself in front of the audience. His four-part performance, titled "Rumor Has It," included him reopening 40 scars on his body using a seven inch filet knife.
"This was definitely the biggest part of the exhibition and the bulk of my MFA research had been leading to this performance," he says.
The piece was inspired by the sacrificial practices of indigenous people across the world, such as the body modification rituals of the Sepik river tribes in Papua New Guinea, which are seen as a rite of passage. In the final part of the performance, Carter covers his wounds in salve and bandages. As D contributor Christopher Mosley writes in the exhibition catalogue, "Carter does not see this ritual as self-harm, but rather as a repossessing of his tattered being."
SMU doesn't agree. The Algur H. Meadows Dean Samuel S. Holland communicated in an email sent to Carter on Wednesday that "the University expects that any performance involving self-injury or even the appearance of self-injury (i.e. simulation) not proceed at this time." The dean also added that "the first concern of the University is [Carter's] ability to graduate with [his] MFA in May 2019 without penalties." We've left messages with the dean of the Meadows school and with SMU's PR team and will update if we hear back. 
I asked Carter if that means that he wouldn't be able to graduate if he proceeded with the performance as it was planned. "That's how I read it," he says. "It seems so condescending and insulting a little bit. You're a crazy artist and you might do this anyway, so we're going to shake our finger at you."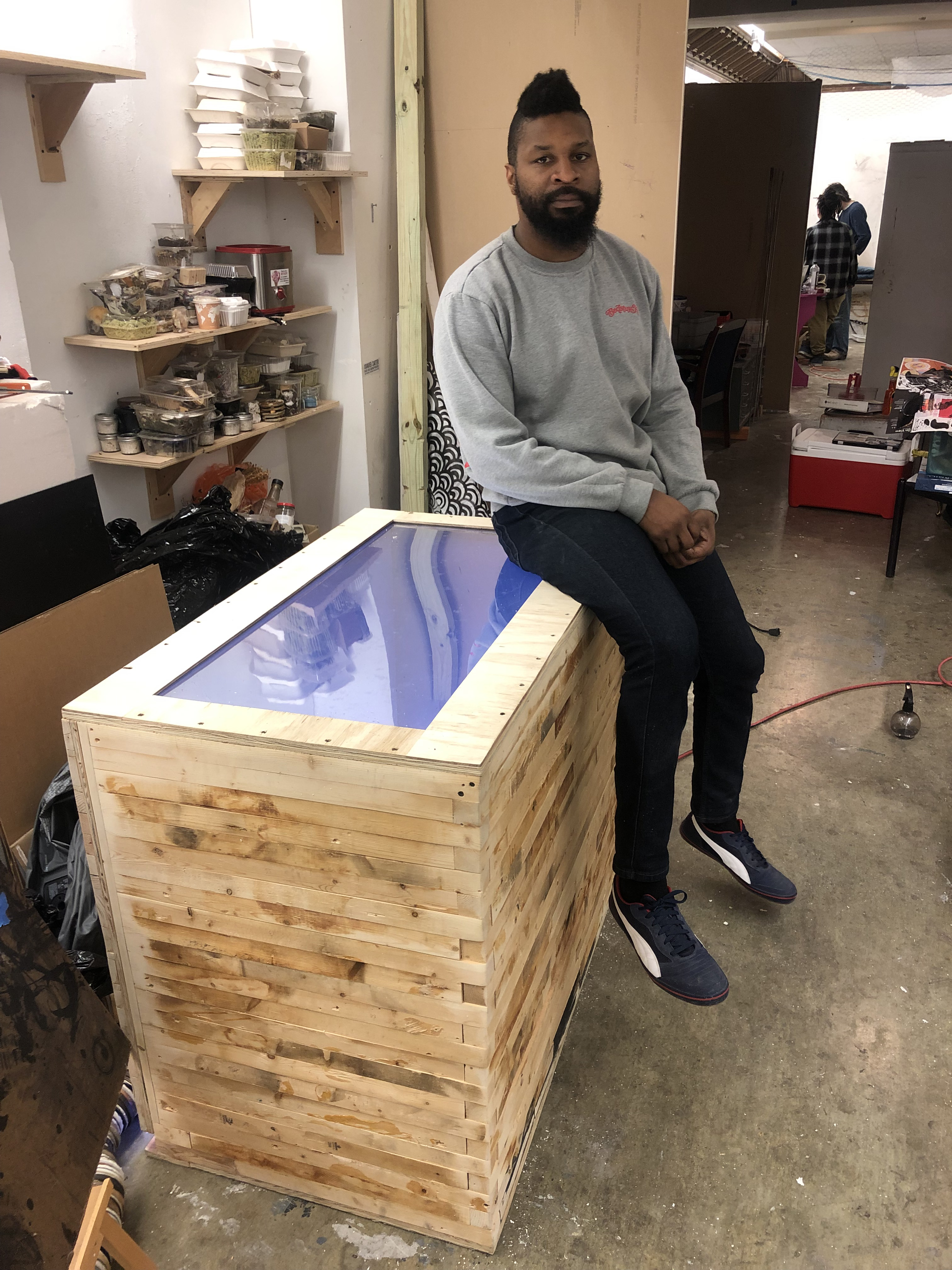 The artist says he's been communicating with various university departments, including risk management, to finalize details of the performance for about a month. He planned to have a team of seven assistants on site, as well as an ambulance (at the suggestion of risk management), in case anything went wrong during the performance. There would also be signage warning that the performance contains content that may be questionable to some viewers, a detailed description of the concepts, and a docent available to mediate conversations.
Despite these precautions, the university made the decision to veto the performance "based on substantial concerns for the well-being of the SMU student community." Holland told Carter in the email that the "Meadows School requests the Division of Art to immediately develop a robust and timely review process and standards that would identify risks and potential unintended consequences of MFA projects."
"I don't know what more that they want on behalf of an already thinly stretched art division to vet an already reviewed art piece," says Carter. "I'm not reinventing the wheel. People have done scarification art work before."
It's not all that shocking a concept considering Carter's previous work, either. The artist has a history of highly visceral, physically demanding performances – like carrying a giant cross 10 miles across Dallas barefoot in the heat of summer.
"Everybody has scars, everybody has these visual cues of who they are to other people, and they get read in a certain way by other people," he says. The idea "is to reclaim those marks for [himself] through the act of opening them and resurfacing everything, all the trauma all the work all the pain happens at once." The performance was to be an emotional release, immediately followed by healing.
Upon hearing that his project had been rejected by the school, Carter had no choice but to create a new piece to go in its place. This one also ends in a release of kinds, but its concept is quite different than the artist's original plan. Its name: "Better Luck Next Time."
Carter might try to carry out "Rumor Has It" in different context, perhaps giving the artwork some kind of "restorative justice." For now, he's focused on finishing the last leg of his MFA. "My goal is to graduate and to move onto bigger and better things," he says.
Xxavier Carter will present "Better Luck Next Time" at the MFA Thesis Qualifying Exhibition opening reception tonight at 5 p.m. in the Pollock Gallery. 
Update: SMU responded to our inquiries on Friday afternoon with the following statement.
A university should always be home to the free exchange of ideas and SMU is proud of its commitment to academic freedom and the principle of freedom of speech and expression. SMU has carefully reviewed the request of Meadows School of the Arts M.F.A. student Xxavier Carter to stage his master's thesis performance in a public location on campus. During this review, SMU considered the potential impact for those in the campus community who observe Mr. Carter's performance, which involves self-injury by cutting and bloodletting.

American universities nationwide are grappling with the pervasive problem of students who injure themselves – including by cutting – for a number of physiological and psychological reasons. The American Council on Education released a report in February, 2019, stating that approximately one in five college students have engaged in self-injury, which is "associated with increased odds of suicide ideation, plans and attempts."

Mr. Carter was requested to modify his thesis by removing the cutting or simulation of cutting from his performance.  He is now moving forward with his thesis performance.
Get the FrontRow Newsletter
Get a front row seat to the best shows, arts, and things to do across North Texas. Never miss a beat.