Take a break in your travels to sit on a patchwork carpet of discarded jeans and embark upon a journey of the mind, accompanied by the lilting jazz tune that weaves in and out of ambient noise as a soft voice reads the poetry of transit, of the meeting of cultures, and of building a new life in a strange place. Another wanderer-artist over a century ago may have asked, "Where Do We Come From? What Are We? Where Are We Going?" But this modern tale begins more intimately and self-referentially:
Where I came from

Means just as much to me

As where I am and where I'm going

They are layers of who I was

Who I am

And who I choose to be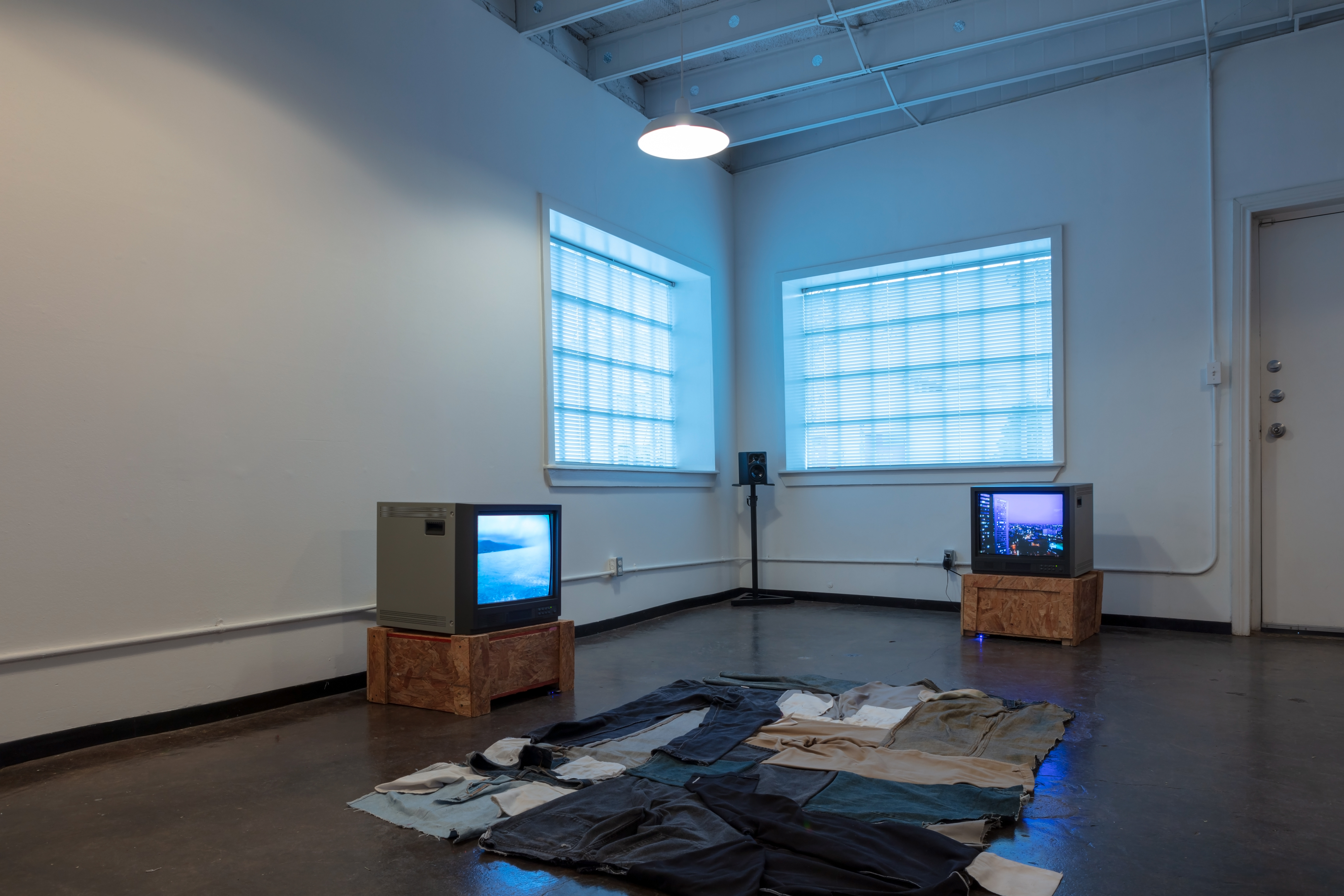 Three bulky television sets sit atop rough wooden crates, surrounding an open space where a rug of rags invites visitors to pause, to sit, watch, listen, and ponder. Each screen stands for a point on a journey, from an idyllic past, almost as static on tape as it is fixed in one's memory, through the turbulently hypnotic motion of transition, and towards an indistinct yet tempting vision of the perfect future.
The Potential Wanderer is a site-specific multimedia installation created for The Reading Room by Houston-based interdisciplinary artist Francis Almendárez and curated by Caroline Elbaor of Dallas Contemporary. The two met during their post-graduate studies in London, worked together on a number of shows in Europe, were recently reunited in Texas, where both maintain close familial ties.
The measured cadence of Francis Almendárez's voice flows over the brusque beat of home cooking, the clash of waves under a rumbling motorboat, and the din of a big city at night. The words are profound and pragmatic, uplifting and depressing, poetic and political, personal and universal, and counterpointed by the waning and rising chords of Juan Tizol and Duke Ellington's Caravan. Since the melody's 1936 debut, it has been arranged and reinterpreted countless times. Its success is widely attributed to the fresh influences Puerto Rican Tizol's work brought into Ellington's oeuvre.
For the installation, Caravan is performed and recorded by Francis Almendárez in concert with his brother Anthony, on trombone and trumpet respectively. This soundtrack serves as a tribute to the global caravan of adventurers, laborers, and drifters who cross borders not hastily, but to build a new home, however temporarily. They shape and are shaped by each place they linger, bearing the mark of past journeys wherever they go.
Almendárez began working on The Potential Wanderer in October. "Initially, Caroline [Elbaor] wanted to use older work, but I wanted to make something new. Coincidentally, my work has already been going in this direction, where I'm writing all these texts, so it was fitting for The Reading Room."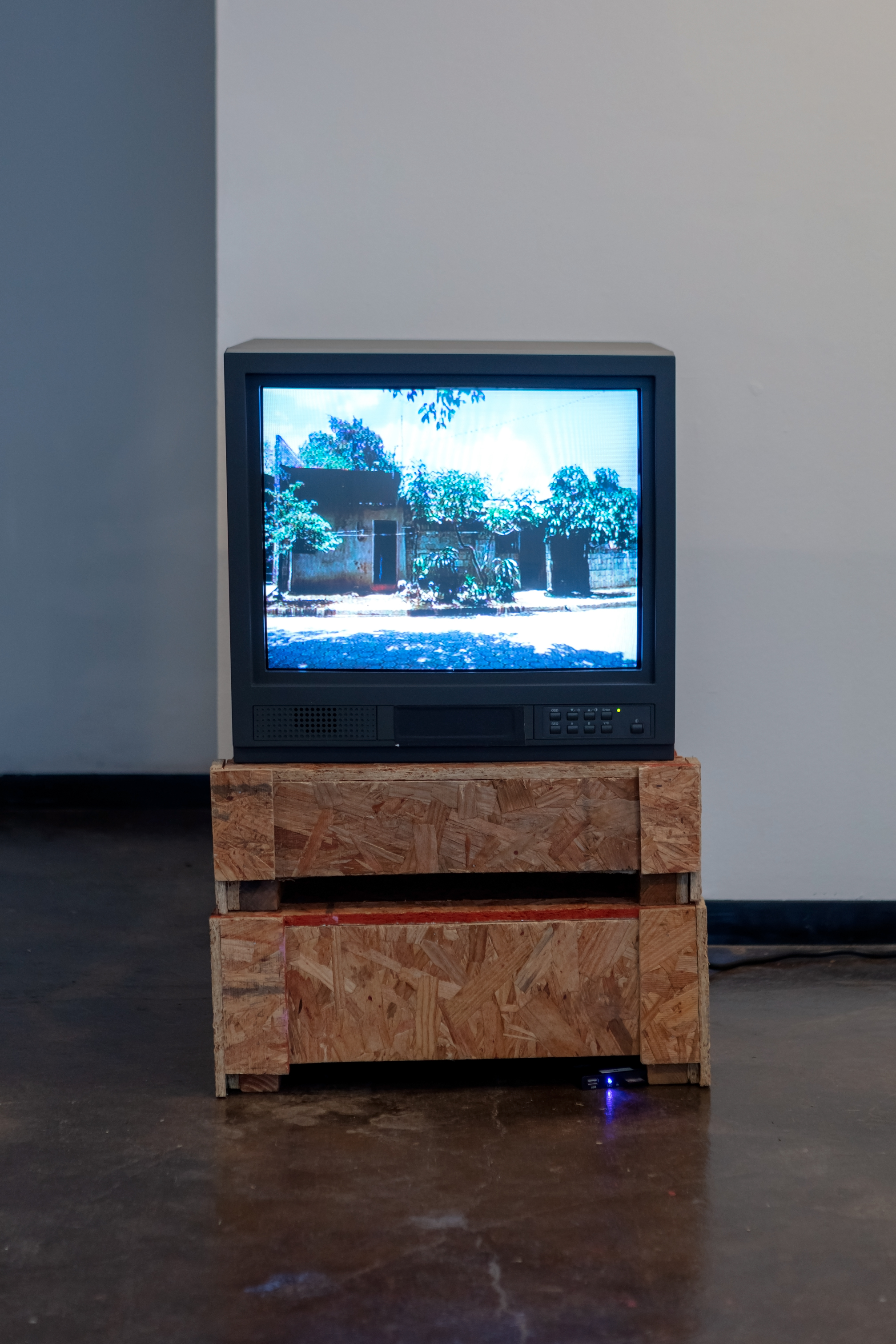 The rug, a quilt of Levi's and Dickies trousers, was the first piece the artist created for the installation. He wanted to bring something interactive for viewers, a place to congregate and contemplate.
"I noticed that everyone around me always wore Dickies' and Levi's; these are the brands that construction and maintenance workers use. So, I decided to use them as a reference to manual labor, and to incorporate the inner seams as evidence of labor that has already been done on them," says Almendárez. "I was also trying to incorporate my own labor as an artist by hand-sewing these jeans together."
How much of our origins do we get to carry with us through our life's journeys? Is the deceptively serene vision of a future destination worth the years of hardship endured with relentless optimism by many minimum-wage workers who juggle several full-time jobs only to barely make ends meet? And are we not meant to enjoy the journey itself? The Potential Wanderer lends no easy answers, instead letting the questions rise and resonate within the viewer's soul.
With its rough crates and washed-out denim, its scenes from unspecified American locations, the sounds of the Caribbean sea and a Latin American household, and the words of wonder, bitterness, and encouragement, Francis Almendárez's installation references and illustrates the experience of a second-generation American immigrant. Yet this experience is hardly unique to the USA, for no matter how safely settled we may seem today, at one time or another we most of us turn migrants, voyagers, nomads, explorers, commuters, pilgrims, and exiles:
Transcending static notions of time and place

As we are all wanderers on this Earth

Hybrid, fluid, potential
The installation is on view at The Reading Room through March 2, 2019.
Get the FrontRow Newsletter
Get a front row seat to the best shows, arts, and things to do across North Texas. Never miss a beat.