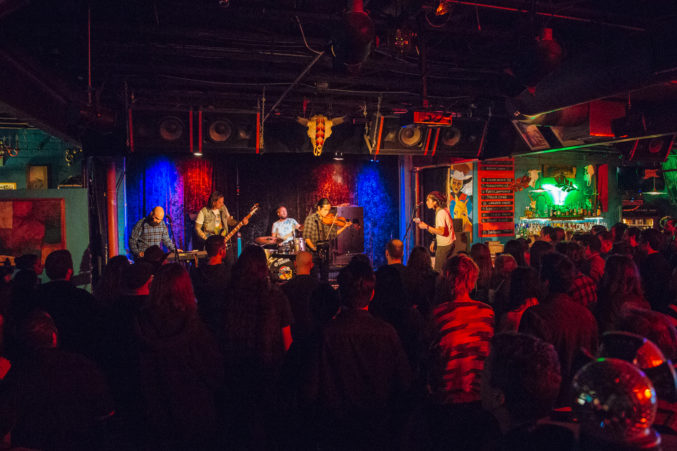 Rock Lottery Returns To Denton This Saturday
It's the 17th installment of the fundraiser and musical experiment, in which a broad range of musicians get thrown into makeshift bands for the day.
Denton's fun and funky musical experiment Rock Lottery is returning for its 17th installment this Saturday at Dan's Silverleaf. The concept is simple: 25 musicians meet at Dan's at 10 in the morning, names are drawn from a hat, and five brand-new bands are born. The groups are turned loose for the day to create a band name and three to five songs (only one of which is allowed to be a cover). At 10 p.m., they reconvene at the venue and perform their new material in front of an audience.
Historically, it's been a good time. The 20-year-old tradition started—a few missed years gets us to 17 total lotteries—in North Texas and has since been adopted by other cities including Seattle, Brooklyn, and Los Angeles. Musicians from popular acts like Brave Combo, Father John Misty, Head and the Heart, Yeah Yeah Yeahs, The Roots, and The Toadies have participated in past editions.
The selected 25 musicians always represent an array of genres and styles, so the event brings together some unlikely teams. It's kind of like a group project in school: You may not have much in common with your partners, but you must find a way to make it work.
This year, the bunch includes local favorites like rapper Rikki Blu and Midnight Opera's Nicole Marxen-Myers (synth, guitar, vocals).  "Their recorded albums are just phenomenal," says Andi Harman, a member of Rock Lottery's selection committee and the band photographer, of the artists.
17-year-old drummer Payton Taylor is the youngest musician on the lineup, but don't let her age fool you. "We found a video of her entering this female drum competition," says Harman. "She looks like a seasoned pro."
The group should be made even more interesting by non-rock musicians like harpist Jess Garland, and multi-instrumentalist Andy Don Emmons of Inferno Texino, who Harman expects to be "an interesting wild card."
To watch the madness unfold, stop by Dan's Silverleaf on Saturday morning for the name-drawing ceremony and breakfast. AM tickets are $20, and they get you into the concert later that night. Or, tickets for the concert only are available for $15. You can buy either here. 
Proceeds from Rock Lottery benefit KUZU 92.9 FM, Denton's non-profit community radio station.
Here's the full lineup of this year's musicians:
Josh Banks – The Noids

Jordan Batson – A.M. Ramblers  

Rikki Blu

Michael Briggs – Cereboso

Harley Deville

Andy Don Emmons – Inferno Texino

Jarrod Estes – Felt & Fur

Ritchy Flo

Jess Garland

Matthew Gibbons – Joe Gorgeous

Tim Harman – The Atom Age

Stevie Hayden – Virxe

Meggie Hilkert – Eat Avery's Bones

Gerald Holt – Fun Button

Miranda Kennedy

Nan Kirkpatrick – Little Beards

Nicole Marxen Myers – Midnight Opera

Anthony Olgin – Trap Lord

Eric Park – Wrought Of Obsidian

Kaila Parrish

Payton Taylor – Sweet Chaos  

Ben Scott – Strays

Micah Vargas – Hey Cowboy

Ava W – Starfruit

Matt Williams – Johnny's Big Red Rocket