In 1980, Sid Erwin began receiving some unusual visitors at his Richardson barbershop.
Their hair was often slicked back or otherwise greased up in the pompadours of another era. Most did not need haircuts. A few called ahead, to make sure Erwin would be in. Almost all of them had come a long way, traveling from England, from Europe, from Australia. 
At least one visitor told Erwin that he had three destinations on his American holiday: Graceland, Elvis Presley's estate in Memphis; Lubbock, the hometown of Buddy Holly and the site of the bespectacled rock 'n' roller's museum; and Sid's, this nondescript barbershop in the Dallas suburbs.
Erwin would see them coming to the unremarkable shopping center off U.S. 75 and Belt Line. They'd be dressed like tourists from the 1950s, aiming their cameras at the barber's pole in the parking lot and the plainspoken sign on the storefront.
"I said, 'My God, who are these people?'" Erwin remembers.
Inside, the visitors would look at the old photos and posters hanging on the walls of the shop. It's no Graceland, but Sid's is full of memorabilia from the early days of rock 'n' roll, and from one band in particular.
Formed in Denton in 1952 while its lead members were still in junior high school—a full-page Columbia Records ad in
Billboard
would eventually dub them "the youngest band in the land"—the group that was first known as the Western Melody Makers, before turning into Sid King and the Five Strings, helped pioneer a sound in its infancy. Revivalists would later call it rockabilly, but it was just good music to Sid and his brother Billy, who were inspired by the country western and rhythm and blues records they loved.
Sid and Billy were regulars on North Texas radio, and then on the "Big D Jamboree," a popular live show held at the Dallas Sportatorium and broadcast on KRLD-AM. They signed a deal with Columbia. At the dawning of rock 'n' roll, they rubbed elbows with music industry bigwigs and artists who would become legends. They co-headlined shows with Elvis Presley and Johnny Cash, and helped Buddy Holly book his first performances in Dallas, letting the reedy singer from Lubbock stay with them at their parents' house.
Elvis became The King, and Holly, killed in a tragic plane crash in 1959, became an icon.
Sid, frustrated after some fruitless years in the music business following the Five Strings' split in 1958, became a barber. He opened his shop in 1965. Billy, who had been working as a recording engineer in Los Angeles, joined him in Richardson a decade later, similarly fed up with an industry that could be unkind to those who didn't sell records.
"We didn't really have any concept of being a big star or anything, but we did want to do that. It just never happened," Billy says. "We sort of forgot about it, until several years later we started getting people from England and Europe calling and wanting us to come over there. We were bigger over there than we were here."
Sid put it this way when he rewrote a Chuck Berry song and called it "Rockabilly Music":
Don McLean sang "American Pie"
He said the music would surely die
But it never really went away
You just don't hear it in the U.S.A.
Sid knew who these people coming to his shop from around the world were, although he hadn't seen their kind in years. He had begun to think they no longer existed. They were his fans.
___________________________________
Music ran in the family. The Erwins' mother, herself a pianist and fiddler, bought her sons a guitar for Christmas. The brothers taught themselves to play, covering Hank Williams and other country hits.
The Erwins were teenagers when they began performing live on a local radio station every Saturday. Sid's scrapbook contains a 1952 Denton newspaper clipping of the boys and their band, which inherited its Western Melody Makers name from the radio program. Sid sang and played guitar, while Billy was the lead guitarist. Mel Robinson lended vocals and steel guitar, and within a year the group was rounded out by Ken Massey on bass and David White on drums.
The radio show led to gigs around North Texas. The band, its members still in high school themselves, found their warmest receptions at school assemblies, where young people were beginning to thrill to the wild stew of new music developing from country, rhythm and blues, and gospel.
A Dallas television appearance on the WFAA Shindig put the Melody Makers on the radar of Starday Records, a Beaumont-based country music label that signed the band to a one-year contract in 1953. The group recorded several songs at the Dallas studios of famed producer Jim Beck, who helped launch some of country music's biggest names, like Bob Wills and Ernest Tubb.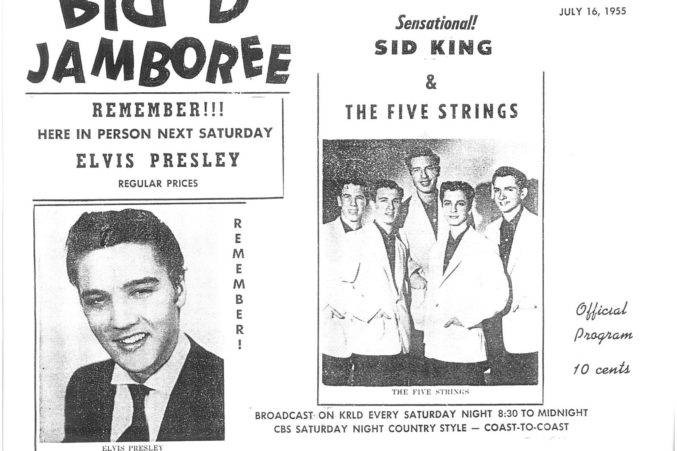 The band was sticking mostly to country music and western swing covers, and the Melody Makers had the look down pat. Photos of the group from the time show clean-shaven young men—still boys, really—dressed loudly as sparkly miniature versions of Big Tex, with kitschy cowboy hats, and kerchiefs tied around their necks.
Even then, though, the band's live performances were breaking away from the country standard, incorporating gospel songs as Sid and Billy's musical tastes broadened to include black rhythm and blues artists. Sid would later describe their music as "hillbilly bebop," and while it defied easy categorization, the band was poised to ride rock 'n' roll's first big wave, as songs by Chuck Berry and Bill Haley worked their way into Melody Makers' sets.
Money was tight, and royalties from their Starday release were not forthcoming, so when the first record contract expired, the Melody Makers eagerly made a deal with Columbia Records in 1954 after meeting the legendary A&R man Don Law. Earning the "youngest band in the land" moniker, the Erwin brothers' parents had to be present to sign the contract.
In six sessions with Columbia, the band would record nine singles that came to be counted among the first—if not the first—records to define "rockabilly," a term that would not be invented until much later to describe a sort of proto-rock 'n' roll, heavy on the bluegrass and country boogie. To use another anachronistic phrase, the group also re-branded, as Sid King and the Five Strings, whom, it was implied, were all brothers. (The glittery Big Tex outfits eventually, but not immediately, gave way to the sports coats, bowling shirts, and the slick hairdos Sid would one day see on men coming into his barbershop.)
In his 1996 book about rockabilly,
Go Cat Go!
, the writer Craig Morrison described the Five Strings' sound as "a restrained and controlled rockabilly, with a certain hillbilly charm," and a willingness to incorporate vocal harmonies inspired by R&B. Listening today, these records remain ineffably
cool
. Sid's twangy voice is a smooth shot of whiskey, Billy's lead guitar a playful bite. The band
swings
without ever seeming frenetic or rushed, a steady rhythm you can dance to all night without collapsing afterward.
[d-embed][/d-embed]
With the backing of a major label, Sid King and the Five Strings played around the country, touring in a small "Columbia Recording Artists" bus labeled with their name and appearing on the live broadcasts of the popular country radio shows "Louisiana Hayride" and Nashville's "Grand Ole Opry."
They remained regulars on Dallas' "Big D Jamboree," on which they shared a bill with Elvis Presley, then just a friendly "country boy" with a kind sense of humor, to hear Sid and Billy tell it. Presley had heard their records. On the first meeting, the not-yet-King told the brothers that "he thought you guys were older."
After playing in Lubbock, Sid and the band were cornered by a "gung-ho" local musician desperate to break into the music business, demanding to know where he could play in Dallas. They helped Buddy Holly get an audition with Columbia and a place on the "Jamboree," and gave him a place to stay. On a showbill from around this time, the band is listed above Johnny Cash.
In 1956, when Sid King and the Five Strings were recording original songs now considered rockabilly classics,
Billboard
named the group "one of the best show bands" of the year, an honor justified by the band's relentlessly professional live act. Sid and Billy felt sure their big break was around the corner.
But while Sid King and the Five Strings remained relatively well-known at home, nothing translated into significant record sales, radio hits, or national success. By 1957, the whims of popular music had moved on, and Columbia let the Five Strings' contract expire. The group split up the next year, resigned to a footnote in the early history of rock 'n' roll.
"I think we were too rock for country and too country for rock," Sid says.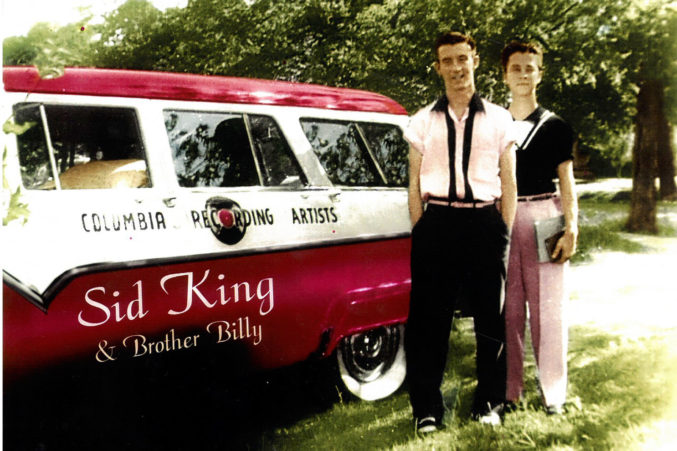 The Erwin brothers remained in the music business for several years after the end of the Five Strings, each touring with artists like Buddy Knox and Sonny James, playing together and on their own, continuing to chase a hit song that never came. 
Increasingly disillusioned, and with several children to raise on a musician's salary, Sid opened his barbershop in 1965.
"I thought it'd be a thing I could do and then get away and play music. Music was always back there," he says. "That way you can do both, and I'd be able to make a living."
Billy, working for several years as a sound engineer in Los Angeles but put off by the smog and by many of his friends' battles with alcoholism and drug addiction, moved back to North Texas and picked up a pair of scissors at Sid's in 1975. He had a family to look after, too.
The brothers kept the old publicity photos and showbills hanging in the shop, but the Five Strings were a mostly forgotten relic of the past.
"It didn't sell like we thought it would, to start with. Well, then, it's no good," Sid says. "We didn't sell for crap. That's what I felt like. It wasn't any good."
___________________________________
For their first show in England in the early 1980s, Billy says, the Erwin brothers "didn't really know what to do." It had been almost three decades since Sid King and the Five Strings dissolved. A rockabilly revival was well underway overseas, but Sid and Billy had long since moved past 1955 and the era being embraced by these young people.
They played new songs and originals, which left the audience, a crowd of hundreds bigger than any they had seen in the Five Strings' supposed heyday, nonplussed, Billy says. This was not the music rockabilly fans had come to hear.
The fact that they had come to hear Sid King and the Five Strings at all is a marvel. Billy traces it back to an Australian record collector who was circulating bootleg recordings of the band to other rockabilly obsessives, who were then cropping up in places like Italy and Germany. Labels following the newfound craze over old music took note, and in 1980, Bear Family Records, an international imprint of CBS, reissued the Five Strings' songs on
Gonna Shake This Shack Tonight,
named for a tune that became popular some 25 years after it was recorded.
"All of a sudden, I felt like a star, and I never had experienced that."
It was, in a sense, Sid King and the Five Strings' first true album, and their first true hit. (Buoyed by this long-delayed second shot at stardom, the original Five Strings lineup reunited in 1982 to cut an album that was released in limited distribution five years later, and served as added inspiration for the Erwin brothers to tour.)
After that first show in England, the brothers returned home and re-learned all their old songs, the covers and originals that were now being billed as "rockabilly classics." They rehearsed, and returned overseas as a practiced legacy act. Their fans loved it. The band loved it.
"We'd sit and sign autographs for two hours after the show," Billy says. "All of a sudden, I felt like a star, and I never had experienced that."
Sid saw it as a sort of cosmic payback for their failure to make it big in the 1950s, when the Five Strings had been at the forefront of rock 'n' roll, but never achieved the success or recognition of many of their peers. The disappointment of those years, the bitterness, was gone, he says.
Sid King and the Five Strings continued to play shows in Europe throughout the '80s and onward, and performed at rockabilly-themed festivals in the U.S. along with smaller gigs in Texas. Sid was inducted into the Rockabilly Hall of Fame, whose website credits the Five Strings as being among "the first to create, record and play rockabilly music…the first sounds of rock and roll." It was quite a turnaround for a band whose own members had given up 20 years earlier.
___________________________________
On a Wednesday afternoon, I make the 80-mile drive from Dallas to meet Sid in the small East Texas town of Alba, where he runs a second barbershop named, in the same straightforward manner as his first one, Erwin's.
Now 81 years old and "semi-retired," Sid moved out near Alba in 1999 for the fishing. Billy, a few years younger, continues to work at the Richardson shop, where Sid Jr. has taken up the family business and ensures the name above the door remains accurate.
I learned of Sid King and the Five Strings not through any abiding passion for the history of rockabilly, but from a family friend who lives next door to my mother and stepfather in Richardson, where I grew up. He had been getting his hair cut at Sid's, had seen the photos on the walls, and had heard the story of the rockabilly legends who never got their due, at least until the hip British kids in pompadours came to pay homage.
As I drive out to speak with a man who once shared equal billing with Elvis, I wonder whether I would have ever heard of Sid King and the Five Strings had it not been for a chance encounter with my old neighbor. Even accounting for their latter-day European stardom, Sid King and the Five Strings remain a band that does not have an English-language Wikipedia page, or much popular consciousness in the U.S. beyond some appeal as a novelty act. I feel this is a small tragedy, one suffered by hundreds of musicians and artists who came close. The band may not have given birth to rock 'n' roll, but Sid and Billy were certainly playing right outside the delivery room, waiting with flowers and balloons. Don't Sid and his band deserve more of a legacy here, a hometown reputation that extends beyond the doors of a barbershop?
The times had caught up with Sid in the 1980s, but what happens when the fans move on again, and there's no obsessive Australian record collector around to share bootlegs of the old Columbia singles?
I keep coming back to "Ooby Dooby," a song that Sid King recorded
before
Roy Orbison, whose latter version became the kind of breakthrough hit Sid had dreamed of but never really managed. I can't come to terms with the thin line between fame and a mythologized place in music history on the one side, and the immense bin full of never-made-its on the other, especially when talent and hard work so often play such a small role in which side you fall on. As I enter Alba (population: 504) I am fairly humming with indignation on Sid's behalf, convinced that his music is something the world needs to listen to.
Erwin's Barbershop is in a repurposed service station right off the highway, and cars park on the grass or dirt. I am expecting the shop to have hanging some old photos of Sid King from the 1950s, and it does. I am not anticipating that Sid will have a full head of hair—he does—and I could not have guessed that there will be a recording studio through a door in the shop. There is.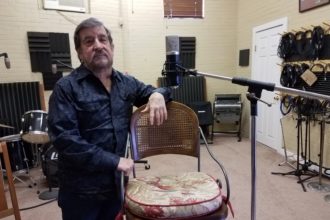 Sid began using it as a rehearsal space shortly after opening the barbershop. He liked the sound, and over the last few years, converted it into a studio with help from Ed Loftus, himself a recording engineer and musician who has played with Vince Vance and now lives in the area. (I am told that the woods of East Texas are full of such semi-retired professional musicians, many of them regulars at the barbershop, with colorful pasts and lifetimes of stories in the music business.)
Sid has let friends and other musicians record projects in the studio, but its most prominent production job was released last June.
From One Cut To Another,
credited to "Sid King plus Billy King," is a collection of songs the brothers love. Recorded between the summers of 2013 and 2015, it features covers of artists including Bob Wills, Floyd Tillman, and Dale Watson. It is the Erwin brothers' first new record in 31 years.
Sid gives me a copy of the CD, which you can buy for $10 at the barbershop, and I listen to it in my car on the way home. Sid's voice is maybe a bit different, the songs seem a little sadder and even more indebted to old-fashioned country, and the production quality is certainly cleaner. But I may as well be listening to a Sid King and the Five Strings record from 1956. It's all still there. 
I get the feeling that this album, or something similar, would exist even if the brothers' 1950s music hadn't been rediscovered. Even if they hadn't found fans around the world, Sid and Billy would have always kept playing. And somebody, somewhere, would have listened.
They quit the music business, but they never quit music. Sid remembers, early on, maybe after his mother bought her sons their first guitar, realizing what was ahead of him.
"This is what I'm going to do for now, for my whole life. And I guess I have, to a certain extent," Sid says. "I've done a few other things along the way."
About a week after I meet Sid, I call Billy. He tells me a quick story, a fairly recent one.
A few years ago, following a show in Italy, a man approached the Erwins for an autograph, Billy says. He was holding a photo taken after a performance from an earlier European tour, which showed the brothers meeting the man and his child, then a baby. He was again with his daughter, now a young woman and a fan of Sid King and the Five Strings. She wasn't much older than two Denton teenagers when they started their first band a long time ago.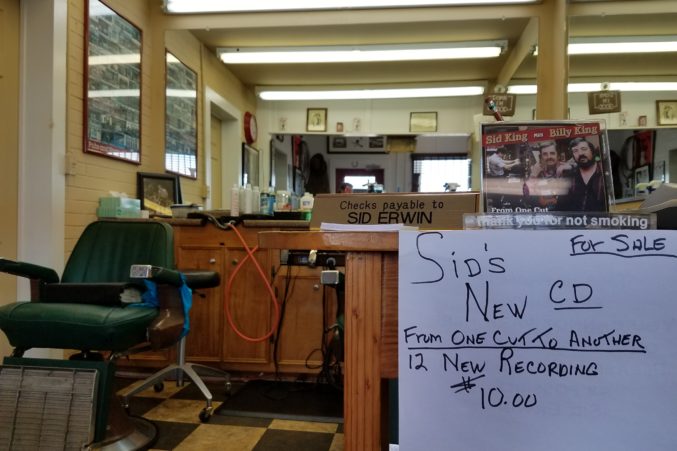 Get the FrontRow Newsletter
Get a front row seat to the best shows, arts, and things to do across North Texas. Never miss a beat.