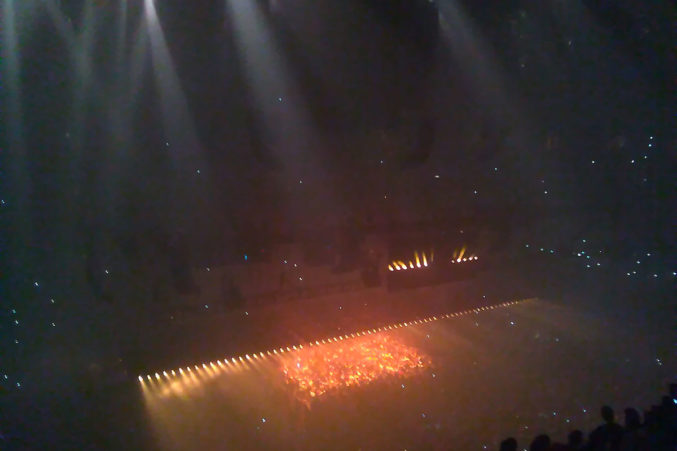 A Report From the Nosebleeds at the Kanye West Show
Or: How I Learned to Stop Worrying and Love Kanye.
Kanye West's Saint Pablo tour stopped in Dallas on Thursday, filling the American Airlines Center with thousands of people and enough fog to fumigate 10 basketball stadiums.
Parked in Section 312 with a hot dog and a Coke, I was not there to review the concert — this tour and its flying stage aren't exactly hurting for press coverage — but solely as a fan of West's music, so here's an apology in advance if the following is a little disjointed.
I went to the show with an old friend, and made a new friend: Roman, a 20-year-old with gauged ears wearing at least three items of Kanye West merchandise (estimated cost: $250). I liked Roman, even if he didn't actually know the words to the chorus of "Can't Tell Me Nothing" and incorrectly believed My Beautiful Dark Twisted Fantasy is West's best album. Roman was at the show — his first rap concert, he tells me — by himself. With his poor money management skills, cavalier disregard for the American Airlines Center's no smoking policy, and slugs of smuggled vodka from a water bottle, Roman reminded me a lot of, well, me at age 20.
I bring up Roman because, from the rafters of the arena, he wore out his overtaxed lungs shouting messages directly at West. His comments, hyperbolic as they are, seem to illustrate the kind of fervor West can inspire. If the staging of the St. Pablo tour is meant to be "a reconsideration of the top-down power dynamic of large-scale live concerts for the age of social-media intimacy and immediacy," as the New York Times worded it, its mission was accomplished all the way up in the cheap seats. Roman was speaking directly to the performer. A selection from his book of praise:
"I love you, Kanye."
"Kanye, this is everything."
"Kanye, you're the greatest artist of the 21st century."
I worry sometimes that I'll never enjoy music as much as I did when I was 17, that I'll never again have that connection you imagine to your favorite musician when you're very young. The psychic chasm between you and the artists you admire grows wider as you age. Respect and the dullness of understanding replaces innocent adoration.
I've enjoyed every single Kanye West album, and as time has gone on, I've come more and more to appreciate him as an innovative and uniquely modern pop cultural figure. But it's been years since I've loved a Kanye West album, since I've been able to turn off my brain and tune in to the joyful cult hysteria only pop stars and religious leaders can inspire.
But at some point during the concert, maybe when the Curtis Mayfield horns on "Touch The Sky" fired up every pleasure receptor in my brain, or earlier, when the entire stadium joined in on a wistful "Runaway" singalong, I found myself 100 percent on board with Roman's enthusiastic assessment of the show.
The distance was gone. Riding that ridiculous floating platform above the crowd, babbling with improvised stream-of-consciousness talks littered with generic motivational sloganeering and corporate endorsements, and performing some of the best hip-hop songs of the last 12 years — through that weird alchemy, West made us a part of his world. I no longer found Roman's devotion embarrassing.
I loved Kanye.