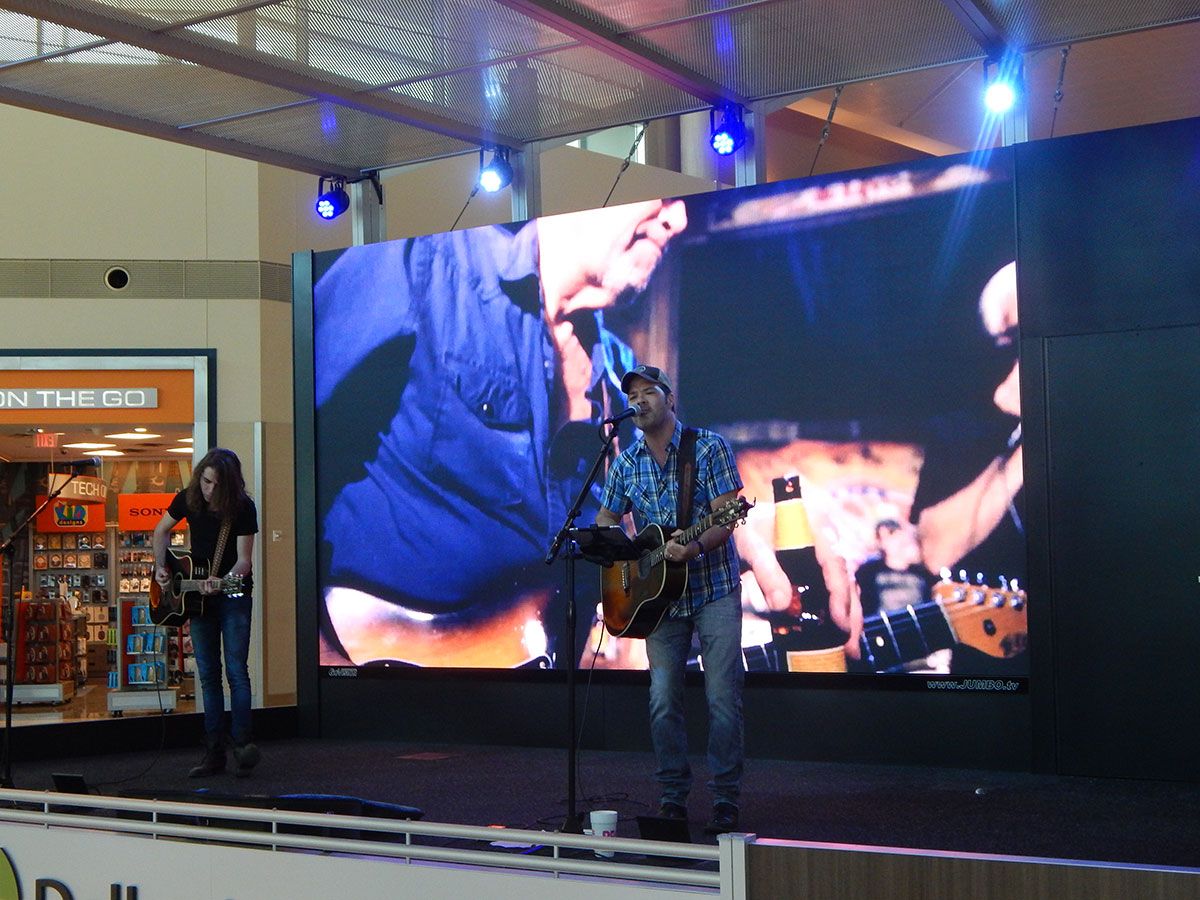 Dallas' Newest Live Music Venue: Love Field
Last week, Love Field introduced live music -- and a big, fancy LED backdrop -- to the main terminal's lobby.
Last week, Love Field introduced live music — and a big, fancy LED backdrop — to the main terminal's lobby.
The new stage, which will showcase Texas musicians for a few hours on weekdays, will "entertain millions of travelers" and "serve as a template for other cities that share Dallas' desire to entertain and educate travelers using art and technology," according to a press release.
GuideLive has a more detailed story on the city's newest music venue. Central Track's Cory Graves has made the case against it, arguing for a little peace and quiet while you "read a book on your layover or eat your Cinnabon…" We're ambivalent about these airport shows, and flashy LED displays, for that matter.
You can read the press release below, or book a flight at Love Field between 11 am and 2 pm on a weekday, and decide for yourself.
Travelers heading to and from Dallas Love Field may want to start carving out a little extra time to spend at the busy airport.

No, we're not forecasting flight delays or security checkpoint issues…we're talkin' Texas music, live on-stage!

In one of the most unusual and welcome innovations in modern air travel, Dallas Love Field is teaming with North Texas businesses and the Texas Music Project to bring rising stars and established Texas artists alike to a new performance stage in the lobby of the airport's main terminal. The stage, which debuted Monday, April 4, is positioned inside the secure area, near the food court.

Performances by Texas musicians will be scheduled from 11 a.m. through 2 p.m. on weekdays. Dallas singer-songwriter Jon Christopher Davis was the first artist to grace the stage in the Texas Music Singer-Songwriter Series.

Argyle-based GoVision was contracted to install a 9' x 16' LED wall comprised of GV 3.9mm LED panels to serve as the stage's backdrop. When the screen is not providing larger-than-life views of the performers, it will be used to display artist videos, advertising and welcome messages.

"This is one of those incredible ideas that makes you say 'why didn't I think of that?'" said Kevin Faciane, Partner and Vice President of Business Development at GoVision LP, a premier, full-service provider of large-scale LED video displays and related services, including production, creative content, custom design, fabrication and installation. "We're honored to play a role in making this stage come to life, and we have no doubt it will capture the attention of travelers and airport operators all across the country, if not the world."

Michael Clay, principal and owner of Michael Clay Productions, who developed the concept of theLove Field Stage, said his primary goal is to help provide performance opportunities for rising stars and established Texas artists alike.

"Texas is known worldwide for its musical contributions and the state boasts more Hall of Famers and Grammy winners than any other place on Earth," said Clay. "With millions of people passing by this stage in the years to come, we have created a new platform for live performances by talented artists, fully equipped with state-of-the-art sound, lights and video."

Clay further explained that the development and design of the stage will serve as a template for other cities that share Dallas' desire to entertain and educate travelers using art and technology.

"The LED wall was the game changer. It transformed a cool stage design into an amazing tool that can be used for advertising, music videos, interactive communications and a variety of other purposes, including real-time audience analytic studies," Clay said. "I reached out to several LED companies to provide the needed equipment and it quickly became apparent that GoVision was the right choice. They not only provided stellar products and service, they also took ownership in helping launch this project. It was a first-class team effort on their part."

GoVision collaborated with Dallas-based Mecca Design, which specializes in custom exhibit fabrication, to build the stage, which is 22′ across, 13′ deep and 2' high. All audio-visual inputs were built into the stage and monitors were hung from the canopy facing down onto the stage. This simple setup prevents the general public from touching the equipment and keeps the stage clear. The audio signal from the stage can also be relayed through the entire airport system, allowing everyone from the baggage claim area to the food courts to enjoy the performances.

The Love Field Stage is an opportunity for rising stars to perform with legends and entertain millions of travelers with Texas Music. The artists are provided by the Texas Music Project, the official music charity of Texas.