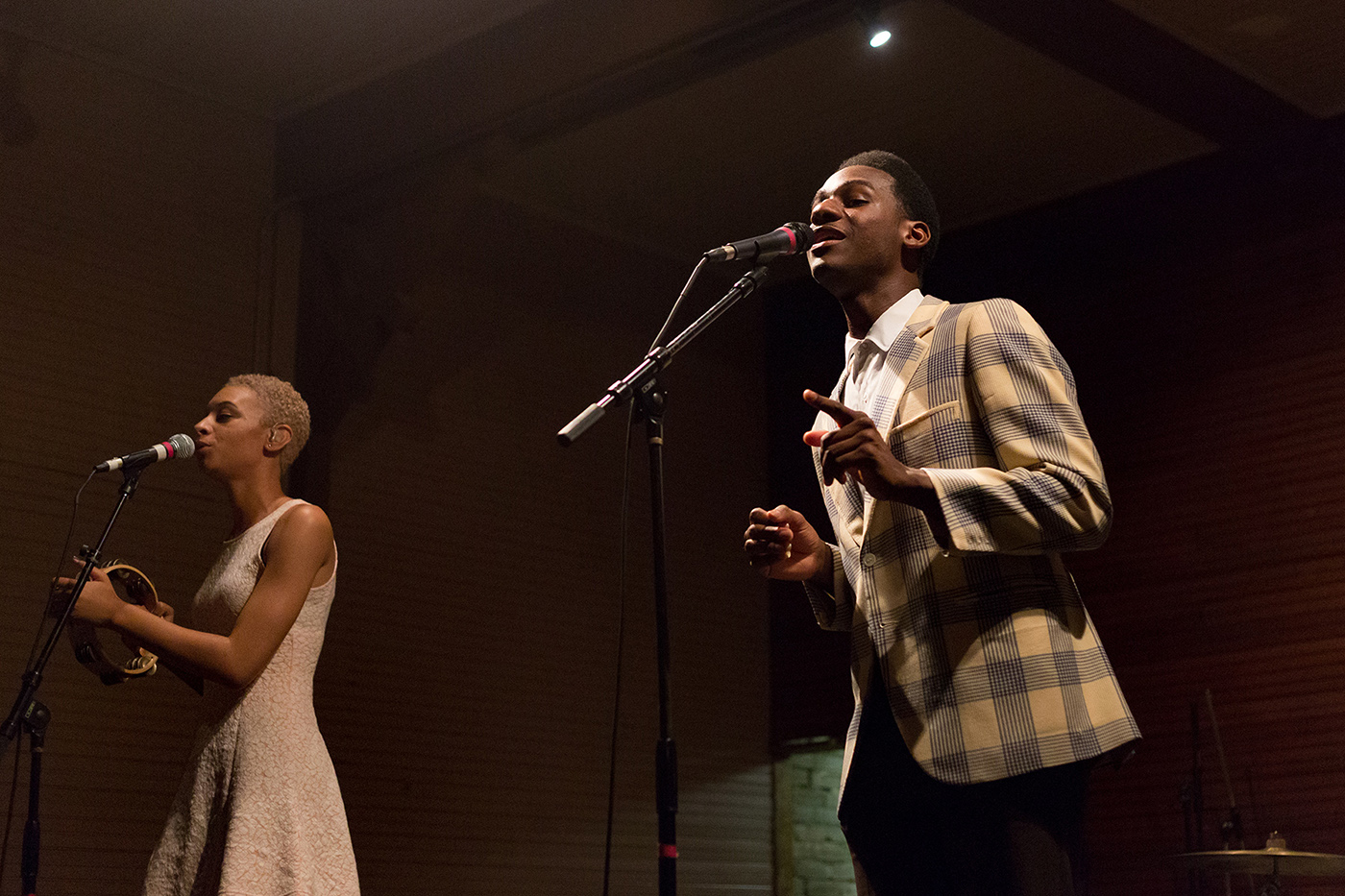 Leon Bridges Turns Back Time on the Eve of His Major Label Debut
On the eve of his major label debut and a series of sold-out tour dates, the Fort Worth soul sensation played to a packed house in Dallas.
On the eve of his major label debut (the excellent Coming Home is out Tuesday) and a series of sold-out tour dates ranging from his hometown of Fort Worth to New York to the United Kingdom, Leon Bridges showed no signs the anticipation was getting to him.
Supported only by a guitarist, saxophonist, and a backing vocalist who pulled double duty as tambourine player, the 25-year-old played for a rapt audience at Sons of Hermann Hall in Dallas for Thursday night's edition of KXT's Barefoot at the Belmont. The threat of rainy weather forced a venue change from the Oak Cliff hotel that gives the live music series its name, but Sons of Hermann Hall's old bowling alley was a wonderful fit for Bridges' throwback soul man aesthetic.
Bridges is not a showboat, and his natural shyness comes through on stage, but he has an easy charisma that kept the packed, sweltering room in quiet awe for most of his 40-minute performance. More importantly, he has a set of songs that tie up your tongue as much as your heartstrings. Stripped of a rhythm section, Bridges' voice — a millenial Sam Cooke filtered through an extra few decades of R&B — and yearning, sometimes broadly spiritual lyrics were given a real chance to shine.
A lot's been made of Bridges' faithful replication of a certain classic soul sound, but Thursday night's show could have taken place in 1963 or 2063. Although these songs are in many ways tied to a specific time and place, the heart behind them feels timeless. The Gospel of Leon Bridges may be rooted in the work of artists like Cooke and Bobby Womack, but he's writing his own chapter to add to that good book.
"Smooth Sailing" is an irrepressibly fun song that shimmies and shakes its way into your ear drums. "Lisa Sawyer" is moving and beautiful. "Coming Home" is the hit, and like all great hits, it's impossible to get out of your head once you've heard it.
And when Bridges closed out the set with a hushed take on the baptismal "River," it felt like church. Bridges is poised to be the biggest thing to come out of North Texas in years, and it's easy to see why. The rest of the world will be lucky to hear him preach.
Set list
Better Man
Brown Skin Girl
Flowers
Pull Away
Smooth Sailing
Coming Home
In My Arms
Twisting and Grooving
Lisa Sawyer
Mississippi Kisses
Daisy Mae
There She Go
River