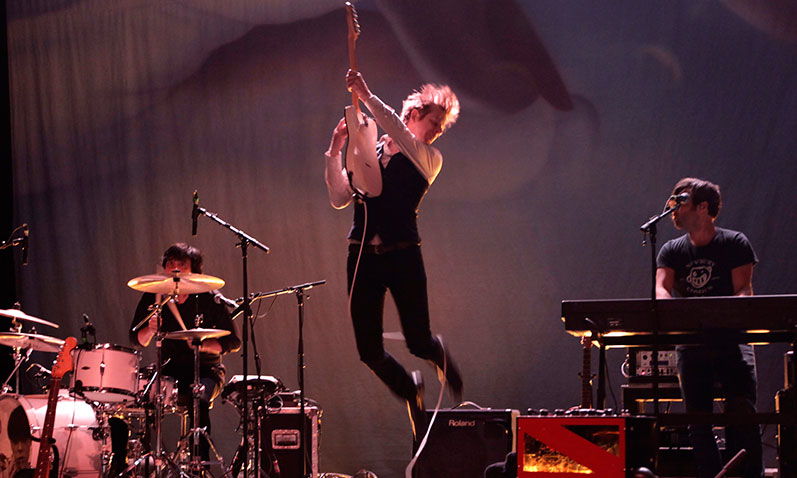 Rain or Shine, Homegrown Festival Shows Texas Music At Its Best
Photos from the sixth edition of Homegrown Festival featuring Spoon, Bobby Patterson, and more.
Click here or the link on the image above to see more photos from the Homegrown Music and Arts Fest.
Being indoors didn't dampen the mood Saturday at the sixth edition of Homegrown, which was forced to relocate to the cozy and dry confines of The Bomb Factory when the the threat of severe weather roosted the all-Texas Dallas music fest from its long-held turf at the Main Street Garden downtown.
The decision to move inside made the best of a bad situation, and even though the skies above Deep Ellum never cut loose with more than a light drizzle, it was a good call considering the weather that forced Untapped Festival in Fort Worth to fold up before De La Soul could take the stage, and sent about 20,000 screaming fans at Gexa Energy Pavilion home after Courtney Love, but before Lana Del Rey (Del Rey has promised to reschedule her performance, if you were wondering).
I at times missed the sunshine and atmosphere of Homegrown in its natural habitat, and I hurt for the non-smokers who had to wade through a packed and fumigated cigarette patio to make it to the food trucks.
But overall, the festival felt right at home in The Bomb Factory, the awesome new venue that really lived up its potential by accommodating such a massive production last-minute after Mother Nature decided not to play nice. There were several flavors of listeria-free ice cream, there were art booths and booths trying to sign you up for vague causes, there were rock and roll babies riding in backpacks, there were wildly impractical sunglasses with neon lights on them, there were folks drinking beer on picnic blankets, there were some A-plus people watching opportunities. In other words, it was a music festival.
Oh, and about the music. The performers were uniformly fantastic. All the early-afternoon acts made fans glad they showed up on time, at least by all accounts I heard. Bobby Patterson was legend. Shakey Graves was pretty nifty. I've probably seen The Old 97's a dozen times, but they put on one of the most livewire sets I've witnessed from a band whose baseline energy level is already set at a steady 11. Spoon was Spoon, which is to say they were one of the greatest and most compelling acts this state has birthed.
Indoors or outdoors, this was still Homegrown, Dallas' best music festival and arguably one of the best in the state.