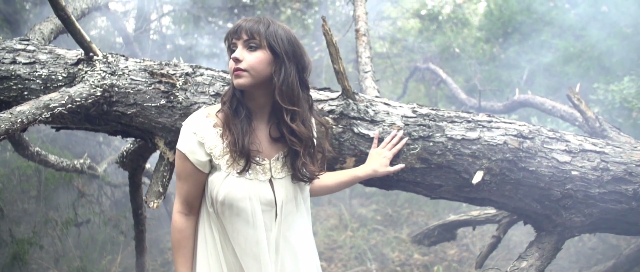 The Best New Music in Dallas: April 2015
New releases from Sudie, Doug Burr, Birds of Night, and The Orange highlight this month's best local music.
It's been a good month for Dallas music. Stevie Ray Vaughan, native son of Oak Cliff, made it into the Rock and Roll Hall of Fame. Sleater-Kinney played the Granada and put on one of the greatest rock shows I've ever witnessed. There was a healthy debate about the merits of a plan to live stream shows in Deep Ellum. A bunch of people went to a football stadium in Arlington to hear country music and get rained on.
Best of all: A ton of great new music from North Texas acts entered our lives this month. If you live in Dallas, and love music, it's time to rejoice. From Doug Burr to Birds of Night, from Sudie to The Orange, here's some of the local music you should be checking out.
Sudie's best songs are like snippets of tunes you heard in a dream, but forgot when you woke up. Her debut EP is like a hazy tour of the human psyche, a loosely guided trip through the things that make Sudie tick–the same things that drive most people, whether it's love, loss, or something in between. This is music with a slow pulse, but it's more alive than almost anything else out there.
Birds of Night: Birds of Night
The Denton band's self-titled new album (released today) warrants some pretty lofty comparisons to classic rock groups like Black Sabbath or Led Zeppelin. Birds of Night remain a little more down to earth than those two behemoths of rock music, but these guys have an affinity for instrumental pyrotechnics and the lost art of the solo. It's ballsy without being indulgent. Their influences are clear, but through either sheer force of will or the kind of dumb luck that strikes most good bands, it looks like Birds of Night developed their own remarkable sound while they were playing snappy Sabbath covers in someone's garage.
Birds of Night play an album release show at Three Links on Saturday. This new album is worth celebrating.
The debut music video from the Dallas pop artist shows she's got the look nailed down, but the song–a sunny, affable track that gives off a pleasant whiff of the 1980s and certain Instagram filters–stands well enough on its own. It's the kind of summer song that has the makings of a windows-down, radio-on, drive-time anthem. Catch LEV at the upstart DMD Fest in May.
This is Denton singer-songwriter Doug Burr's first new album in five years. What was Burr doing for the last five years? Well, if this record is any indication, he was wandering the desert and receiving signs of a great and terrible prophecy: Burr sounds more aggressive than he ever has, possessed with an almost Biblical fury and righteousness. The songs on Pale White Dove positively erupt, as if they can't wait to break out and see the light of day. This is great, invigorating stuff, and I only hope it doesn't take another half-decade for the next one. Repent and see Burr at Dan's Silverleaf on Saturday.
The Dallas seven-piece recently reunited, storming back with an album whose cover art unfortunately calls to mind the original cover of Spinal Tap's Smell the Glove. The visual component to this group is pretty unavoidable, as it is with most acts that bill themselves as "neo-psychedelia," but this group is on the tamer end of the hallucinatory spectrum. You get the feeling front man Scott Tucker, a visual artist, probably fell in love with the idea of being in a rock band before he fell in love with the idea of writing a song, and I suspect their influences (Brian Jonestown Massacre, the Stones, etc.) are admired as much for their look as their music.
But this is a good record, and the psychedelic thing is overblown anyways. The Orange is bluesy, stoned, rock and roll that doesn't reinvent the wheel but isn't trying to. They're a jammy band, classically trained, and it's a pleasure to hear them work. It's a pleasure shared by a lot of folks, as The Orange seem to have the potential to catch on outside of Dallas. Catch the band (along with Dove Hunter and Jetta In The Ghost Tree) for what should be a killer local showcase at the Granada in June.
Dove Hunter's second album, Black Cloud Erupt Us, is due out April 28, with a release show at Club Dada on May 2. There's a Southern-fried, bombastic aspect to the band's rock and roll, but they've got an arty edge and a gentle touch.
Jetta In The Ghost Tree: "Pontchartrain Eyes"
Former Flickerstick front man Brandin Lea is back in action with Jetta In The Ghost Tree, who will drop their debut album, Clandestine Vol. 1, on May 5. The first single, "Clandestine," bodes well.
The Pleasant Grove rapper takes on a tried-and-true lyrical theme in "Drown In A Bottle," a brooding track about coming back to the surface after a dive into a swimming pool of liquor. $kaduf told us back in February that his last record was about where he's from. This new music is about who who he is. Catch $kaduf this weekend at Vice Palace's Year One show.
Address all music and hate mail to alex.macon@dmagazine.com.