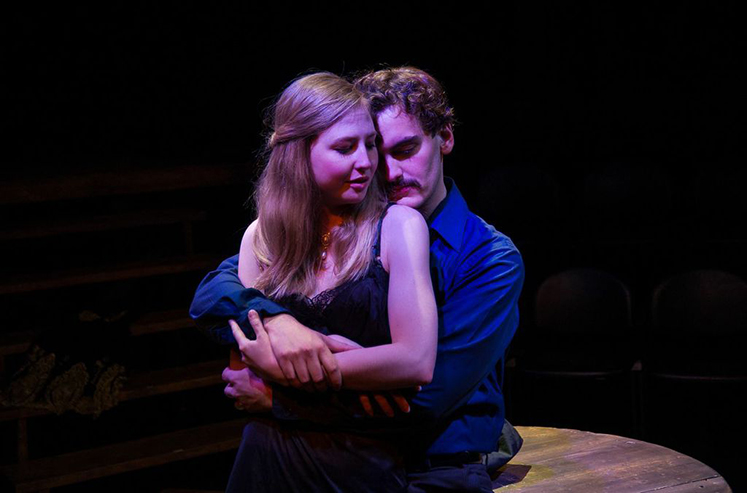 Second Thought Theatre's Booth is Uneven, yet Oddly Compelling
Perhaps the long-in-the-works production has been through one revision too many.
Playwrights Steven Michael Walters and Erik Archilla have been tinkering with Booth, their searing and at times confounding play about Lincoln's infamous assassin, for six years. For better or worse, it feels like it.
Like a manuscript that's been edited and re-edited into submission, Booth crisscrosses themes, facts, timelines, and characters into one gigantic, two-and-a-half-hour history dump. Though extraordinarily well researched, the resulting drama is overstuffed at times, riveting at others, and oddly compelling throughout. With some further brutal editing and much-needed clarification of character, this exploration of "America's Judas" could blossom into a fine(r) piece of theater.
What is currently onstage at Second Thought Theatre isn't without its strong points. Montgomery Sutton vanishes completely into his role as John Wilkes Booth, the handsome stage actor who at 26 fired a derringer pistol and dramatically altered history. The script requires him to switch from charming romantic to persuasive rabble-rouser to hunted criminal as quickly as the lights change, and Sutton handles the transformations with ease.
He's matched in intensity by Stan Denman, who brings a chilling single-mindedness to Secretary of War Edwin Stanton, the man who was swift in bringing the conspirators to fatal justice.
These two characters are the easiest to latch onto. Walters, who also directs, has double-cast some of the roles, an understandably economical choice that unfortunately muddies the action. R Bruce Elliott is indistinguishable as Vice President Andrew Johnson and Senator Hale, while Emily Scott Banks' buoyant portrayal of Mary Surratt comes too quickly after her haughty turn as actress Laura Keene.
As is its custom, Second Thought's program is online-only. Normally I'm a supporter of this move, but in this show's case a simple outline of each character and how they are connected prior to viewing would have been vastly helpful (even if you already consider yourself familiar with the assassination). The online program does sketch out the players, but much like the show its scattered layout and overwhelming amount of information only mystify further.
 Aaron Jackson's deceptively clever set puts the audience inside the barn where the injured Booth futilely sought refuge. Charred beams climb up the sides and hang from above, framing out an elevated back stage that envelops the audience and doubles the center playing space. The center beams feature star cut-outs, which work in tandem with Aaron Johansen's lighting to produce a Confederate flag spotlight. Jennifer Ables' costumes are an strange mix of period and contemporary (though somebody please tell me where to purchase Lucy Hale's strappy black heels).
Speaking of Lucy Hale (Mikaela Krantz), she's almost as much a focal point as our title character. The romance between her and Booth has been expanded to the point of distraction, making it seem as though Booth gathered his courage only after being rejected by his secret sweetheart. The play works best when it champions the notion that a deep belief in his principles, not lovesickness, made Booth pull the trigger.