Downtown Plano – National Award Winning Neighborhood
Plano has won a national award for best neighborhood.  No, not the entire 70+ square miles of the entire municipality, as apparently sometimes gets confused for a neighborhood.  Neighborhoods should be about a square mile, be a great place to live, and provide convenient access to all of your daily needs within a feasible walk (including access to jobs/job centers which usually means transit).  Where in Plano fits this bill and TODAY will win a national Great Places Award from the American Planning Association for Best Neighborhood.
Today at 4 pm, at the Haggard Park Bandstand, the City of Plano will accept this prestigious national award from the APA.  You should consider this an opportunity to ride the Red Line to downtown Plano and enjoy a happy hour.
Here is the full list of 2015 Great Places winners, which are broken down by Neighborhood, Streets, and Spaces.   Downtown Plano was one of four neighborhoods to be honored around the country.  There are two winners in Texas, Hermann Park in Houston won for Great Spaces.
———————————————
Haven't been there in a while?  You should go.  You should absolutely go.  We often talk and write about the successes and the love we have for revitalized places like Bishop Arts or Lower Greenville Avenue.  Downtown Plano should occupy a place in the same local (regional!) consciousness.  If you need any more proof, there are two Lockhart Smokehouses in DFW – Bishop Arts and downtown Plano.  They have good taste(s).
Downtown Plano, as a leader in suburban downtown revitalization, represents a shifting tide where downtowns are no longer single purpose CBDs or simply for quaint antique shopping.  Instead, as the award suggests, downtowns are for living again.  Where old and new fit together seamlessly and cooperatively towards making for a better place for residents, workers, and experience for visitors.
It wasn't always this way for downtown Plano.  And today's award represents a water mark of 20-years in progress effort, of giving a place a soul, a real sense of place, and returning the '-urb' to the name suburb, which is to say once again giving meaning to the word suburb.
Credit: Visit Downtown Plano
Plano, just like every other municipality orbiting Dallas began as a railroad stop on the way to or fro Dallas.  By the 1970's and 80's North Dallas growth had reached Plano.  Until then, as railroads had declined, Plano was but a small town surrounded by farming and ranching, which is a much harder way to make a living than to cash out your land as developers sought to meet the demand for car-oriented growth, eventually rolling across its 70 square miles like a carpet of sprawl, enveloping the little railroad town.
There was awareness that this growth, Plano's 'good fortune' would eventually surpass them.  The buildings and the infrastructure would age, and there would be a new shiny place cannibalizing from this growth further north (oh hai Frisco).  Plano had to reposition itself in order to not only compete but survive.
While there were plans to revitalize downtown, there was little will to take the risks (and expend the capital) without some kind of differentiator.  Turns out the old can be made new again.  As this old railroad town, suffering from disconnection from its surroundings, and thus physical decline, blight, and absentee ownership, could be a railroad town again.  That is to say, DART.
In 1996, Plano held a citywide referendum whether to remain in DART, where 1% of local sales tax would go to DART in order to receive transit service.  The vote passed with 77% of the vote.  This was quickly followed in 1997 by DART's decision to accelerate the extension of the red line to Plano.
By 1999 DART had assembled the capital to begin the construction.  The assurance was all the city planners needed to begin repurposing downtown Plano as transit-oriented development.  They knew they had to get out in front of the construction of DART and have the economic development tools in place to attract development.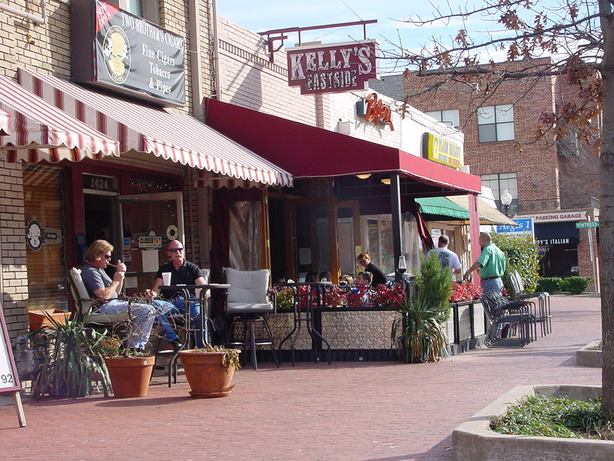 Of course, attracting developers to a vision of walkable, urban development (particularly at that time) was difficult.  They also had to improve the public realm.  If you want to be attractive to investment, you fundamentally have to be attractive to people.  If people don't want to spend time there, they probably won't want to live there.
The vision was urban living where you could ride the rail to work, something that you couldn't even find in Dallas at the time.
This is where the timeline gets a little difficult, at least in terms of writing sequentially, as much of it happened in tandem via coordination and planning.  By 2002, the red line to Plano finished construction, 6 months ahead of schedule, with stops in downtown Plano and the terminus station a mile beyond at Parker Road.
It was this period between the '97 expansion to Park Lane in Dallas and the 2002 expansion to Plano that was the critical moment.  Plano established a TIF (Tax Increment Financing) district, which takes the increase in tax revenue due to new development and uses it to fund necessary public improvements that make the place attractive to people and investment.
The city used these tools to help finance a parking garages as part of new mixed-use developments.  This helped build the early mixed-use developments, but it was even more thoughtful than merely supplying extra parking, which would be important during the 2nd wave of growth and investment in downtown Plano several years later.
Credit: Plano Magazine
With new residential, residents need services.  The new housing helped stabilize the existing downtown businesses as well as give life to a few more, where the residents could comfortably walk to thanks to streetscape improvements and traffic calming.  This was where the first 'better block' style tactical intervention in a streetscape ever occurred to my knowledge.  The city and the developers wanted to narrow K Avenue, which is one half of a North-South one-way couplet that runs through the center of downtown.
K intersects with 15th at what planners and developers call a 'main and main' intersection.  The heart of downtown.  However, it didn't feel like a heart.  K was too big and too fast as three-lane one-way roads are wont to be.  As part of the first phase of development between K Ave and the DART station, notches were cut into the curb on one side to create protected on-street parking.  On the other side, planters and cones were set up to warn drivers, "hey!  This lane is no longer for driving."
These barriers defined a lane that was converted from throughput to parallel parking.  Instead of movement, it was about staying.  They sent a visual cue to drivers as well as pedestrians that they could co-exist provided drivers slowed down.  The restricted space and increase in visual friction calmed traffic naturally, but very much by intention.  Eventually, the TIF had enough money accrued where the city could make the streetscape improvements permanent and attractive, once drivers had become accustomed to the changes.
Then, the market went soft again in 2008.  It was no longer a time for investors to invest, developers to develop, and builders to build.  Except in downtown Plano as I wrote about for D Magazine a few years back.
I visited downtown Plano last year. Even in the recession, the thwack-thwack-thwack of hammers filled the air with the optimism of new construction. I counted eight storefront renovations or new construction projects.
It was those first investments in parking garages that allowed new restaurants and businesses to be confident downtown because the public parking facilities the city owned allowed them to waive all parking requirements.  New restaurants didn't have to buy the building next door and knock it down in order to supply their municipally required by law parking allotment, which would have cost a fortune and further eroded the fabric.  The city had that covered.  It wasn't just MORE MORE MORE parking as seems to be the rabble's demand for every place everywhere.  It was about smart investment and utilization of an asset.
Credit: Plano Magazine
Today, there is another wave of housing, shops, restaurants, and businesses:  I already mentioned Lockhart, but there is also a great little, cozy coffee shop called Fourteen Eighteen that would fit in in any great urban neighborhood in the country.
The APA's Great Places award is a big deal, a cherry on top, but still very much a work in progress, which is a good thing.  It means there is more progress, growth, and investment happening and on the way.  The successes build upon one another incrementally, increasing and improving the connections and relationships to the surrounding areas.  Infill development will begin marching south, expanding the size of downtown, which will in turn better blend with the historic surrounding neighborhoods.  A cultural district is emerging on the other side of the DART station and Haggard Park, and a historic house within the park gets renovated as an event space.
The city is also repurposing a tired sunken plaza outside of the Fillmore Pub as a two-way performance plaza.  The stage can face the small plaza and outdoor cafe seating for small daily performances or turn the other way where the parking lot gets transformed into a large gathering space for crowds, food trucks, and the like.  One more contributing piece of the puzzle getting put into place.
Downtown Plano is emblematic and at the forefront of a larger pattern of reconcentration, of re-urbanization, which to me is defined at its core by bringing people together.  It's an inward reorganization within the void of placeless sprawl around nodes of activity within a walkable context.  It's what people want.  Places for people.  As this national award is evidence, downtown Plano is leading that way…and it began with foresight 20 some years ago.