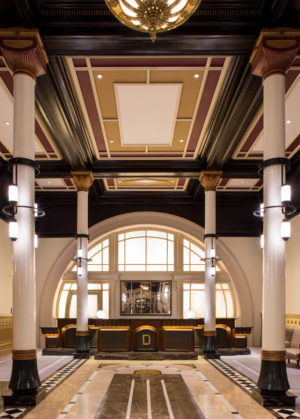 I've made the three-hour drive to the Texas state capital often—to visit friends, to eat barbecue, to relax at Barton Springs. But this weekend wasn't about Austin; it was about The Driskill. And my goal for the weekend, once I arrived at the hotel, was never to leave.
The landmark hotel oozes stateliness amid newer establishments. Cattle baron Jesse Lincoln Driskill opened the hotel in 1886, two years before the completion of the Capitol building. The moment I entered The Driskill's elegant lobby, I felt its character and history. Lofty pillars, stained glass, and grand staircases took me back in time to when the hotel introduced the first telephone to Central Texas in 1899. I was fascinated by its past and spent hours reading the historical markers.
But The Driskill—celebrating its 130th anniversary this year—is far from outdated. It's been renovated several times, including a recent $8.8 million overhaul of guest rooms, the lobby, and restaurants. Which brings me to the main reason I never felt inclined to step foot outside: the food. After checking in to my room, I headed straight for the 1886 Café & Bakery for delightful huevos rancheros and the mountainous, house-made cinnamon roll. I'm not a cinnamon roll fan, but I'd request this one for my last supper.
The food exploration continued at dinner at The Driskill Grill. Executive chef Troy Knapp works his "refined American cuisine" magic, locally sourcing most ingredients. The wine list is extensive, and the dining room, with its dark wood and white tablecloths, speaks to old-world grandeur. LBJ and Lady Bird had their first date there in 1934.
After dinner I moseyed into The Driskill Bar for a drink and was greeted by a trio of bearded troubadours filling the lounge with bluegrass ballads. I sunk into one of the overstuffed leather couches with a craft cocktail in hand and didn't move for hours.
Turned out that the only problem with my goal of never leaving the Driskill was that when the weekend was over, I still didn't want to leave.
Get our weekly recap
Brings new meaning to the phrase Sunday Funday. No spam, ever.