I bought my first pair of nice cowboy boots when I was 15. They were made of chocolate brown leather, with gold stitching and a pointed toe. I balked at the cost, but my mother assured me that a quality pair of boots could last a lifetime. More than a decade later, that pair is still going strong.
As are the sisters behind Miron Crosby. Lizzie Means Duplantis and Sarah Means launched their fashionable, bespoke cowboy boot brand in 2017. They focus on producing heirloom-quality shoes, Means Duplantis says, but there's something whimsical about their colorful, oft extra, but always iconic boots.
Since kicking off in Highland Park Village five years ago, they've opened a second location in Aspen and collaborated with entities like Garden and Gun and the Rosewood Mansion on Turtle Creek for specialty boots.
Last week, the sisters, in partnership with the Rosewood Mansion, hosted a luncheon and master class on their design process and how their boots are produced. Here are seven things we learned. 
It's a family affair.
Miron Crosby works with Rios of Mercedes in the Rio Grande Valley to produce its shoes. The company has been churning out boots since the 1850s in Mexico and moved to the U.S. in 1908. It's now run by the cousins of the Means sisters.
It's all about family in the factory, too, CEO Ryan Vaughan says. There are about 45 workers who make every boot by hand. Many have been there for decades and are referred to as "maestro," or "teacher" in Spanish. Some workers recruit younger members of their families to come learn the trade. "It's like an old-fashioned apprenticeship," says Creative Director Jode Vaughan.
We really are living in a material world.
Miron Crosby uses a variety of leathers for their boots besides just cowhide. There's python, sting ray, and Nile crocodile. Goatskin has a nice patina to it. Ryan Vaughan's favorite is ostrich leather, which has many natural oils that soften it, but is still "pretty bulletproof."
Then there's the metallic leathers. Of course, these aren't found naturally in the wild; these are normal leathers, but with an added sheen. Vaughan rolled out a room-length roll of python skin that had been turned gold. Rios of Mercedes workers have never worked with metallics as much as they do with Miron Crosby. "They think these girls are nuts," Ryan Vaughan says.
These boots are made for walking, and that takes a long time.
It can take six-to-eight months for the Means sisters to concept, design, and produce a new pair of boots. They begin by storyboarding an idea, then they work with a designer in New York City on the pattern. After they send their designs to Rios, Jode Vaughan works with them to ensure the pattern is feasible.
From there, it takes about 45 days to get a boot through production. They could do it quicker, in just a couple of days, "but that's not the right way," Ryan Vaughan says. It takes time to stitch designs and to work the leather. The boots are built around a wooden foot called a "last." They want to keep the boots on the last for at least a week, to properly mold the shoe into the right shape.
"These boots are made to last," Ryan Vaughan says. "The girls make them pretty."
It's all about the cut.
The cuts are essential to fit, Ryan Vaughan says. Cows' skin stretches throughout the year, so on cowhide boots, Rios cuts leather from the backbone to belly. The hardest part "if you're trying boots on is getting through the throat," or where the ankle meets the foot. So Rios uses the stretchier part of leather to ease that process. The vamp—the top of the foot—is usually all one piece. They want the least elastic leather here, so the foot stays secure in the boot.
The cost of the boot depends on the handwork.
The boots are made in a production line of artisans. Depending on the style, one artisan can spend a long time just on the inlays—cut-out pieces of leather sewn onto the top of the boot, known as the shaft. Or someone will work on the embroidery-like stitching then pass the boot to another to do the piping, or the intricate vertical seam on the side of the boot. The more intricate the handwork, the pricier the boot becomes.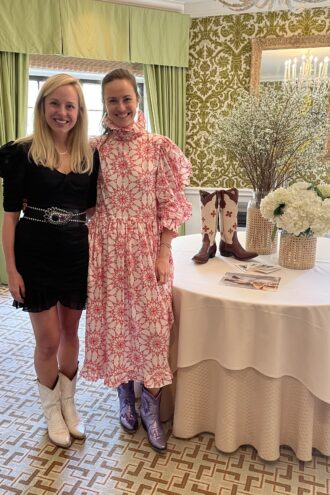 The sisters have different styles.
Sarah Means' favorite boot is the star-studded Margretta (which, she notes, features lucky jumping stars, not shooting stars). Her tastes lean more toward classic, simple styles, a far cry from her older sister's love of metallics. "Lizzie's more of our color gal," she says. "I love everything cream."
The Miron Crosby name is sentimental.
The sisters picked Crosby because it's the name of a pasture on their family's West Texas ranch. It's also a street in New York City's SoHo neighborhood, where they've both spent many hours shopping. "We liked the synergy," Lizzie Means Duplantis says.
Miron is an homage to their great grandfather, Marion Otis Means. (Unfortunately, Means Duplantis says, sometimes Miron autocorrects to "moron.")
Get the AtHome Newsletter
Enjoy Dallas' best trends, hot properties, and tips from local designers to help you nest in style delivered weekly.
Author
Catherine Wendlandt is the online associate editor for D Magazine's Living and Home and Garden blogs, where she covers all…