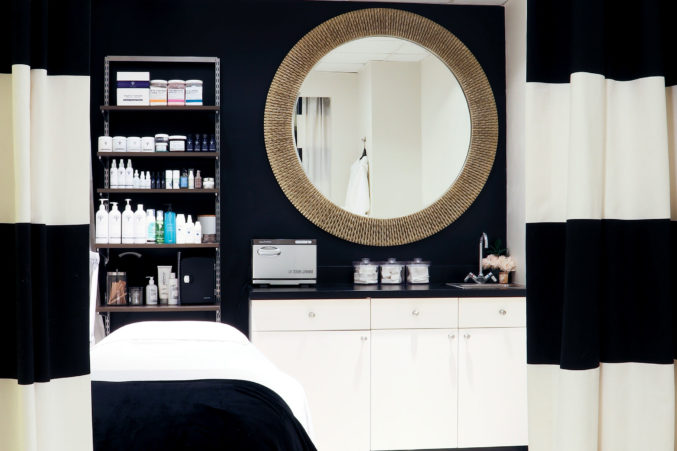 This Downtown Spa Caters to Oncology Patients, But Serves All
"Just because someone requires different treatment, doesn't mean they want to be treated differently."
When her friend was diagnosed with breast cancer, Jeanna Doyle, who was originally trained in oncology esthetics, felt uniquely qualified to help. She left a career in advertising and launched her nonprofit, Suite HOPE (Helping Oncology Patients Esthetically) in 2013. In 2017, she published a book, Wig ED: What to Look For When Looking For a Wig, which helps women on a variety of budgets navigate their options if they don't wish to go bald. This November, she opened The Hopemore, a spa occupying a corner spot in Neiman Marcus' downtown flagship (on the same floor as The Zodiac). "This is the last stitch in all of the things that I've been doing," Doyle says.
Like everything Doyle has worked on over the last six years, The Hopemore's goal is to simply make oncology patients feel better. "I wanted women to have a place where they can come have a safe service, but also anonymity," Doyle says. "It's a luxury spa and it's not located in a medical facility, so if you come here, no one would know if you had cancer or were just coming for a facial."
It's a small, stylish space—there are just four treatment rooms—and only Doyle and The Hopemore's director of skincare, Kris Astroff, who is trained in oncology esthetics and corrective makeup, are giving treatments. Astroff also has a bachelor's degree in biology and is currently pursuing a biotechnology management certificate from Harvard. "I'm always like, 'WTS: What's the Science, Kris?' She can break complex things down simply so you get it," Doyle says.
Treatments include a variety of facials (from anti-aging to clarifying) and makeup applications. For oncology patients, a specialty menu includes The Hopemore's signature oncology facial, scalp treatments, pre-treatment body and face prep as well as a post-treatment pigmentation service. The spa stocks oncology-safe skincare lines, and everything is customized to the client, no matter their stage of treatment. "Everyone's oncology journey is different. So even if you have the same cancer, you might be on a different cocktail," Doyle says. "We look at everything individually, and tailor things specifically to whatever you need."
Oncology facials start at just $60 (scalp treatments start at $30) to keep the barrier of entry as low as possible. The Hopemore also has a "Pay it Forward" program, so loved ones can easily donate a service. (For those stumped on what to gift, Doyle and Astroff can offer guidance.)
The Hopemore is the only spa of its kind in Dallas, and potentially anywhere. Oncology esthetics is still a relatively new industry—Doyle just helped update the commonly taught Milady Gold Standard textbook to include information on how to treat cancer patients. "We are here for everyone, no matter what you're going through," Doyle says "We're here for you and we want to give you a luxury experience."