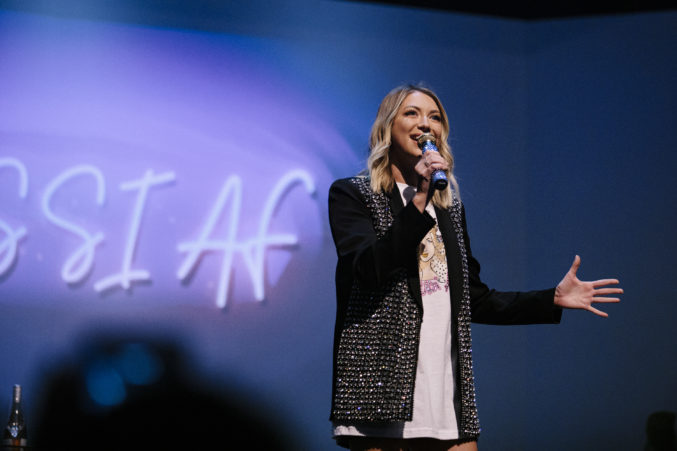 A Conversation About Dallas (And More) With Stassi Schroeder
The Vanderpump Rules star will peform at The Majestic on October 16.
In my own humble opinion and Vogue's, "Vanderpump Rules" is a perfect reality show. It's a pure, messy, masterful joy filled with rage texting and half shots. It's a real-world workplace drama featuring actual friends who have all dated (and cheated) on each other. It's irresistible. Plus, Rihanna loves it, so we're golden.
I would absolutely follow these waiters-turned-"celebrities" anywhere, and I pretty much have. I've stood in line at TomTom in West Hollywood. I'd consider ordering a case of "Witches of Weho" wine for Halloween. I've even listened to Scheana's podcast once!
And I would absolutely go see my beloved Stassi Schroeder perform live at The Majestic. Before her show next Wednesday, October 16, I caught up with the New York Times best-selling author to discuss her show, Dallas, and season eight of "Vanderpump Rules."
It's so good to talk with you. Have you been to Dallas before?
I have! I actually was able to go there on my book tour, so I was able to see a little bit of the city and it was just beautiful, so I'm really excited about this Texas run.
Are there any spots you want to revisit when you're in town?
Unfortunately, this time around I have zero time to do anything. I didn't realize with a podcast tour you basically take a flight in the morning, get in an Uber, check into your hotel, get glammed, go to a meet and greet, and do the show. Then you go back to your hotel and it's 11pm and you're dead. But like, some of the nights I've been able to go out to one bar. So I'm hoping I have enough in me to do that because I love the city so much. I need to take a proper trip back soon.
You definitely do. I feel like Dallas people are your people.
I mean, I've been there a few times because I've done something with the Dallas Housewives.
I was wondering if you had met them. 
I met with Stephanie and Brandi. They were so sweet. They took me out and I had such a good time with them. 
So, did you ever imagine you would go on a tour like this when you started a podcast?
Oh fuck no. So many people were telling me to do a live podcast, and I was like no way in hell. I love going to stand up shows, and I just think it's the scariest thing in the world. So I was always pushing back. And then after my book tour, I realized, okay, I feel like I can do this. But if I'm going to do this, it needs to be a full experience. I don't want it just to be me sitting at a table with my computer talking. I want it to be interactive. I want it to be a really cool set. I want music. I want people to walk away from it and be like, "What the fuck did I just watch? But that was awesome."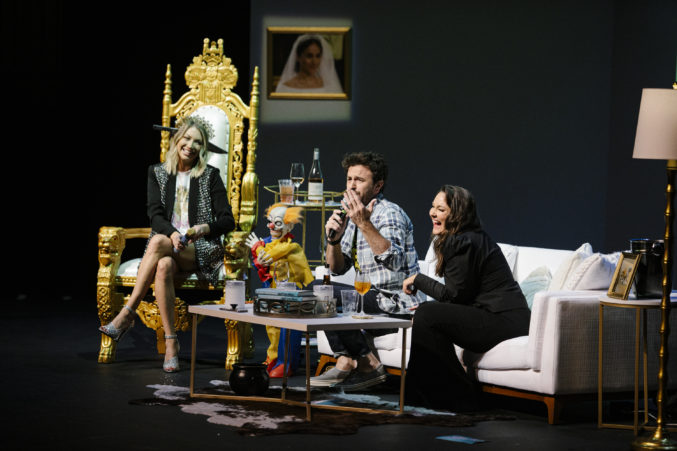 The Majestic is a great venue for that. And Luann [de Lesseps] was actually there last week doing her cabaret act.
Wait, that's amazing.
Did you know she had been there?
I didn't, actually. But I performed in the Gramercy Theater after her and while I was in the dressing room I was like, Countess Luann was in here. So cool.
So what can people expect at your show?
So, basically, the goal is to feel like you're in my apartment and we're all having a boozy girls' night in, but [my fiancé] Beau is crashing it. He's also like a girl though—he loves gossiping. We have different segments and then there's interaction with the audience. There's kind of a karaoke section. It's just a lot, and to have one of my best friends, Taylor [Strecker], who's such a pro and so great at performing be there too—it's just a party atmosphere.
Are Stephanie and Brandi going to be coming to the show?
I hope so! I need to reach out to them and demand that they go. They are the sweetest. I've met a lot of the Housewives, but I've spent a lot of time with those two, so I'm very partial to them. I love them.
Is there anything unique about the Dallas show?
We tailor each show to the city that we're in. So there's a little bit of Dallas in the show.
I have to ask, is there anything you can tease about the next season of "Vanderpump Rules?" You guys have already filmed right?
Yeah we did. We've wrapped season eight. I think it's going to be a whole different type of season. Even though there's a lot of focus on [Brittany and Jax's] wedding, we do have new cast members, and I think it's shifted a lot this season. Most of the people who were still working at SUR, it's sort of impossible for them to do that now, and they're all moved into big houses and everyone's doing different things. I feel like it's even more authentic than it was before. So I'm excited. I'm excited to watch it.