After spending hours interviewing doctors, dermatologists, and elegant Dallas ladies with impeccable skin earlier this year, I inevitably took a long hard look at my own complexion. At 29 years old, youth is still mostly on my side, but with the specter of 30 beginning to loom, it felt like the right time to start getting serious about skincare. And not just maybe-I-should-buy-a-good-eye-cream serious (although I highly recommend Skinceuticals'), but a real investment of money and time.
There are Botox and filler, and Dallas has scores of spots to buy skincare, but my real focus was facials. Up until this year, my booking of a facial was random and relatively rare—the exact opposite of the once-a-month schedule most derms and aestheticians recommend. (Facials should really be covered by insurance, no?) So, each month, I tested out a new facial at different spas (hotel, med, or otherwise) around Dallas. My face is no longer the same. These were my favorite experiences.
Face Haus' World of Difference
The recently opened beauty bar in Preston Hollow is applying the Dry Bar approach to facials, making it easier to incorporate a treatment into your monthly routine. And by cutting out some typical facial frivolities (there's no need to de-robe here), things stay pretty affordable.
Case in point: the World of Difference Facial, which crams $250 worth of treatments for dull skin, dehydration, loss of elasticity, fine lines, and hyperpigmentation into a $145, 55-minute experience. It included LED light therapy and a freeze-dried algae mask. It was a dream.
The Spa at The Joule's Codage Nutri-Element Facial
I've mentioned this customizable French facial before, and I'll happily discuss it again. Lory, my esthetician, deserves it. She had magic hands, and whipped up a scientific skincare concoction specifically designed to bring my dull, post-holiday skin back to life back in January. Any excuse to spend a weekend in The Joule's luxurious subterranean spa is welcome, but this one was particularly worth it.
Enlighten Med Spa's Salt Facial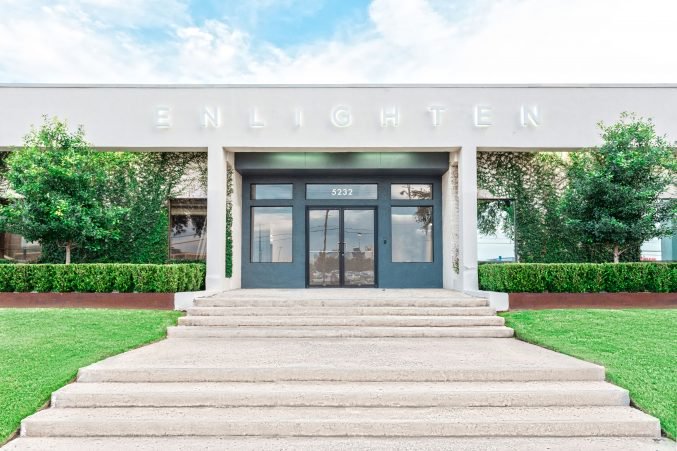 Found locally only at the Preston Hollow med spa (which recently unveiled a massive renovation), the Salt Facial is more of a medical treatment than a spa experience.
There are three parts to it. First, your face is exfoliated with natural sea salt, a process that's not entirely pleasant, but is highly effective. (My skin felt pretty raw afterwards.) Next, an ultrasound tool is used along with a hydrating cream to promote healing. (This felt like heaven post-salt.) Finally, I sat under an LED Phototherapy machine for a little while (a huge help for my embarrassing adult acne problem), before they topped my skin off with Skinceuticals' tinted sunscreen.
This is the one facial that required a bit of down time. My face was relatively raw for the next few hours, and there was some peeling for about two to four days. But after that, my skin had honestly never looked more glowy. The Enlighten esthetician mentioned that she had done the Salt Facial on about three brides that week, and I completely understand why. If I needed my skin to look perfect, this would be my move (just several days before the big event).
111Skin at Forty Five Ten
If you're wondering how one gets a facial at Forty Five Ten, that's fair. There's no subterranean day spa (à la Neiman Marcus NorthPark). For this instance, a small closet area by the beauty counter was transformed into the tiniest (but still luxurious and marble-covered) treatment room.
Because, of course, Forty Five Ten doesn't offer facials. But on occasion, one of the exclusive beauty brands they carry, like 111Skin, will stop by. And when they do, please book the complimentary treatment, so you too can experience the brand's Celestial Black Diamond Multi-Acid Accelerated Peel (or whatever other insane product 111Skin has launched).
In the meantime, invest in the tech savvy brand's Rose Gold mask, which put every other sheet mask I've tried to absolute shame.
House of Preservation's Customized Facial
The staff is small at House of Preservation, the chic med spa that opened next door to Beverley's on Fitzhugh earlier this year. But it's because the owners, best friends Brittany Ricketts and Rylie Bland, spent years zeroing in on the very best, including esthetician Natalie Burt, who performed a simply insane lymphatic massage on me earlier this month.
The best part: House of Preservation launched a "Monthly Facial Club," which offers a discount on the treatment ($150 per facial) and can help you stay on track for your skincare goals.
Get the AtHome Newsletter
Enjoy Dallas' best trends, hot properties, and tips from local designers to help you nest in style delivered weekly.
Author