It has been a year for bistros. Frenchette in New York claimed the prestigious James Beard Award for Best New Restaurant and cinched Eater Restaurant of the Year. Across the country, in Los Angeles, people can't get enough of République and Trois Mec. This may seem inconsequential, a coincidence maybe. But if you see it as a rising tide, it could be considered evidence of our longings. Right now, what people want is simple(ish) food in a simple(ish) room—something familiar without insulting our loftier sensibilities, comfortably casual with a few idiosyncrasies, French inspired and personal, tapping nostalgia without illusions.
All this dovetails nicely with what Greg Katz is trying to do at
Beverley's
. The restaurant, which Katz opened off Fitzhugh Avenue in early March, is a recognizable premise: a place where you can nibble Marcona almonds before moving on to chicken liver mousse on griddled bread. It also happens to be interested in considering what a bistro might mean, what it could be.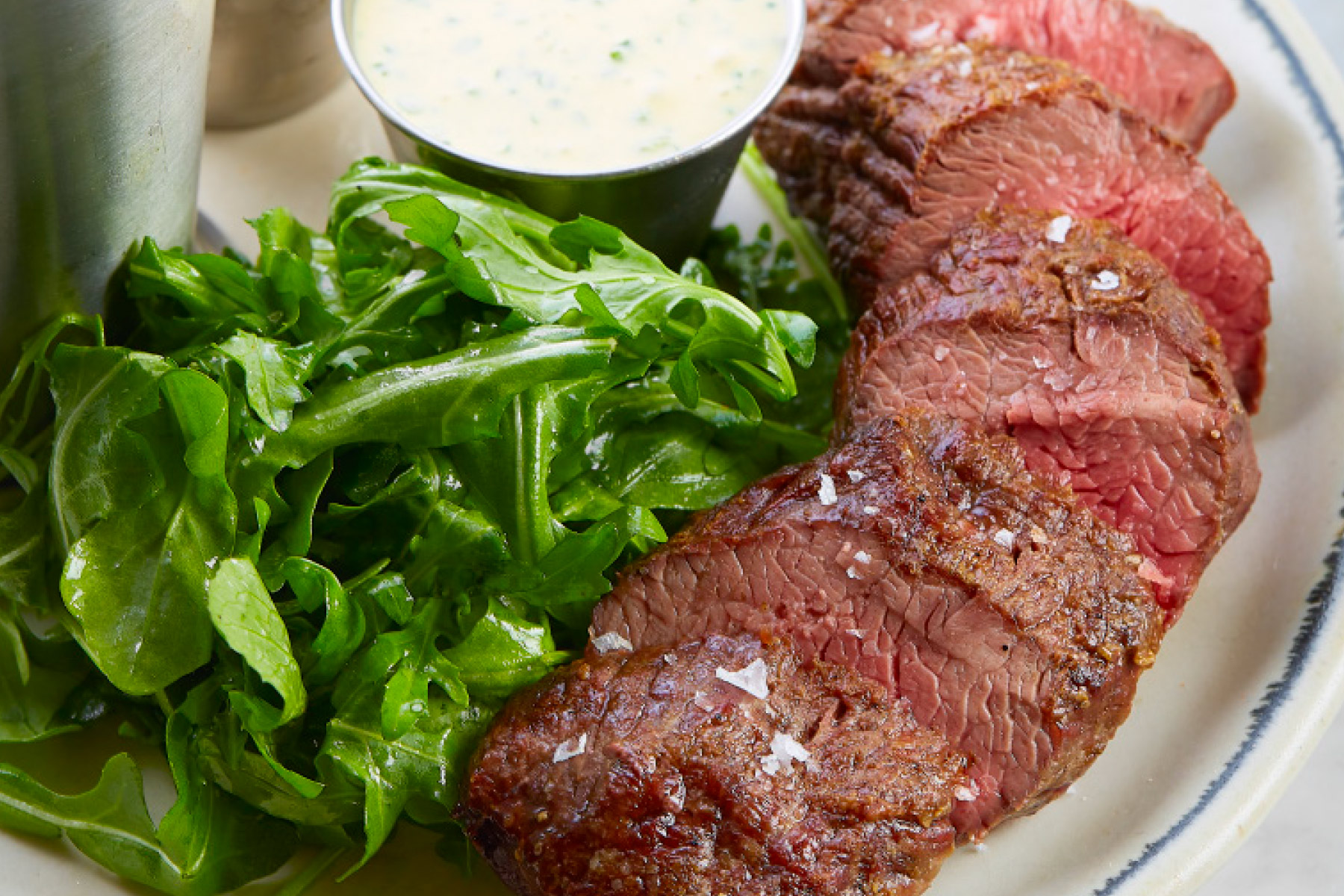 Never mind that it was the dim and dive-y bar BJ's NXS before. There is no hint of its previous incarnation. Now it's all bistro chairs and marble-topped tables, mosaic tile, lithe cherry blossom floral arrangements, and leather banquettes that hit all the right aesthetic notes in an airy interior. Israeli hummus, French-Jewish foie mousse, and seasonal burrata toast exist copacetically alongside a fritto misto and charred octopus on a polyglot appetizer list. For Katz, it's the endpoint of soul-searching. It is his life, more or less, in a restaurant.
His story involves a childhood in South Africa, spent among family dinner parties and visits to grandparents in the vineyards of Constantia, south of Cape Town. He moved to Dallas when he was 11 years old and began his culinary career under Dean Fearing at the Rosewood Mansion on Turtle Creek when Nick Badovinus was a sous chef there. A year in a kibbutz in Israel saw him picking avocados, Galilean bounty. And while he may have opened Fireside Pies and Victor Tangos for Tristan Simon and CBD Provisions for Tim Headington, he envisioned Beverley's (its name a nod to his mother) as a distinctly intimate, owner-driven restaurant, where he could split his time between front and back of house.
To open, he originally enlisted Josh Sutcliff, whom he'd met when Sutcliff was executive chef at Headington's Mirador, and Ross Demers, whose pastas and charcuterie we last sampled at the now-closed On the Lamb. He also tapped Ravinder Singh, an exceptionally talented bar manager, and now there are excellent, breezy cocktails and Aperol bottles behind the bar. Beverley's, in other words, makes a striking first impression.
My first meal here involved a profusion of seasonal ingredients that went well with the prospect of simple grilled fish and a bottle of South African chenin blanc. A mound of fat asparagus, brilliantly fresh favas, and plump peas was a burst of green, with a semblance of a Scotch egg resting on top, nestled over frisée. It was a smart twist on the asparagus-frisée-poached-egg bistro salad. Burrata on toast meant a creamy strata with a smear of minty pistachio pesto and a great quantity of fresh herbs that seemed as though they were whole a fleeting second ago. And if spring seems too mundane a subject to rhapsodize, I challenge you to find anything that captures it so efficiently.
Jewish elements are based less on family recipes than on transposed memories. Chopped liver takes the form of chicken liver mousse, suave and as profoundly nutty as aged Gouda. Caviar and latkes are not humble haystacks slathered with applesauce and sour cream, but dainty fritters that I found myself passing around like canapés: bite-size potato coins with crème fraîche, pickled shallots, and caviar, a Jewish dish with a heavy Russian accent. (The shallots were a little insistent; we lost the caviar's brininess.) And the chicken schnitzel was a masterpiece. Its crust, browned the color of a well-baked pretzel, is a glorious shag from which I pulled crunchy bites that surrendered to tender white meat inside. Marsala sauce, tangy from lemon, with cremini mushrooms, herbs, and capers, was a total throwback, but good.
Go ahead, order the steak frites. Bavette and spinalis major, the rotating bistro cuts, are a reasonable $28, gorgeously cooked, with skinny frites to dunk in a tarragon béarnaise and an au poivre that's sweet and glassy, but just enough. It's all very technical without ever seeming like it is.
Like in any good bistro, the sauces speak volumes about the sensibilities at play. There's yogurt sauce under the remarkably mild, pine-nut-strewn lamb chops. And thickened yogurt under the spectacular whole branzino, with perfect crispy skin, wide grill marks, and tender flesh served fileted with couscous, toasted almonds, candied apricots, parsley, and whole mint leaves. Charred octopus—a wonderful dish, with a velvety romesco, luscious and bright orange—has fingerling potatoes and the briny brightness of olives.
Katz has a wine list that's refreshingly priced, with a sizable cluster in the $45 to $75 range. And well-executed, simple dishes deliver distinct sensory pleasures—like custardy marrow bones that make other examples look unsophisticated. Servers know how to chill a bottle of wine when necessary.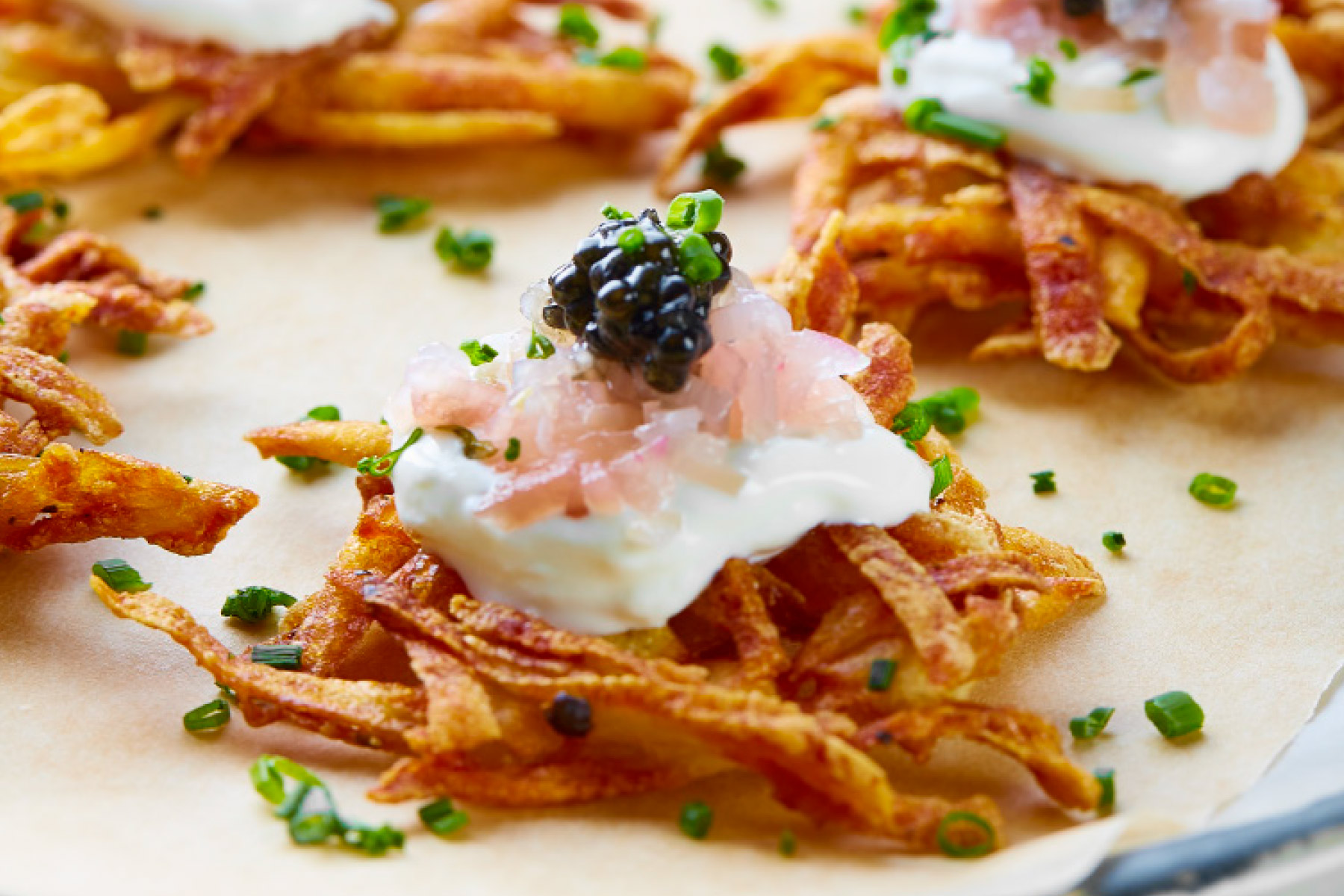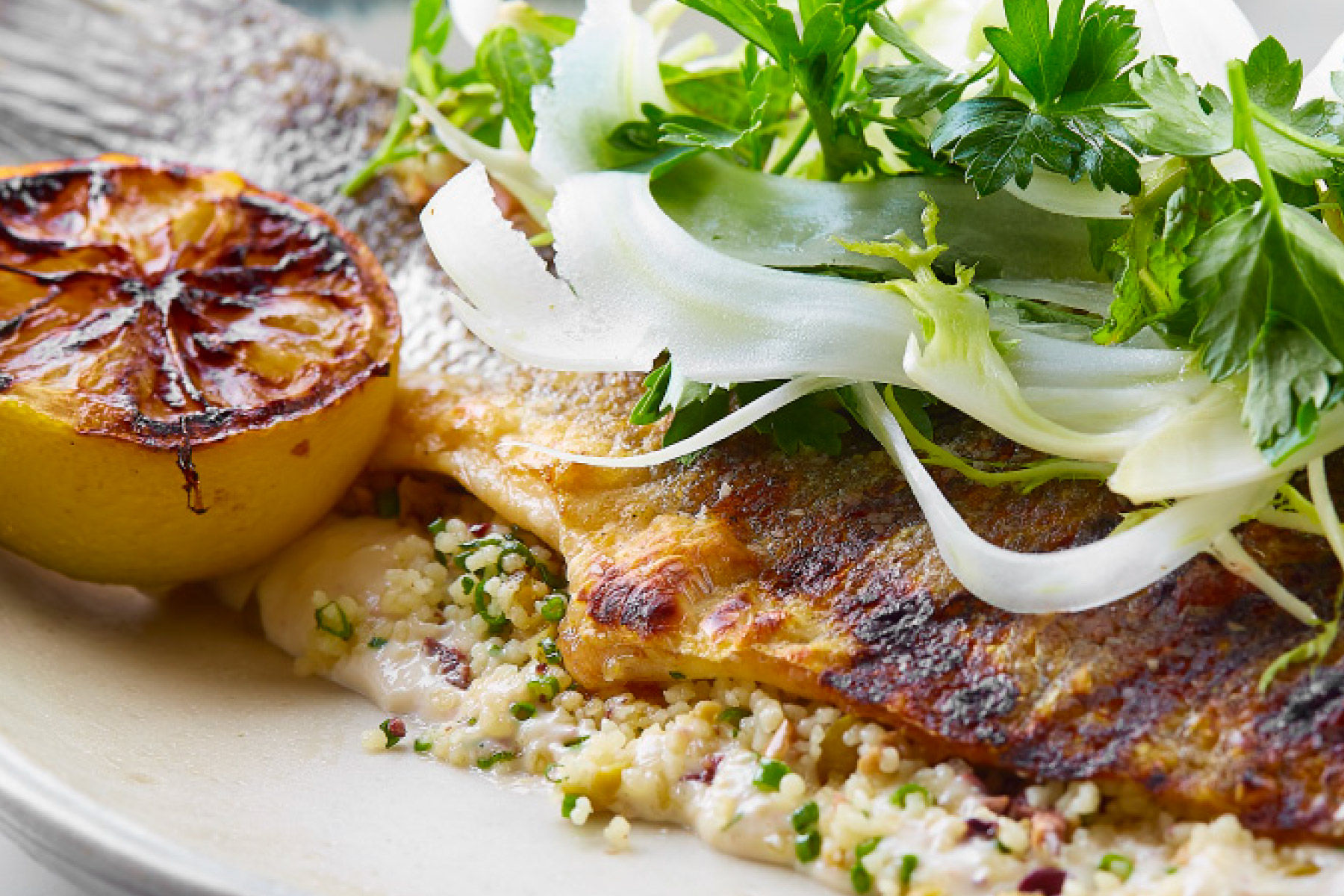 Heart on a Platter: A polyglot menu that plucks from various parts of Katz's life includes dainty caviar-topped latke bites and entrées like whole branzino over couscous with a yogurt sauce and herbs.
Pasta is wide, eggy, and al dente, twined around rock shrimp, juicy pops in linguini scampi flavored with herbs and not much of the Calabrian peppers billed. The first twirl is best, when the garlic is heady. (The noodles seize up when cool.)
Indeed, the things the kitchen gets right far outnumber the things it get wrong, like a half roast chicken that came overcooked, with chimichurri spooned over the top, a mashed green poultice that tasted brazenly of oregano in a way that clashed with the mildness of whole-kernel corn in the odd, failed, tangy-sweet succotash over which it was served, with cherry tomatoes and what was disappointingly not favas but tiny rounds of pickled asparagus. That was a confusion of a dish. And should you be expecting exemplary matzo ball soup, I found it inedibly salty.
Desserts—designed by Jill Bates, most recently at Fearing's—leave something to be desired. The exception is the Key lime pie: a homespun slice with a tart body that verges on lime curd and a soft peak of toasted meringue.
Beverley's belongs to a genre of restaurant of which we need more. It's made for people who long for a place where you can get caviar and latkes and a proper steak frites. Light, sophisticated, and unpretentious, it's a place to settle in for a gin and tonic with notes of lavender and peppercorn when the decibel level is not excruciating. And I can easily imagine those who will flock for bagels and lox at brunch. I'm still puzzled about the matzo ball soup. But let that pass. It will remain a longing.
Get the SideDish Newsletter
Dallas' hottest dining news, recipes, and reviews served up fresh to your inbox each week.