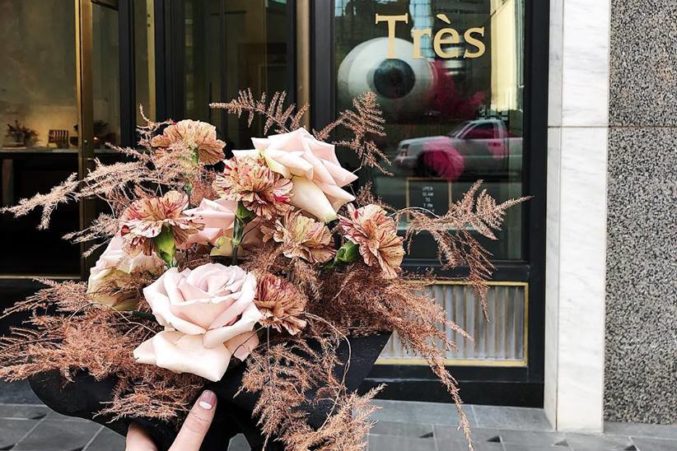 Inside Très, an Approachable New Downtown Gift Shop
Showcasing French and Texas brands, The Joule-adjacent shop offers a beautiful high-low blend. It's also really good at content.  
I have no idea why, but when Le Labo moved to Highland Park Village, it never occurred to me that another concept would ever take over its tiny, heavily patinated space outside The Joule. Which is maybe why it felt like such a treat to discover Très, a gift shop offering flowers, chocolates, cosmetics, and gifts, most of which are sourced from Texas- or French-based artists and companies.
Helmed by former Goop shop girl Scarlett Gray and model Sarah May, who described Très as landing somewhere between 4510/Six and CVS on the affordability scale, Très and its very cool walls are lined with products from Dallas-based Susan Posnick Cosmetics and Niven Morgan (whose products stock The Joule's spa as well), cards and stationery by local artist Ruben Burgess Jr. (aka @sartorialnolift), Mariebelle chocolate bars, "I Must Be Dreaming" sleep shirts, and more. In March, they even offered a thoughtfully culled "Mercury Retrograde Survival Kit," which I really could have used.
Très is a welcome, approachable addition to Main Street's heavily high-rend retail scene. And let it be known: these gals are very good at content. Look at how artfully curated and on point this less-than-two-week-old Instagram presence already is. Get your eyes on this adorable video below! Très chic, non?