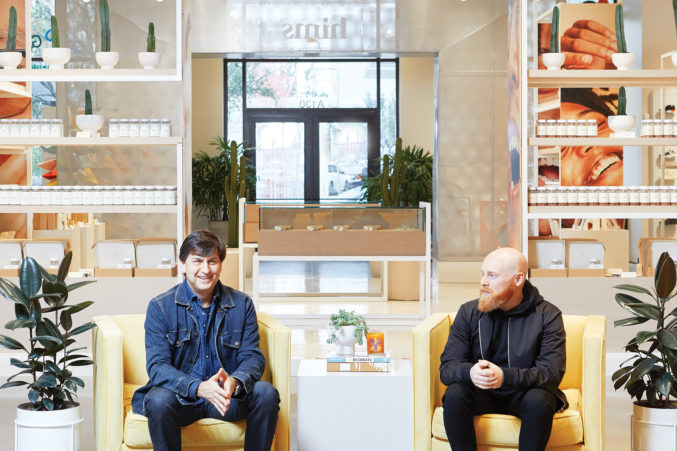 7 Dallas Shops and Showrooms to Visit Now
From Le Labo's more spacious Highland Park boutique to Serena & Lily's lovely showroom off Knox Street.
Great Goods
As long-standing department stores slowly begin to incorporate technology from iPhone apps to podcasts, Neighborhood Goods opened in Legacy West this fall with every imaginable innovation already in mind.
Co-founded by entrepreneur Matt Alexander and real estate investor Mark Masinter, Neighborhood Goods is predominately working with direct-to-consumer, digitally native brands (some testing brick-and-mortar for the first time), including home furnishings company The Inside, Reese Witherspoon's Draper James, American-made candles from Otherland, and custom artwork by Dallas artist Rob Wilson via RR&Co. Shop. In place of fixed lanes of racks are multiple frontages of retail spaces designed by Droese Raney, the architecture firm behind Forty Five Ten and Highland Park's new private club Park House. "It's a more cohesive, modern version of a pop-up," Alexander says. "There's going to be something happening just about every day that gives shoppers a reason to come back and discover something new and different."
There's a Neighborhood Goods app with a "bring it to me" option for users to request instant assistance from anywhere in the store, including the in-house restaurant Prim & Proper. "We're creating something much more vibrant and socially oriented where we can bring in some of the most interesting brands from around the country," says Alexander. "We had this idea, and it turns out that a lot of people have been waiting for something like this, including customers."
House Rules
Whether you're clearing out an entire estate or simply looking to unload unwanted pieces from a move or downsize, selling personal effects can be a hassle—and if you're unsure of a piece's value, a losing proposition, too. Recognizing this, Jacquie Denny and Brian Graves combined their expertise in business and history to launch Everything But The House in 2008, an online marketplace for pre-owned goods and estate sales that helps sellers get fair prices for their furniture, home accessories, fine jewelry, and more—all bids start at $1.
To make buying and selling even easier, EBTH has opened its first public showroom, selecting Dallas for the inaugural brick-and-mortar venture. "When we were looking at locations, we were trying to figure out which community we really wanted to be a part of," says general manager Natalie Childers Hacker. "Of course, we settled on the Design District." The space showcases some of the best items in their inventory, which buyers can preview in person before bidding on. Shoppers can also drop off consignment pieces or pick up items they've won, combining online ease and in-person efficiency.
In the Niche of Time
After a few Le Labo-less years following the shuttering of NorthPark's Barney's outpost, Dallas finally got a fix of the beloved fragrance house when it opened up shop next to The Joule in 2016. But the cult clout of Le Labo has only gotten stronger, which may have sparked its recent move to a far more spacious setting in Highland Park Village. The former Ellis Hill spot offers more real estate for candles, room sprays, and 17 vegan fragrances (including Dallas exclusive Aldehyde 44 and favorite Santal 33), all of which are handcrafted in-house.
Museum Quality
Amid a sea of changes at the Crow Museum of Asian Art—including a new name, gallery, and interactive art studio—the updated and expanded Lotus Shop still remains one of Dallas' most unique gift shops. Inside the new space, accessible from Flora Street, you'll still find plenty of Asian rarities, but the slightly higher-end inventory is almost entirely different.
Visit to hunt for porcelain bowls, handcrafted calligraphy brushes, colorful bento boxes made in Japan, and whimsical chopstick holders. A wonderfully curated kid section features adorable Asian characters and blocks featuring the alphabet in Japanese, Chinese, and Korean. Designed by Oglesby Green Architects and arranged using the principles of feng shui, the Lotus Shop is an inspired downtown escape whether you're purchasing or just perusing.
Those Who Wander
Nomads Loom's new Slocum Street outpost is simply covered with piles of carefully stacked Oriental, Persian, Afghan, Turkish, and Moroccan rugs. They number somewhere between 2,500 and 3,000 according to Sarven Sirinoglu, the showroom's manager and son of founder Nazaret Sirinoglu. Prices range from $100 to $30,000 depending on size, but each piece is a work of art with a story. 
You'll find even more rugs in their original Dallas Market Center space in the World Trade Center, where they've been for 40 years. The decision to take things to Slocum Street offered the family-owned company the opportunity to showcase even more of their imported, antique rugs, as well as open up Nomads Loom to the public for the first time since the '70s. It also gives Sarven, who's been working for his dad since college, the chance to modernize the company and potentially find a home for some of the $25,000 rugs that have hung in the World Trade Center showroom for more than a decade.
"It set me free," says Sarven of the move. He plans to put down white wood flooring in the industrial Design District space to make it feel more homelike and act as a clean backdrop against which he can photograph rugs for a new e-commerce website—a first for the brand. But for those in the area, Sarven suggests a visit to the showroom, where natural light showcases the rugs' high-quality construction and shoppers can get a little education.
West Coast Story
Dallas scored a little slice of the West Coast when Serena & Lily opened its first Texas store in the Knox District this winter. Designed with vignettes that resemble a true Dallas residence—party-ready patio and all—the 3,600-square-foot shop is filled with coastal-inspired, casual home furnishings including luxe linens, patterned throw pillows, a photogenic cluster of rattan chandeliers, a wall of upholstered headboards, and plenty of classic French bistro chairs.
And though the company's California roots are evident, the Dallas shop has a warmth that's distinctly Texan. Deep blues and grays accent bedrooms and living areas, wall space is occupied by both Dallas and California artists, and patio and sunroom areas offer indoor-outdoor inspiration year-round. "It feels like the catalog is coming to life," says brand marketing director Jennifer Crowley. "It's so much more inspirational when you can see it all together."
The e-tailer set its sights on Dallas thanks to a loyal local following, but settling in the Knox area was also by design. "We really wanted to be in a location where a family might be walking by the store with a stroller and their coffee," Crowley says. "We set up the store to feel like home."
Go Ahead, Try Me
Samsung is opening one of two Home Experience Stores in Dallas (the other is in Atlanta) for a limited time. Located just off Henderson Avenue in the former Timothy Oulton space, the by-appointment-only showroom will offer an intimate, aspirational setting to give Samsung appliances a whirl.