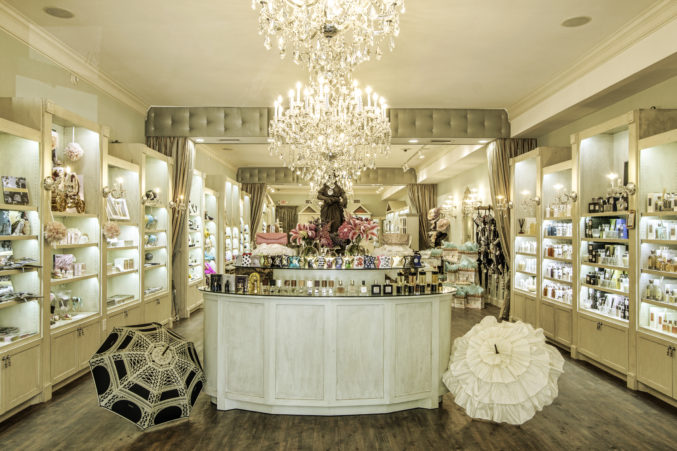 If you ever find yourself strolling the charming streets of historic downtown McKinney, there's a good chance a Parisian-inspired turquoise and brown awning catches your eye. The façade, along with a pair of lantern-festooned baby blue doors, distinguishes Sharla's, a McKinney mainstay since 2004 and the eponymous boutique by retail veteran Sharla Bush.
Stocked with Niven Morgan lotions, Jack Black skincare, hats sourced from Paris and Italy (perfect for Mad Hatter's), silk scarves from Turkestan, and loads of luxe candles, the boutique is feminine haven for all things lovely. We caught up with Bush, whose mother and daughter are savvy shop owners in their own right, to learn more about her retail journey.
What is your family's history in fashion?
My mother was a pioneer in the 1950s. She opened a flower shop in 1957 and was in business for 37 years. A few years later, she opened Myrel's Bridal Salon. I would go to market with her when I was a child. I have a business degree from Southern Methodist University, but I learned the most from my mother.
My daughter, Laura Bush Freeman, went to SMU and opened her store, L. Bartlett, by the end of her senior year almost twelve years ago. I've probably learned more from my daughter than she has learned from me. She's very astute and methodical—she's more like my mother in that regard. We're a family of retailers.
Any stories from going to market with your mother as young girl?  
I went to market with my mother almost every time she went. By the time I was 16, I kind of understood what we were doing. After I was 17 or 18, my mom stopped going to market because she trusted me to do it.
View this post on Instagram

How did Sharla's come to fruition?
When our second went off to college, I had been a stay-at-home mom for 24 years, so I was trying to figure out my next move. I was with a group of women buying some face products at Stanley Korshak one day, and this light bulb went off in my head—there was no place in McKinney to buy bubble bath or powder. That was a Friday afternoon. On Sunday morning, I woke up and told my husband, "I think I have another concept. I'm going to open up a cosmetic and bath boutique. " I hit the ground running on Monday morning, and we opened four months later in 2004.
Standout Pieces in the Store:
We carry Bond No. 9 of NYC. Every fragrance is a different street or neighborhood in New York. We're the only boutique in north Texas that carries this line.
Claudio Cutuli's scarves offer a beautiful blend of silks and wools. He also does a lot of fur and feathers. They're just crazy and so much fun—it's like wearing a piece of art.
Marzi is a premier hat designer out of Florence, Italy. He's done some work for Kate Middleton.
Who is the Sharla's customer?
The first word that comes to mind is 'lovely.' We have some of the loveliest customers. So many of my customers have become my good friends over the past 14 years. They are caring, wonderful people. Every day is a joy because we know we are going to be interacting with the best of the best.