I've been making a concerted effort to get into the Texas Rangers. They're playing well this year. Last I heard, they had a 98 percent chance of making the postseason and a 16 percent chance of actually winning the World Series. So last night, with my wife and daughter both out of the house and the screens all to myself, I settled in to watch the Rangers play the hated Astros.
As you might already know, the game got exciting toward the end, but then, in the eighth inning, Marcus Semien tried to score from first on a double to left field, and, after he was called safe at home, the MLB twits in New York overturned that call. The Rangers wound up losing by one run.
Watching this action, you know what I couldn't help but think? Marcus Semien is a damn smoke show. I don't mind saying it. Obviously he's got a major league bod, but what does it for me is the dimples. Right now his cheeks are too clean shaven for my taste. When he's wearing a little scruff, it accentuates his dimples.
I came to this conclusion after I googled up some older, more beardy pics of Semien. Then I got to wondering how many other Rangers fans were already talking about how hot Semien is and how high he's been ranked, hotness-wise, in the entire major leagues, so I googled "hottest baseball players."
Man, what is wrong with y'all out there? I'm serious about this. I found a number of hotness rankings—and Marcus Semien isn't on a single one. This is absolutely insane. This would be like if you ranked world wars and World War II wasn't on the list. Look at this man: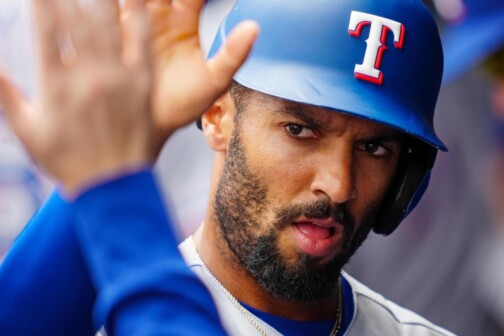 What? The smoldering look doesn't do it for you? Too spicy? Does he awaken desires deep within you that you're not comfortable with? OK, then lay your eyes on the adorable, approachable family fam with his perfect family when they participated in a Rangers summer food distribution program: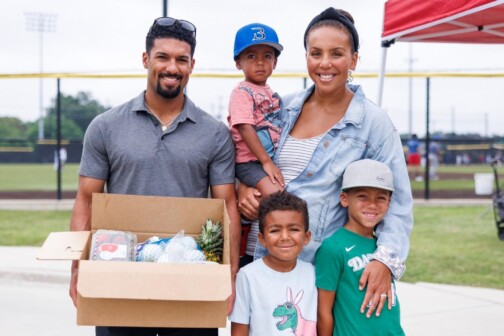 Yes, please! I'll take two helpings!
I've been told there are those who consider Joey Gallo to be the hottest Ranger of all time. I guess if you think chipmunks are sexy. Truly hot guys don't ever look like this.
ESPN? Your list of hot baseball players is trash. OK, sure, I wouldn't kick Fernando Tatis Jr. out of bed, but Christian Yelich looks like a guy who tried out for Karate Kid and didn't get a callback.
HoodMWR? Your list of hot baseball players is offensively garbage. Are you honestly telling me you ranked 50 players and not only did Marcus Semien not make the list but Noah Syndergaard deserved the top spot? Someone told me he looks like Thor. That's a 3 a.m. Mississippi Waffle House Thor, if you ask me.
Ranker? Your list of hot baseball players smells like the stretch of I-30 that runs past the Grand Prairie Landfill on a summer day when the wind is blowing from the north. Raimel Tapia? Are you blind? Our guy Mike Piellucci is enamored of Tapia's swing and told me that Tapia might be beautiful in spirit. We aren't talking about getting into Heaven! We're talking about sex appeal! We're talking about a man who's so gorgeous that he could simply walk past an Arlington convent and create a situation where the bishop has to confiscate every laptop in the joint.
All of which is to say: real bummer that we lost to the Astros last night. Tonight at 7, the Rangers try to avoid getting swept. I'm eager to watch.
Get the D Brief Newsletter
Dallas' most important news stories of the week, delivered to your inbox each Sunday.
Author
Tim is the editor of D Magazine, where he has worked since 2001. He won a National Magazine Award in…