Baseball
To quote a certain former Rangers manager, that's the way baseball go.
Baseball
Not long ago, Texas looked like it could make a run. Then it didn't–and the big moves never came.
Baseball
The shocking selection of the ex-Vanderbilt star enabled Texas to land the draft's best high-school pitcher three rounds later. It's a sign that the front office is tired of playing it safe.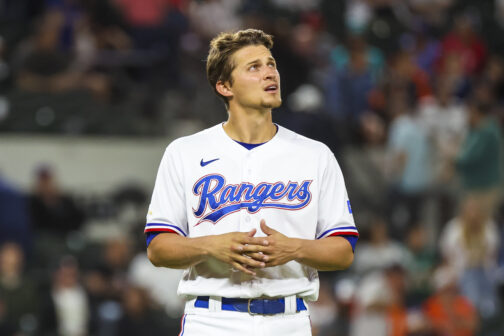 Baseball
The first three months of the season have given us three very different looks at Texas. How good are the Rangers, really?
Baseball
Things aren't as great as hoped for. They aren't as bad as they seem, either.
Baseball
On the fringe of the wild card chase with a favorable schedule ahead and the deadline looming, Texas has to decide whether it's in or out.
Baseball
The Rangers have turned a corner, and that means there's plenty to talk about.
Baseball
The former top prospect is pitching like a frontline arm and authoring a spectacular second act in Texas.
Baseball
Texas is behind the curve when it comes to promoting their best prospects this year. Let's handicap who could start the rush to Arlington.
Baseball
It's always been about the long game, and several players are making big strides to keep an eye on.