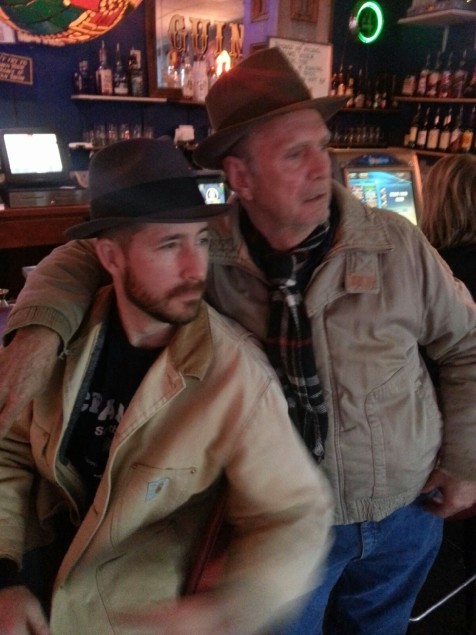 You're going to have to bear with me. I need some space here to collect my thoughts and grieve. I learned yesterday that one of my favorite bars will shut its doors forever at the end of this month. I'm referring to the White Rock Sports Bar, which we regulars still refer to by its original name, Shady Side. Actually, its full name when it opened in 1998 was the Shady Side Cafe, but "cafe" fits the place like a wedding dress would fit my dog. A man named JD, a neighbor of mine, owns the place. He changed the name a number of years ago in a misguided effort (in this drinker's humble opinion) to deal with the arcane rules governing dry areas and private clubs and the food-to-beverage ratio of sales numbers. JD tells me that his lease is up October 31. His liquor license expires even sooner, this Sunday.
I've been going to Shady Side since I moved to the east side of White Rock Lake, about 15 years ago. It is the only bar and/or restaurant in Dallas from which you can see the lake. (If there's a place in a downtown tower that I'm not thinking of, it doesn't count.) From the front patio of Shady Side, if the cigarette smoke isn't too thick, you can look to your left, down the entire one-block stretch of Hobart Street, just past the Bath House, and see water. It's not at all breathtaking or lovely or tranquil. The patio's primary vista is a parking lot and Buckner Boulevard's six lanes of traffic. But the water is there. I promise.
I cycle around the lake on some weekends. After 15 miles, maybe 20, I love rolling up to Shady Side for breakfast. On the weekends, the place opens at 8 a.m. Pretty decent migas. Even better veggie omelet. So what if I'm sweating profusely and wearing Lycra? It's Shady Side, man. Pull a glass schooner from the freezer. I'll have a Budweiser with that omelet.
Nine out of 10 times that I go to Shady Side, Jimmy D is there, sitting at the bar in his fedora, waiting to greet me. Except when the State Fair is running. Jimmy D works at the Fair. But when the Fair's not in session, Jimmy D is generally in attendance and up for another Miller Lite. He'll ask about my ride, about my kids, about anything. Jimmy D is conversant on a great number of subjects, everything from sports to geopolitics. He dabbles in computers. After I bitched one day about my internet connection at home, he ordered me a wifi extender. Problem fixed.
Shady Side is a true neighborhood joint, where neighbors run into each other. That's where I first met Peter Payton, the executive director of Groundwork Dallas. If not for that bar, I might never have heard that crazy man's life story, how he did children's theater in Alaska and wound up in Dallas trying to save a river. Judges, electricians, mechanics, attorneys, school teachers, chefs, even Lycra-clad magazine editors — all are welcome. Imagine Kung Fu Saloon. Shady Side is the opposite.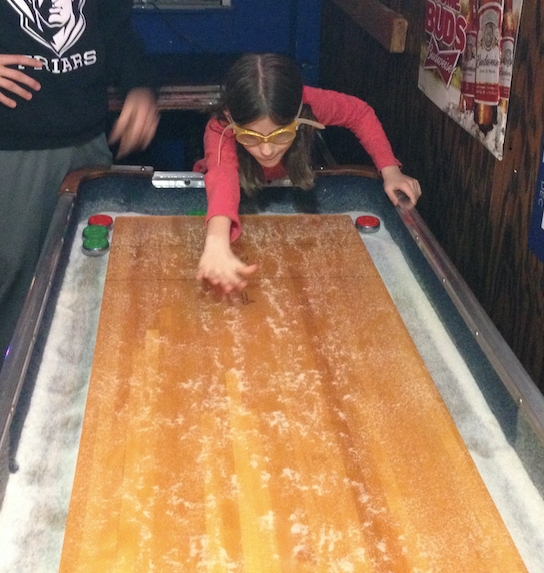 A few years back, my family decided that we'd make Shady Side our Christmas Eve dinner tradition. Okay, I made the decision unilaterally. But it was a good decision. Who wants to cook on Christmas Eve when the next day is pretty much spent entirely in the kitchen? We play Christmas music on the jukebox. Then some shuffleboard. The aforementioned frosty schooners bring cheer.
But, too, Shady Side is a good venue for adults-only maneuvers. JD will turn off the digital jukebox if you play rap with bad lyrics, but as long as no ladies are present, he'll tolerate a shirtless man shooting pool near closing time. Every so often, JD will also play Elvis' rendition of "Battle Hymn of Republic," turning up the sound system for that one song so high that conversation is impossible. You're forced to sit there and let Elvis wash over you. It's quite something.
As I say, all that is coming to an end. The booze and beer will stop flowing Sunday. It'll be BYOB until the doors shut on the 31st. JD and his longtime co-conspirator, Demi, plan to open a kitchen over in Casa View that will serve an expanded Belzie's. As for what will replace Shady Side — or, rather, what will occupy its vacated space — that remains a mystery.
I called Matthew Huckin, who works for the property's leasing company, DuWest. DuWest was hired by the newish owners, a local hedge fund called Highland Capital Management. If you recognize the name of that firm, it might be because one of its co-founders, a guy named James Dondero, is a big-game hunter who has professed his liking for giraffe jerky and recently went through a high-profile divorce. Dondero and his crew have big plans for Lake Highlands Village, the little shopping center that's home (for now) to Shady Side. They have painted the red-brick exterior a disturbing shade of white, and they are renaming the place White Rock Center.
Huckin told me that the owners aren't in a hurry to fill the space. He said a 4,000-square-foot restaurant is going in next door, though papers haven't been signed yet so he couldn't tell me what it was. With the new restaurant and Alfonso's at the other end of the shopping center, whatever fills the Shady Side spot will be the center's third and final restaurant. Huckin said it wouldn't be a chain, because the owners know that the people who live in our neighborhood would burn the place down. Well, actually, he said the neighborhood wouldn't much care for a chain. The arson thing was just me making a joke. Probably.
Whatever winds up there will, I'm sure, be an improvement. They'll fix up the bathrooms. They'll get rid of the drop ceiling with the cheap acoustic tiles. The air conditioning will always work. The waitstaff will be attractive and knowledgeable. And 15 years from now, if they'll serve me while I'm wearing Lycra, I'll be a big fan of the place. But right now, there's a hole in my heart where Shady Side once was. I suppose I'll find out if that hole drains into my liver.
Here's to one last weekend at Shady Side and drinking till the taps spit air. And here's to JD. It was a good run, my friend. You'll be missed.
Get the SideDish Newsletter
Dallas' hottest dining news, recipes, and reviews served up fresh to your inbox each week.