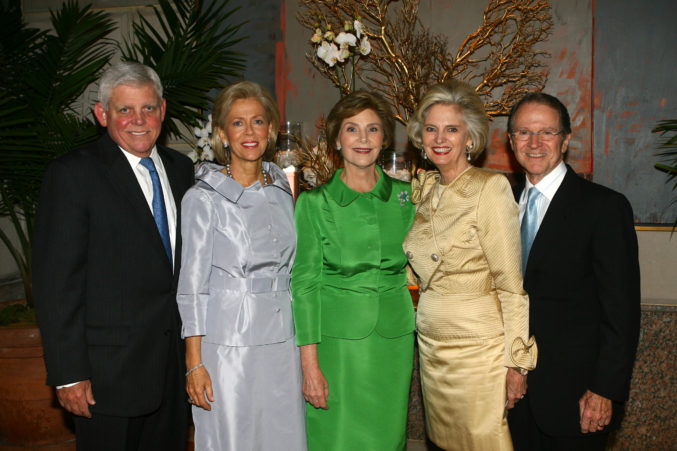 Healthy Communities Thrive on Award-Winning Medical Research and Healthcare Options
Dallas can claim both.
By D Partner Studio
Published in Sponsored
November 6, 2018
1:22 pm
Pierce and Allie Beth Allman, co-founders of Allie Beth Allman & Associates, have supported local charities for decades and have always encouraged the real estate agents in their company to do the same. The list of organizations the Allmans are personally involved with is lengthy, but, as Pierce says, they do not give for their own recognition. "It's not letterhead participation that moves us," he explains. Rather, it is giving to an organization "that is performing a genuine service for someone." Nowhere is a "genuine service for someone" more evident than in Dallas' thriving medical community.
For the second consecutive year, the Allmans have taken another great stand for giving by making Allie Beth Allman & Associates the title sponsor of the D Gives initiative. The Allmans believe a healthy community starts with top-tier, award-winning research and healthcare opportunities, and this is evident in the number of medical-related charities they support. With the Allmans leading by example, many agents in their realty group have also become strong individual supporters of health and medical charities in the Dallas area. UT Southwestern Medical Center, UT Dallas Brain Performance Institute, Juvenile Diabetes Research Foundation (JDRF), Children's Health, Kidney Texas, and the Leukemia & Lymphoma Society are among the many charities supported by Allie Beth Allman & Associates agents.
It's no surprise the realty group has been a longtime supporter of UT Southwestern Medical Center. It is home to two Breakthrough Prize winners, six Nobel Prizes, 22 members of the National Academy of Sciences, 17 members of the National Academy of Medicine, and 15 Howard Hughes Medical Institute Investigators. The faculty of more than 2,700 is responsible for groundbreaking medical advances and is committed to translating science-driven research quickly to new clinical treatments. UT Southwestern physicians provide care in about 80 specialties to more than 100,000 hospitalized patients, 600,000 emergency room cases, and approximately 2.2 million outpatient visits a year.
"Some of the world's very best medical research and discoveries are happening right under our noses, here in our own backyard," says Bob Edmonson, senior vice president with Allie Beth Allman & Associates. "As a supporter of UT Southwestern, I have toured the labs and sat in on detailed presentations, always leaving in awe. Whether it's cancer, brain, heart/lung/vascular, or diabetes and nutrition, the best and brightest are moving toward solutions and cures."
I find that this belief in our civil and service organizations is refreshing because if we lose faith in those institutions, we lose faith in the future.

Pierce Allman
Both Pierce and Allie Beth Allman, as well as many agents at Allie Beth Allman & Associates, have long supported the Brain Performance Institute at the University of Texas at Dallas, which is part of the Center for Brain Health.
Research-driven programs and cognitive performance strategies here provide the tools to unlock brain potential and enhance your life, starting today. From middle school children to corporate executives, warriors to athletes, and those with Alzheimer's disease or on the autism spectrum, the Brain Performance Institute helps take the brain to a new level of performance through online and in-person programs. The Center for Brain Health is pioneering new fields of research that powers brain health and performance, including preventive care protocols and interventions for brain recovery. Current areas of research include addiction, adolescent reasoning, and critical thinking skills, Alzheimer's, autism, healthy aging, mild cognitive impairment, multiple sclerosis, neurostimulation – among others.
"We became fascinated with the Center for Brain Health at UT Dallas when we realized brain research today is where heart research was years ago," says Pierce Allman. "At any age, you can create a stronger, healthier brain. They are recognized leaders in recovery from traumatic brain injury, including concussions and war wounds.  Their working partnerships with the NFL, school districts, and veteran groups are gaining in popularity and effectiveness, as is their involvement with teenage students. Overall, the Center wants to transform lives and open eyes about what the brain can really do by unlocking brain potential."
Kidney Texas is the charity of choice for Debbie Murray, vice president, Allie Beth Allman & Associates. "Kidney disease has personally touched my extended family," she says. "I wish for all resources to raise awareness, prevent the disease, and treat it. Kidney Texas is a great organization of giving individuals, and it is my pleasure to support their cause."
The Allmans hope their call to give will extend beyond their agent family and inspire others in the Dallas area. Pierce says, "Whether you need to reinforce your faith in each other, you want to express your gratitude for what you've been given, or just take compassionate action, to me, giving is part of a citizen's responsibility. And that's what we try to get across."
For more information and details on how you can donate to these organizations, visit www.dmagazine.com/dgives.