1. It's not all cowboys and tumbleweeds.
Contrary to what J.R. and Sue Ellen Ewing might've led you to believe, there's more to the bustling city of Dallas than oil industry drama and cowboy boots. In fact, we consider ourselves quite cosmopolitan—just check out our high-caliber shopping destinations.
2. Texas barbecue is the undisputed best, but get it while it's hot.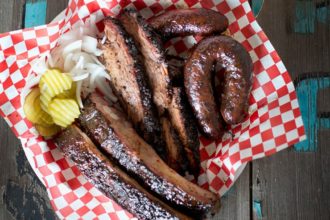 You might've heard some of the delicious legends surrounding Texas barbecue, but there's even more to it than that. (There are four to five sub-styles of Texas barbecue, but we'll let your new favorite pitmaster tell you the tricks of the trade.) No matter which tried-and- true barbecue joint you choose, here's a tip: Get there early. Everything really is bigger in Texas, especially the lines for the slow-smoked good stuff, and restaurants like Pecan Lodge and Sonny Bryan's will close up shop when they sell out.
3. Hate grocery shopping? Make it more bearable with a cold one.
Yeah, you read that correctly. Here in Dallas, you can drink at the grocery store! Or at least at a select few. If you're shopping at a Central Market or Whole Foods, you can sip locally brewed ales, Texas wines, and much more. A few local grocers also offer the option, too. Cheers!
4. Our winter weather is crazy.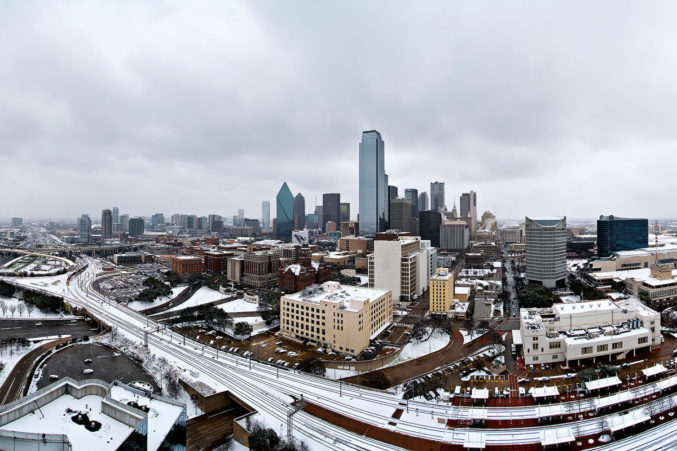 Ever been trapped on a highway for three hours because it's just above freezing and a local weatherman insinuated that there *might* be precipitation? Welcome to Dallas, where we panic to compensate for our lack of actual winter weather besides the occasional snow flurry or ice storm. (Sometimes it's best to play it safe and stay home with the heat on.)
5. And so is our summer heat.
You'll see—and feel—what we mean when you see your car's temperature gauge pass 120°F. But there are a few positive sides. It gets so hot that even bars and restaurants throw pool parties to help you cool down. And you can always crank the AC.
6. Speaking of weather, make sure you're smart about electricity and other utilities.
The Texas energy market is competitive. And when it comes to choosing the best electricity plan for your home, there's going to be a long list of options. Since Dallas sees both hot summer heat and cold, icy winters, selecting a fixed-rate plan provides the benefit of having the same rate, no matter the weather. Also look for perks like Direct Energy's Free Weekends plan, because it's literally free electricity, plus a solid weekday rate. You can enjoy your free energy supply every weekend when you're home doing the laundry, throwing dinner parties, hosting karaoke night—you name it. This plan actually provides the most free energy on the weekends than any other local energy provider, from Fridays starting at 6 p.m. until 11:59 p.m. on Sundays. And if you're philanthropically inclined, check out Direct Energy's Give Brighter plan, which sends a solar-powered Luci light to people in developing countries at no additional cost to you.
7. We're a city that likes to call our own shots.
Dallas has been known for taking on the seemingly impossible, like that time we built an urban park on top of a highway, or those other times we attracted huge-name headquarters to move to our zip code. We also appreciate the power to choose in every facet of life, and that includes everything from which Tex-Mex spot we'll hit for dinner to which local dive we'll visit for live music after dessert. We also appreciate the power to choose when it comes to our utilities providers, which is why perks like 100 days of free electricity, free weekends, and plenti rewards points make Direct Energy stand out.
8. The rush hour traffic is no joke.
Learn when to drive against the flow, use a maps app, find a back-road shortcut, or get comfortable with your favorite audiobook or podcast, but whatever you do, use your blinker and don't text and drive! (Seriously. The traffic-packed, six-lane highways are treacherous enough as it is.)
9. When we're not behind the wheels of our cars, most of us are very polite.
Southern hospitality is real, y'all. Doors are held open, local businesses are friendly and accommodating, pleases and thank you's are always exchanged, and you'll always be asked if you've saved room for dessert.
10. You'll learn to love local.
From decades-old Tex-Mex restaurant dynasties to storied local music venues and sports franchise powerhouses, the whole Dallas-Fort Worth area is a magnet for entrepreneurs, wildcatters, and those with big ideas. And while we're not brainstorming our own Shark Tank pitch for a chance encounter with Mark Cuban at a Mavs game, we're reaping the benefits of our vibrant local culture in the form of delicious food at welcoming neighborhood restaurants, dive bars, and concert halls.