Frenchye Harris is a fashion industry veteran with decades of experience in public relations, event production, and discovering and promoting up-and-coming designers. Harris knows firsthand that Black business owners, designers, executives, and decision-makers are underrepresented in the world of luxury retail. She decided to meet that challenge and founded the Black Fashion Movement, a virtual campaign that highlights Black creatives and voices in the fashion industry. Now, Harris is producing a shopping experience at the Dallas Galleria, which started on Wednesday. The event is helping Black designers from Dallas and beyond reach a larger luxury consumer base via a pop-up shopping experience in one of North Texas' premier retail destinations.
Originally from Toledo, Ohio, Harris fell in love with fashion after attending a fashion show with her mother and grandmother at age 9. At 15, she was producing her own runway shows, including one that spotlighted prom styles. After dabbling in modeling, she decided to pursue a career in the events and business side of the fashion industry. Harris earned her Master's degree in PR, then opened her own boutique PR and special events company, Style DNA, in Cleveland. She also contributed to news channels and Cleveland Magazine's style section. From there, she joined the corporate team at Neiman Marcus, where she worked for years handling PR for multiple store locations.
In 2020, Harris left Neiman Marcus and started her own consulting company in Chicago.
"I'm passionate about helping emerging brands get into retailers, especially Black fashion brands and designers," she says. "There are not a lot of Black brands being carried and retailers, specifically luxury retailers, and marketing efforts aren't geared toward the Black luxury consumer. On the PR side and the special event side, this is such a growing population, and it isn't being tapped into. Companies that are not embracing this market or going after Black-owned brands are really leaving money on the table."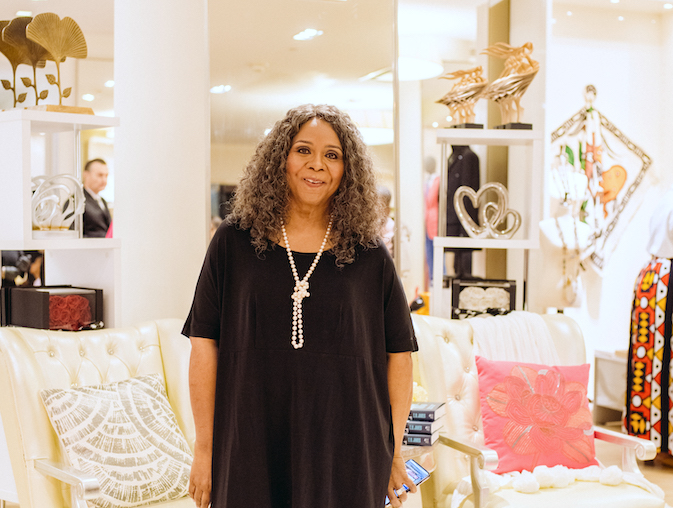 Last February, she established the Black Fashion Movement, a multi-platform social media campaign to celebrate Black History Month through the lens of fashion. The Black Fashion Movement's social media pages highlighted Black-owned brands, designers, authors, and style experts. When February ended, Harris decided to keep the movement going and continues to highlight Black creators and host virtual panels.
Last fall, Harris was contacted by Trademark Property Company, which owns and operates Galleria Dallas. The company asked to partner with Harris and the Black Fashion Movement to think of innovative ways to highlight Black designers across the country. The concept Trademark and Harris came up with is simple but powerful: they'll use vacant storefronts and retail establishments to create luxury shopping experiences that feature goods designed and produced by Black creatives.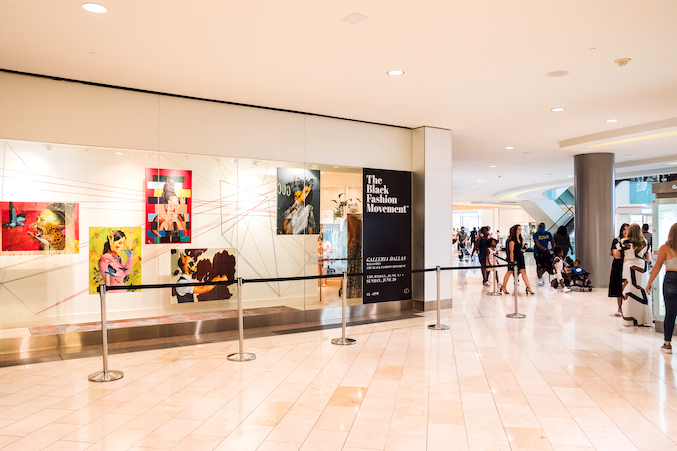 The first event is taking place at Galleria Dallas, and several others are slated for this fall and winter, including events in Houston, Miami, Atlanta, and New York. North Texas is the perfect location for the premier Black Fashion Movement event, says Harris. "The fashion community in Dallas is very robust. There's a lot of luxury dollars and luxury consumers, and Dallas is one of the top cities for affluent African Americans."
To select the featured brands, Harris put out a designer call via the Black Fashion Movement's platforms and enlisted the help of national design groups like Fashion Group International (FGI). Applications from across the country rolled in. Each was reviewed by Harris and a handful of her industry peers.
"These designers can finally talk to consumers, engage with them, and get feedback," she says. "That's really exciting. In the past, they might have gotten one-off invitations to do a designer appearance at a luxury boutique. But now, anyone shopping at this luxury fashion experience will be able to meet them."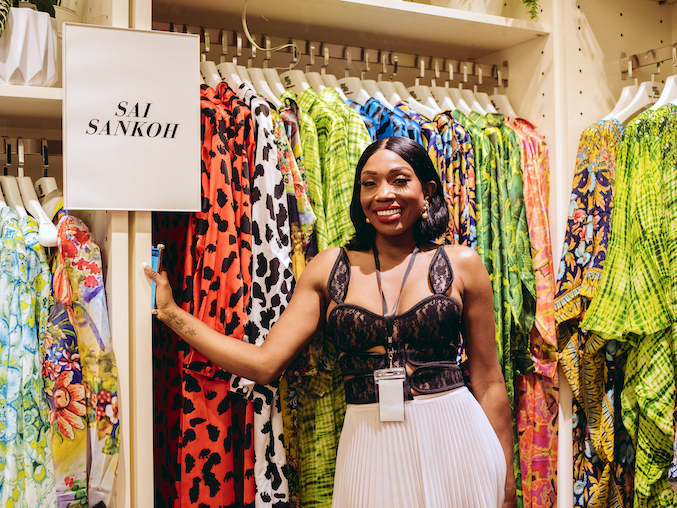 The Black Fashion Movement's inaugural event opened on Wednesday, June 16, at Galleria Dallas. It's a huge pop-up shop on the ground level, and each featured brand has its own display. On Saturday, which is Juneteenth, the event becomes even more of a celebration, with an all-day DJ, giveaways, and contests.
"As a luxury consumer, I have never been in a retail space like this, where I can shop so many Black-owned luxury brands at once," says Harris.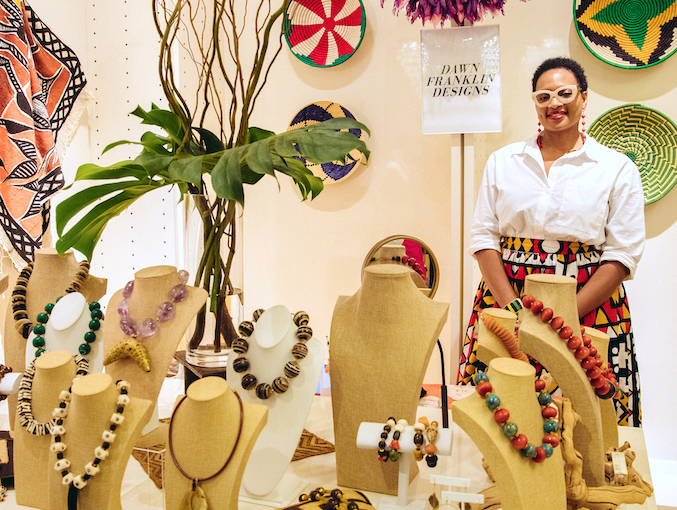 Because the Black Fashion Movement is a movement, not a moment, Harris believes the event will have a lasting impact on the economic landscape of Dallas. "We believe that if communities are supporting these Black-owned brands, the brands will be able to sustain themselves. If they're not, the brands will die." Harris says that the event has three goals: to showcase Black-owned fashion brands and Black designers, to shift the culture and normalize shopping and wearing Black-owned brands, and to promote economic sustainability by establishing a returning customer base.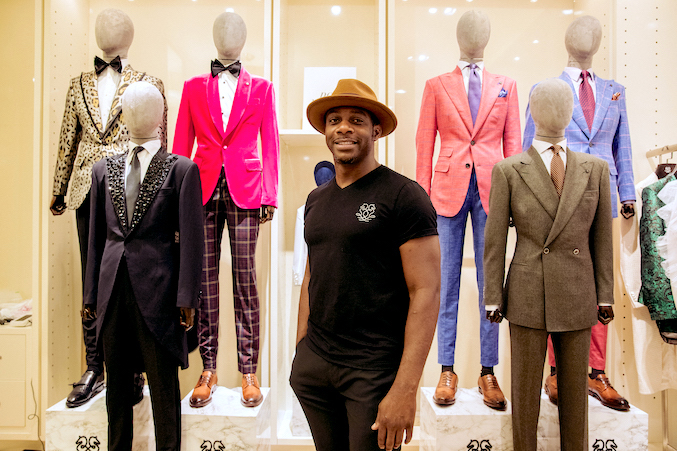 "This movement is not just for one group," she continues. "All of us should be working towards creating a different retail environment. One that includes Black creatives, Black executives, and Black-owned brands on the shelves of mainstream stores. And it's important to note that just because these things were created by someone Black, they are not specifically for Black people. Our goal is to normalize the buying and wearing of these brands for everyone."
Shop the event through Sunday, June 20, at Galleria Dallas, on level 1 across from Gucci. Hours are 12 to 6 p.m. daily.
Meet the Event's Dallas-Based Designers and Brands
We've admired Daniel Mofor and his impeccably tailored menswear line, Don Morphy, for years. (Check out this profile from 2018.) When asked to identify his personal style, he says, "I would describe it as the past. And the future. With a pop of color." It's an aesthetic he brings to each custom-made sartorial suit. Past creations range from jackets with Swarovski-encrusted lapels to jacquard-patterned tuxedos. See more from Don Morphy here.
Sai Sankoh is known for her eye-catching resort wear, from flowy caftans in punchy colors to embellished gowns covered in delicate flower appliqués. Sankoh, who is from Sierra Leone, regularly draws inspiration from her West African roots. A recent campaign shoot took Sankoh and her team to Tanzania, where she captured her designs against stunning tree-lined horizons. Other print collections reflect her love for international travel destinations like the French Riviera and Sicily. Her pieces are not for wallflowers–if you don a Sai Sankoh creation, expect to turn heads. Shop all Sai Sankoh pieces here.
Dawn Franklin's jewelry designs include necklaces, bracelets, and earrings in statement-making sizes. The brand's large beads are made from natural materials like jasper and carnelian, with accents like Orthoceras (fossilized cephalopods) and agate. Franklin's pieces pay homage to African art and fashion, including strands of patterned beads from her 2020 trip to Ghana, necklaces crafted from African horn and bone, and wooden pendants carved into the continent's shape. See more from Dawn Franklin here.
Designer Serita Jakes believes that your home should be a sacred space, filled with pieces that are as beautiful as they are functional. Her line of homewares includes beaded and patterned pillows, gold and silver decorative objects, soothing home fragrances, tabletop sculptures and statues, pretty mugs and tea sets, and leather goods like folios and backpacks. Shop all Serita Jakes Home products here.
Get the AtHome Newsletter
Enjoy Dallas' best trends, hot properties, and tips from local designers to help you nest in style delivered weekly.
Author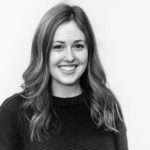 Emily Heft was born and raised in San Diego. In 2012, she enrolled in Southern Methodist University to pursue a…