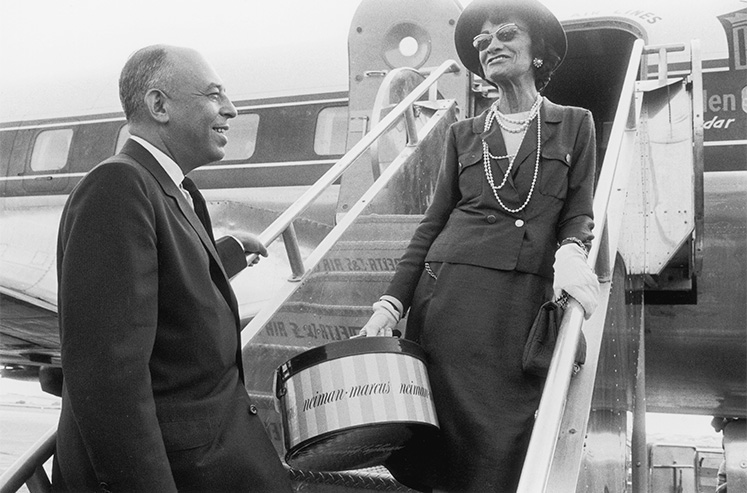 Dallas' Timeless Love Affair with Chanel
Jeanne Prejean on Dallas' history with the Fashion designer and why Fair Park is the stage for tomorrow night's fashion show.
In time for the big event, Jeanne Prejean has become D Magazine's unofficial #ChanelDallas beat reporter. From the December issue of D (overflowing with goodies like the best new restaurants in Dallas and 10 Most Beautiful Women in Dallas) here's her story on Dallas' relationship with French designer Coco Chanel and why tomorrow's film launch and Métiers d'Art pre-fall fashion show in Fair Park is such a big deal:
Dallas' love affair with the 100-year-old House of Chanel reads like an international romance novel spanning generations. The reputation of French couturier Coco Chanel had fallen lower than a hem following World War II and her supposed affair with a Nazi officer. Her first collection following "retirement" in the 1950s received "beyond nasty" comments from the French media.
To her rescue came Neiman Marcus' Stanley Marcus, who presented Coco with the Neiman Marcus Award and much hullabaloo here in 1957. His customers wholeheartedly supported his championing "Mademoiselle."
Over the decades, the Chanel love fest with Dallas has continued and thrived.
When the Communities Foundation of Texas asked venerable Ruth Altshuler to provide a photo of herself for a portrait, the Dallas philanthropist agreed—but not to the use of a current picture. Instead, she sent one from the 1980s. Initially, the CFT staff was concerned the fashions of the 1980s might look a bit dated. But surprise, Altshuler's photo appeared current. When CFT President/CEO Brent Christopher complimented Altshuler on her timeless look, she responded, "Chanel never gets old."
Another Chanel fan was the late Dallas Mayor Annette Strauss, who wore "lots of Chanel suits," according to her daughter Nancy Halbreich. "They took her from early morning to night."
In the meantime, a young designer at Chloe by the name of Karl Lagerfeld was creating his own reputation with young fashionistas. "I was working at NM," Halbreich says, "and Karl and Chloe were the hot new things."
And once again, Neiman's recognized talent, awarding Lagerfeld the 1980 Neiman Marcus Award. A year later, Lagerfeld was tapped to carry on the Chanel legacy.
When Erin Mathews worked at Neiman's in the 1980s, she adored but couldn't afford Chanel. Now, the Mathews Nichols partner buys the haute-couture line. "I have the expectation that I can wear it for years," she says. "Yes, it's beauty and fashion, but it's also practical." –Jeanne Prejean