Another Dallas Company Joins the Juice Game: Vim + Vigor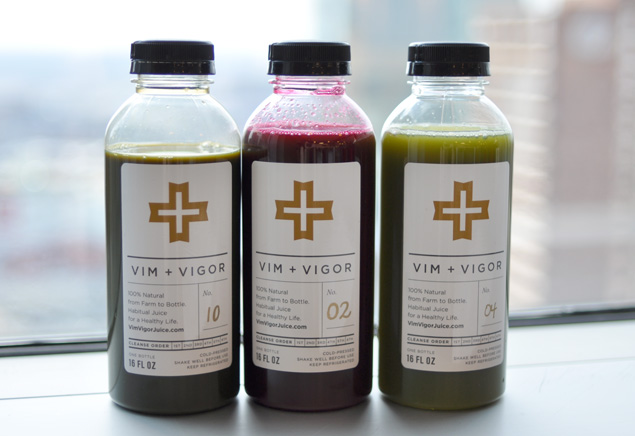 If you read about the new local juice delivery company, Vim + Vigor, on CultureMap last week, you, like us, have probably been wondering how it compares to the competition (Roots Juices, The Gem, Le Jus, etc.). Carol and I had the opportunity to sit down with owners (and cousins) Annie Portman and Liz Black yesterday to chat about their mission and sample a few juices. Vim + Vigor, named for an expression that refers to health and vitality, energy and strength, aims to be a healthy lifestyle company rather than just a spot on the trendy juice bar map. Portman and Black cite education as a leading factor in this mission. The two, who partnered with a nutritionist to create the recipes for each juice (15 total) and cleanse kit (three available–beginner, intermediate, and expert), want to offer all the information necessary for clients to understand how to cleanse and make it through each day.
The beginner cleanse is particularly interesting. For newbies to the juice detox world, this first-level set offers a few unique twists. Each day is made up of four vegetable-only juices and dinner options. (Yes, food.) Recipes for the three-day ($100) and five-day ($170) version are available online. Fruit is eliminated because, "The sugar in fruit feeds yeast in the body causing lethargy and other symptoms often referred to as "detox effects." Along with a sleek, apothecary-inspired design and recyclable containers, Portman and Black strive for tasty juices with "multidimensional taste" and "layered flavors." "We want it to be enjoyable, not something you just choke down," Black says. Carol and I invited Charlotte to join us for a mini roundtable juice tasting of the No. 02, No. 04, and No. 10.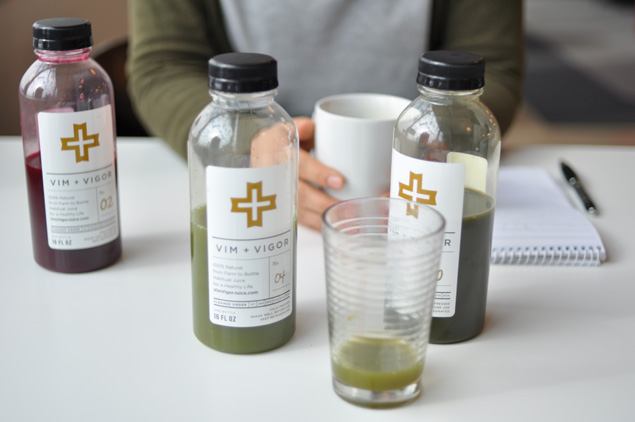 No. 02 (carrot, beet, apple)
Charlotte: "Surprisingly okay. I wouldn't mind drinking this on a daily basis."
Carol: "I loved how viscous this juice turned out. You can taste every single ingredient inside the juice with perfect clarity."
Me: "Not bad for beet juice. Definitely one of the best beet juices I've had."
No. 04 (pineapple, pear, apple, romaine, mint)
Charlotte: "Love this. Reminds me of something I'd use to mix a cocktail."
Carol: "The mint and pear combination is lovely and refreshing. I could have one of these every day."
Me: "Delicious. Totally and completely delicious. I could live on this. Has to be high in sugar, though."
No. 10 (romaine, carrot)
Charlotte: "This tastes like drinking grass."
Carol: "This juice leaves a very, very bitter aftertaste lingering in your mouth. It's not something I would be craving to drink again."
Me: "Nope. I do not like carrot juice."
Vim + Vigor is currently delivery only. Choose a cleanse kit or custom pack. Prices vary, but typically run between $55 and $250.