Just over a decade ago, the craft spirit movement in Texas began with Garrison Brothers and Balcones. Now there are as many distilleries in Texas as there were in the country when the American craft whiskey scene started gaining traction after the Great Recession of 2008.
Amid the revolution, North Texas has been steadily gaining steam. While waiting for our whiskeys to age, we started with clear spirits, creating  vodkas and gins that showcase Texas grains and botanicals. We moved on to corn whiskeys and moonshine, which started getting national attention. We produced the first single malt whiskeys made from malted barley grown in the state. And then, at the start of 2020, a small family-run distillery in Denison took home the award for World's Best Bourbon, the first time a non-Kentucky-based distillery had ever done so.
The competition-minded are now trying to usher in state and national standards and regulations, so we can vie and tussle on the world stage. But you'll still find spirit-makers intrepidly mixing up mash bills and playing with barrel sizes and types to counteract the lost sugars and heavy wood finish caused by the Texas heat. They're coming at it from different traditions, crafting Scottish-style single malts, aging in sherry casks or French Pineau des Charentes barrels, using Dutch iStills to make precise cuts of heads and tails, or distilling Japanese-style non-chill filtered vodka to preserve the flavor of locally grown grain. Ingredients range from heirloom corn to hybrid triticale to black-eyed peas to goat's milk whey.
Whether you prefer vodka or small-batch bourbon, local honey-laced whiskey or grapefruit- and pecan-infused gin, you've got your pick. So call ahead for curbside bottle pickup, or arrange for a private tour or tasting. We hope that by spring we'll be able to start congregating, in small batches, to explore the region's offerings and new openings. In the meantime, to our intrepid distillers—and that hope—we toast.
Cheers!

---
2616 Weisenberger St., Fort Worth
---
The mother of Fort Worth native and Blackland founder Markus Kypreos worked for American Airlines, so he grew up flying with his family to San Francisco and New York to eat. He worked for a while as a trial attorney, but his love of food led him to take culinary classes at night.
That led him to wine, which led him to become a certified sommelier, which, of course, led him to spirits. And making spirits, he realized, is basically cooking—fermenting the grain, infusing the alcohol with botanicals or oak and smoke, blending and mixing. And being in the liquor business is basically practicing law: parsing statutes and dealing with governmental bureaucracy. So he left his firm and built a distillery in his hometown named for the Texas Blackland Prairies.
He fell in love with the modern iStill from the Netherlands; he likens it to using a sous vide machine to cook the perfect steak. His tasting room is luxe, with a marble-topped bar, velvet-upholstered banquettes, and a chandelier. So far, he's been sourcing 4½-year-old bourbon and rye from Minnesota, which he blends with his new make from 2018. He doesn't have a straight bourbon or rye yet, but that's the plan.
"We found this grain grown in North Texas called triticale, which is a cross-pollinate of rye and wheat," he says. "So it's an engineered grain, and we use it in our bourbon and we use it in our rye. I like it so much that we're barreling it at 100 percent. The hope is in 2023 to take our bottle and make it black, and we'll call it just Blackland."
Newest blend: Texas Pecan Brown Sugar Bourbon; Kypreos says it's everything he hates as a distiller, but it tastes like pie and pancakes.
Don't miss: Blackland Gin, Kypreos' pride and joy, made from 100 percent red winter wheat.
---
217 W. Division St., Pilot Point
---
Western Son is not hosting visitors until Texas restaurants are allowed to reopen at 100 percent capacity.
Ten years ago, these guys were a startup in Carrollton. In 2015, they moved into a defunct women's undergarment manufacturing plant in Pilot Point (affectionately called the Panty Factory), and now they're the state's third-largest vodka distillery. Head distiller Vinny Messina leads a fun tour, and the tasting room (call it a bar) serves eight types of mule (go for the Texas Prick, made with muddled jalapeños, prickly pear vodka, and house-made ginger beer).
Known for:
10x-distilled flavored vodka (the best-selling is blueberry)
Don't miss:
Their proprietary Bloody Mary mix, available only at the distillery; barrel select gin; and hard-to-find single barrel bourbon
---
3737 Atwell St., Ste. 203
---
Not open to the public
Seven years after founding the award-winning Fuqua Winery in a warehouse behind the Home Depot on Lemmon Avenue, Julia and Lee Fuqua tapped the brakes. They took some time off, traveled the world, expanded their palates, and returned with a plan to convert their winery into a distillery. Named after Fuqua's grandfather, who pioneered the fruit juice business in Texas, Duckworth produces vodkas—with rums and whiskeys on the way—that explore innovative flavor infusions.
Newest flavor: Grapefruit-Mango
Don't miss: Mix 1½ ounces of Truffle vodka with ¼ ounce of olive juice for a Duckworth Dirty Truffle Martini.
---
506 Lockwood Dr., Richardson
---
Lockwood Distilling Co. is North Texas' neighborhood distillery. Owners Sally and Evan Batt want you on their patio after work. Order a poblano cheese appetizer—pimentos don't have the bite Evan wanted—alongside a cocktail mixed with liquor distilled in their 150-gallon bain-marie still. Lockwood produces 11 varieties of vodka, rum, and bourbon made with local ingredients whenever possible. Its bourbon is a 75-25 percent split between Texas corn and Oklahoma rye; the richer oak notes reveal themselves fully in the single barrel version. Try them both or save one for later. The Batts make sure you'll want to come back.
Known for: Its top-seller is its Hibiscus Vodka, but Evan Batt's favorite is the Vanilla Rum, made with real vanilla, sugarcane, molasses, and turbinado sugar.
Don't miss: Anything single barrel, which puts a caps lock on the spirit's flavors, and the house-smoked brisket pastrami sandwich.
---
1309 Calhoun St., Fort Worth
---
After eight years at Rahr, owners Tony Formby and J.B. Flowers started a distillery in a century-old building in what used to be
Hell's Half Acre
, the notoriously rowdy red-light district of the late 1800s, now home to a TRE station and the Convention Center. Many of its 20-plus liquors sport the names of the outlaws and lawmen who roamed here, and Formby is quick on the draw with a history lesson. The wood-paneled bar offers 35 cocktails using spirits created on-site. Even the limoncello. After tours, a tasting table awaits near the stills. And while it honors the past, it is moving forward: Acre is Texas' first solar-powered distillery.
Known for: Its Two Minnies Gin was a Double Gold Medal Winner in the World Spirits Competition.
Don't miss: Any of its whiskeys, which are made with ingredients grown in the Texas Panhandle.
---
3111 Loy Lake Rd., Denison
---
Ironroot was founded in 2011 by the ginger-haired Likarish brothers, Robert and Jonathan, the former a law school grad who didn't want to practice law and the latter a biomedical engineer who likes to build things. Their distillery is located an hour and a half north of Dallas, in Denison, which is both the birthplace of Dwight D. Eisenhower and the former home of T.V. Munson, a viticulturist who, in the late 1860s, was able to save the French wine industry by sending phylloxera-resistant hybrid rootstock from Texas to France. That's how Denison came to be the sister city of Cognac. Ironroot's name is a tribute to Munson, and its methodology is similarly French-inspired. Robert and Jonathan started their spirit journey with distilled wines, mostly brandies such as Armagnac and Cognac, before moving on to bourbon.
"The thing they kind of beat into you on the French side of things is this notion of terroir, which means flavor of the land, or maybe even provenance, when you make something that should come from a specific place," Robert says. "For us, Texas was part of Mexico. And that's where corn comes from. So playing around with corn spirits was natural for us."
First, they focused on local yellow dent corn, settling on a non-GMO varietal for its flavor. But soon they became interested in heirloom varietals, like Appalachian Bloody Butcher corn, which they tracked down and now have a farmer growing outside of Denton. At the World Whiskies Awards, they won World's Best Corn Whisky in 2017 and 2019, and then, on February 11, 2020, their 2½-year-old Harbinger bourbon was named World's Best Bourbon, the first non-Kentucky bourbon ever to be awarded the honor.
Unlike most Kentucky bourbon producers, which utilize column stills for continuous production, the Likarish brothers use a 1,200-gallon, Kentucky-built copper pot still for their small-batch production. In the French tradition, they are fond of blends, and they are constantly creating new ones, collaborating with the likes of Major League Baseball player Vernon Wells and YouTube sensation Chris Trevino. They also produce a non-chill filtered vodka, similar to Japanese-style vodkas, emphasizing natural flavors from the grain, and a gin infused with Texas-centric botanicals: grapefruit, lemongrass, coriander, ginger, and pecan.
The brothers have plans to open an expanded tasting room this spring, and they bought the old Herald Democrat building in town to house their growing barrel room. They helped found the Texas Whiskey Association, of which Robert is president. It runs the Texas Whiskey Trail, highlighting distillers who go from grain to bottle all within the state. "It's not that we weren't friends with most people already, because it's a small club," Robert says. "But it's given us a reason to really work on a lot of collaborations. So I think that's kind of the beauty of it—you're going to see a lot more collaborations between the Texas distilleries than you traditionally would out of Kentucky or anywhere like that."
Known for: Award-winning bourbon and corn whiskey
Don't miss: Texas Legation, a limited edition London blend of Ironroot's whiskey.
The LiquorHound
Among their claims to fame, 
Ironroot's
Likarish
 brothers have
the blending acumen of 
LiquorHound
 Chris Trevino, a former Express Mail carrier 
who, almost accidentally, became 
a whiskey-whispering guru. His
private
collection includes 
enviable treasure
s that are incredibly difficult to find literally anywhere else
. 
Read
 his unlikely story here. 
---
8575 Union Hill Rd., Forney
---
CEO Bill Wofford and his friends used to travel frequently to Kentucky in search of distillers' premium reserves. But when those batches became harder to find, they launched their own premium whiskey brand in Texas, in 2012. Lone Elm utilizes Texas red winter wheat, purified captured rainwater, and Ozark American oak barrels to produce single barrel wheat whiskeys that now compete with some of the finest bourbons in the world.
Known for: Single Barrel Texas Whiskey
Don't miss: Small Batch Texas Whiskey, a wheat whiskey aged in hand-selected barrels.
---
541 Industrial Blvd., Ste. C, Grapevine
---
Colorado natives and brothers Jason and Justin Jackson set out to craft a whiskey that pays homage to the freedom and invention of the Western frontier. That spirit is not only reflected in Tahwahkaro's vintage canteen-shaped bottle, but in the brothers' willingness to experiment with Texas-grown corn, wheat, rye, and barley, producing a four-grain bourbon and a rye malt whiskey aged in the Texas heat in charred white oak barrels.
Known for: Four Grain Bourbon, a gold-medal winner at the 2020 SIP Awards
Don't Miss: Their Texas Rye Malt Whiskey, which won bronze at the 2020 World Whiskies Awards.
---
1023 Halsell St., Bridgeport
---
Tasting room will open January 29; event will include custom bottlings and a seasonal menu at the craft cocktail bar
At first, it sounds like schtick. Oak & Eden ditched the centuries-old art of aging whiskey in wooden barrels and instead uses a patented innovation to finish its whiskey: a 5-inch spiral-​cut strip of wood added to each bottle. But the finishing process allows for some inspired experimentations (bourbon in coffee-soaked French oak, anyone?), and it has helped earn their bourbons and ryes awards the world over.
Known for: Bourbon and Spire
Don't miss: Bourbon and Vine, a small-batch bourbon aged in charred oak barrels and finished in the bottle with a spire of French oak crafted from former cabernet sauvignon casks.
[img-credit align="alignnone" id=" 837935″ width="1200″]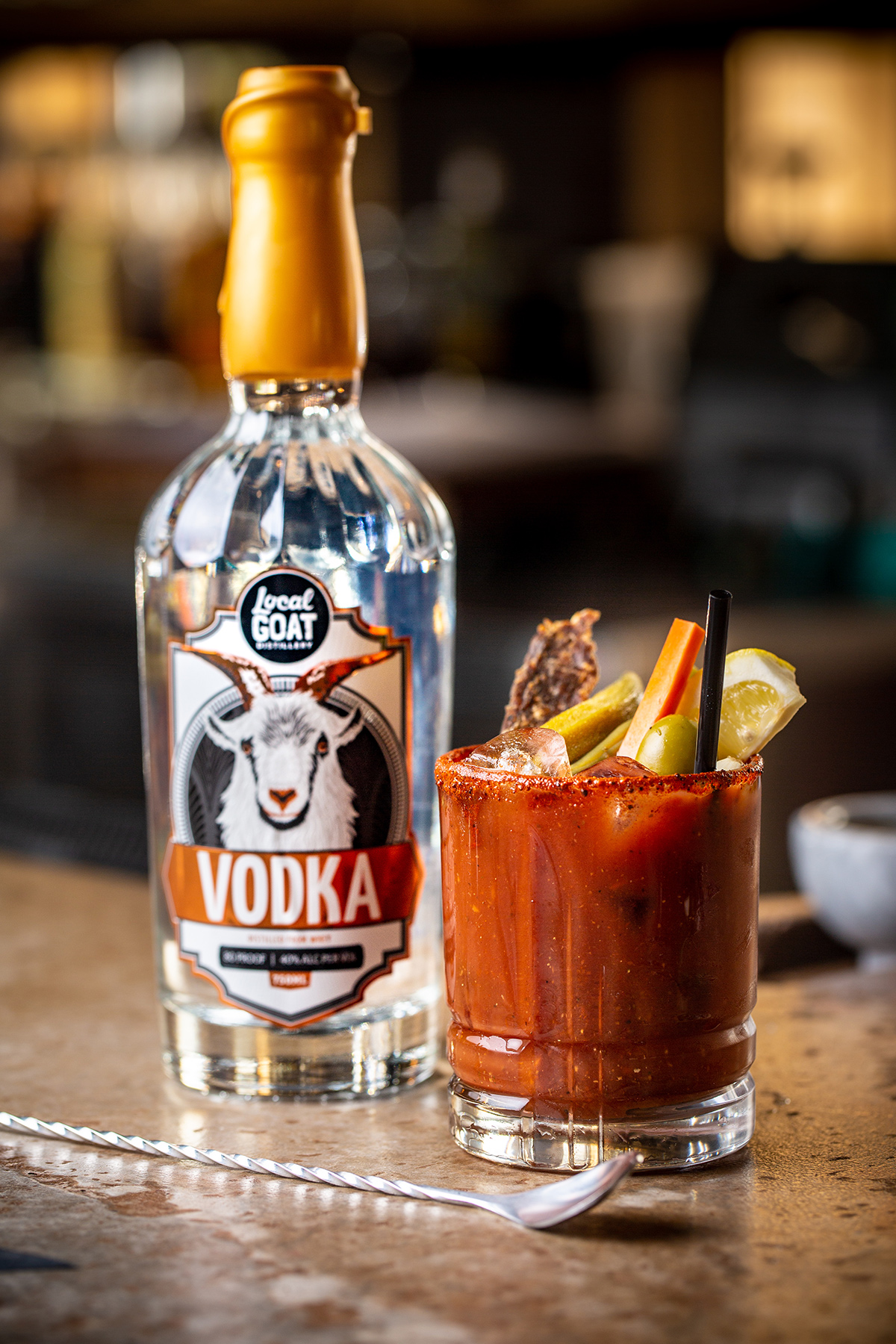 [/img-credit]
---
607 N. Houston St., Granbury
---
In Granbury, Roger Wall and his wife, Jessica, take a unique approach to vodka, crafting a spirit with discarded whey from local cheesemaker Veldhuizen. The first time the Walls, who began with a raw-milk goat dairy, tasted a milk-based spirit was at Vermont Spirits (the only other distillery in the United States to concoct one), where they fell in love with its creamy mouthfeel. Now, their vodka—which is loop-filtered, its molecules vibrated with ultrasonic sound waves to soften jagged edges—is smooth with a hint of sweet-cream flavor.
Known for: Flagship vodka
Don't miss: Navy-strength (114-proof) gin made with 15 different botanicals, or the unaged silver rum.
---
503 Bryan Ave., Fort Worth
---
This micro-distillery operates out of Fort Worth's historic Fire Station No. 5 (est. 1911), where fire truck doors now welcome milled corn and black-eyed peas, and the 20-plate still's column rises where the fireman's pole once stood. Owners Scott Billings and Todd Gregory took over the business from predecessors who were black-eyed pea farmers. The vodka they craft, subtly fragrant with unusual earthy notes, is something to sip straight or have fashioned into an absurdly delicious Dirty Martini at the bar on the first floor—in view of firemen's lockers, complete with nameplates.
Known for: Flagship BLK EYE vodka
Don't miss: Whiskeys, one fashioned from sorghum and the other from the vodka's corn-and-black-eyed-pea mash bill.
---
1734 E. El Paso St., Fort Worth
---
Trinity River's niche is spirits cut with rainwater collected in 13,000-gallon tanks on the roof of what used to be a Ranch Style Beans factory, built in 1913. Co-owner and distiller Kirk Richards expanded the barrel-aging program in 2017, and he sends his used barrels to neighbor brewery Wild Acre. The newly released 1849 Bourbon is peppered with spice, while the sought-after Texas Honey Liqueur, with its dulcet, golden aroma, hits the sweet spot.  
Known for: Silver Star Whiskey
Don't miss: Anything from the experimental series, including bourbon aged in wine barrels or rye aged in bourbon barrels.
---
302 Obuch St., Valley View 1000 Highway 82 W., Muenster
---
Les Beasley's under-construction distillery (and bar and concert venue and event space and three restaurants) a mile or so west of Main Street in Muenster is still so new that Google Maps can't find it. But if everything goes right, when Whiskey Hollow's new location opens in the spring, it will be hard to miss. Designed to mimic the Alamo—it is the embodiment of Texas to Beasley and it appears on bottles of their Frosted Star Vodka, along with a handwritten history lesson—the complex was on a "bucket list" for the longtime distiller. Beasley built his first legal still in 1981 and has been perfecting his methods since then. The star attraction is his Texas Gold bourbon; call it Pappy Van Winkle with less of a PR push. But word is getting out about Beasley's double-thumper-distilled baby, which has allowed him to push all-in with what he considers a monster hand in Muenster. When he walks you through the space, it's easy to see the vision and Whiskey Hollow's future as the northern trailhead of the North Texas distillery trail.
Known for: Bourbon, whiskey, rum, vodka, and moonshine
Don't miss: Texas Gold, Whiskey Hollow's 110-proof, $150 bourbon, personally signed by Les Beasley.
---
225 S. Charles St., Lewisville
---
Operating out of a former Piggly Wiggly in Lewisville's Old Town area, Natasha and Ryan DeHart are trying to add some respect to blended whiskey's name. Their Bendt No. 5 is a rarity. All five small-batch, grain-to-glass whiskeys used are made on-site. Though the distillery is currently closed to the public, the DeHarts used the opportunity to install a new bottling line, adding an attraction to future tours. The outdoor whiskey garden reopened at the beginning of November.
Known for: Whiskey
Don't miss: Bendt No. 5 American Blended Whiskey, made from rye, malt, wheat, light, and bourbon whiskeys.
---
803 Shepherd Dr., Garland
---
In 2012, Herman Beckley and Marshall Louis opened Dallas County's first legal distillery since Prohibition. It's in industrial Garland, next to a company that makes artificial rocks. The process is neat: mash for its rye, bourbon, and single malt whiskeys is fermented in small, handmade, open-top cypress tanks, and they welcome the Texas heat instead of fighting it, using the barrel pressure it creates to deepen flavors. When tours resume, you can see for yourself and bottle your own for purchase.
Known for: Rye and bourbon whiskey
Don't miss: Temptress Single Malt Whiskey, flavored with Lakewood Brewing Co.'s Temptress milk stout.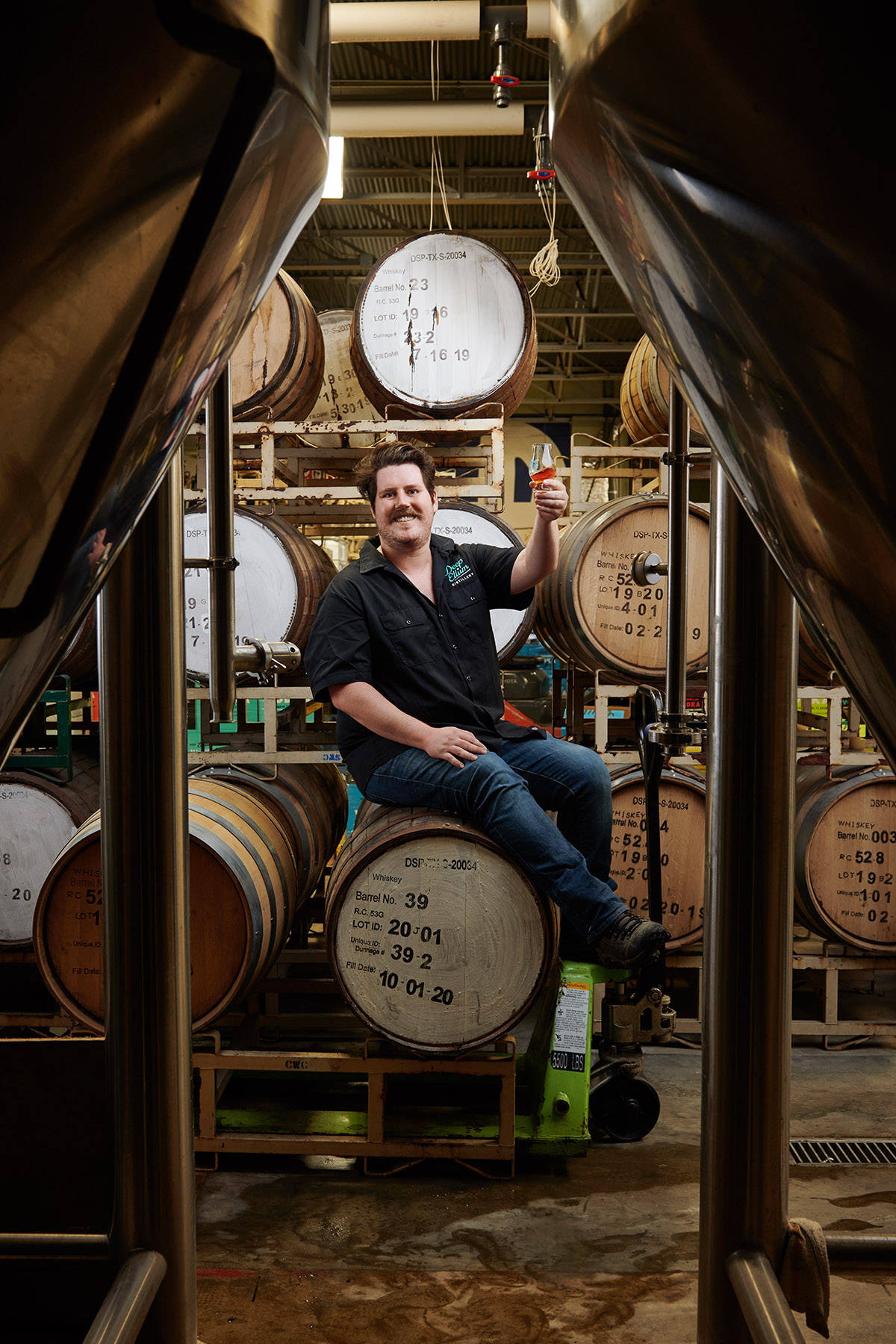 ---
2880 Clover St.
---
Down what could easily be another nondescript Deep Ellum alley awaits a tucked-away distillery that's equal parts industrial hangout lounge and boozy science lab. Deep Ellum Distillery, the brainchild of founder John Reardon, has been distilling vodka since 2017. In the three short years since its debut, the distillery has created, thanks to distiller Stuart Vance, a growing array of flavored vodkas (blueberry, watermelon, lemon, grapefruit, pickle, to name a few), stacked behind the backbar in large glass basins, waiting to be poured into a cocktail. For a whiskey-free old-fashioned, the smoked oak vodka is an impressive brown liquor doppelganger.
Known for: All-Purpose Vodka
Don't miss: An Irish-inspired, grain-to-glass whiskey that has been aging for two years and is now awaiting government approval for the release. It's the first departure from vodka for the distillery.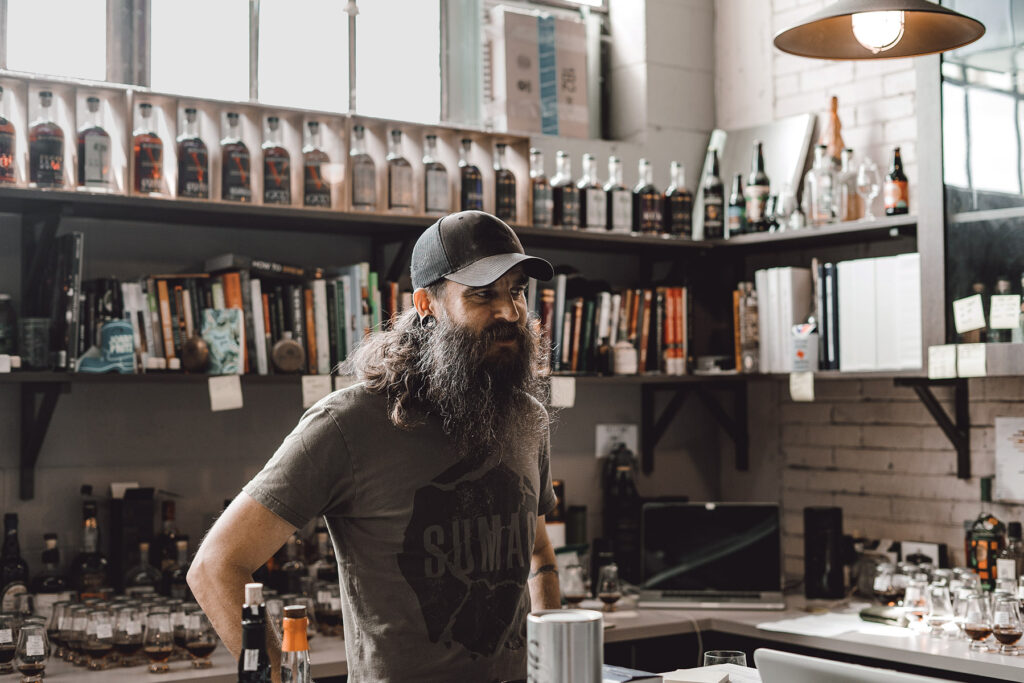 ---
225 S. 11th St., Waco
---
Garrison Brothers may have been the first Texas whiskey distillery to get its permit, in 2007, but Balcones was the first to market, in 2009, with a barely aged corn whiskey called Baby Blue. Three years later, in 2012, their Texas Single Malt took home first place in London's Best in Glass competition, a blind tasting against the likes of Macallan and Glenmorangie. And then, in the seeming blink of an eye, the groundbreakers became the old guard, teaching the young guns the ropes while putting out as many as 25 releases every year.
Head distiller Jared Himstedt says that despite all of their avid experimentation, they're still scotch single malt guys at heart. In the United States, single malt isn't a legally recognized designation, so Himstedt helped form the American Single Malt Whiskey Commission to try to establish a national standard. For his part, he still utilizes pot stills designed and made in Scotland, but he has branched out from Scottish barley to Texas-grown malted barley, which didn't even exist a few years ago. Last year he released Lineage Texas Single Malt Whisky, made from both Scottish and Texas-grown barley and aged in both old and new oak barrels, to show where the brand came from and where it's going.
"As we've grown, we keep attracting people that are just kind of really hands-on, the kind of people that like to make things," Himstedt says. "People that are super serious about smoking meat and making bread and building bikes. Fifteen years ago, when we realized we really just love this beverage, it seemed like the most obvious thing in the world to try and make it ourselves."
Known for: Texas single malt whiskey
Don't miss: High Plains Single Malt, an all-Texas distillery exclusive that has been released only twice.
---
4250 Mitchell Blvd., Fort Worth
---
Leonard Firestone and Troy Robertson
debuted their TX Blended Whiskey in 2012
, and the first shipment of 750 bottles sold out immediately. Their TX Straight Bourbon Whiskey—flavored with their own wild-caught yeast from a pecan nut on a ranch in Glen Rose—went on sale in December 2016. More than 1,700 waited in low-30s temperatures to try to get a bottle. With that kind of demand, it made sense that, in 2018, Firestone and Robertson would open what they named Whiskey Ranch, the largest distillery west of the Mississippi, on a golf course in southwest Fort Worth.
The brand was bought by French spirit powerhouse Pernod Ricard in 2019, but their 112-acre brown-liquor playground remains, with a bar and tasting room, wraparound deck, and a still house with a custom-made copper doubler designed to reveal the distilling process. Also still there: master distiller Rob Arnold, the man responsible for that proprietary yeast strain, the special kick that gives TX its roasted sweetness.
When Whiskey Ranch reopens to the public (it is curbside-pickup-only as of this writing), visitors can make their own boot-leather bottle tops, and very special visitors might get to see the hidden room that contains Firestone and Robertson's private collection of whiskeys from around the world.
Known for: Whiskey and bourbon
Don't miss: TX Straight Bourbon Tawny Port Finish and TX Straight Bourbon PX Sherry Finish, 4-year-old TX Straight Bourbon finished for six months in 10-year-old tawny port casks from Portugal and eight months in 20-year-old sherry casks from Spain, respectively.
---
4408 Worthington Dr., Ste. 113, Denton
---
Not open to the public
Bryce Cottrell was a 23-year-old defensive end for the Longhorns when he quit football to craft vodka in Austin distilled from 100 percent Florida grapefruit. A Craigslist post nabbed him a recipe for $80 and the cost of a burger. Fast-forward two years, and operations have moved from Austin to Denton, where the now award-winning spirit is created in a 64-​column stainless-steel still; the grapefruits' acidity would burn through copper.   
Known for: Vodka, whose lupine name evokes Cottrell's Plano West high school mascot
Don't miss: A new line of flavored vodkas, including a hard pink lemonade in a pink bottle with a pink label.
---
8210 Paluxy Hwy., Tolar
---
Moonshining is a part of Mark Sledge's family history on his father's side. They've distilled the high-octane spirit for generations. And yet, growing up, he didn't see either parent sip even one drop of alcohol. There's a good reason: when his father, John Walter "Dub" Sledge, returned home from World War II a chain-smoker and a whiskey-swilling man, Sledge's mother refused to marry him unless he quit it all. So he did.
It wasn't until he was 80 years old that Dub finally told Mark about his moonshine-making war days. Now Sledge bottles his dad's original moonshine, an unaged whiskey made with corn from his wife Susan's family farm. At the Sledge Distillery, a working ranch, you can taste a coconut moonshine, oak-finished moonshine, even Pecan Pie moonshine whose nuts come from head distiller Gary Cooper's family farm. Everything is hyperlocal and made in small batches.
These days, even Sledge's mother has come around to the family business. "Mom's 90 and she's cool with it now," says Sledge, who gets her to sign the first two bottles of every new variation they siphon from the copper stills. She comes out sometimes and sits on the porch, watching families visit on weekends. Kids pet goats while the adults sample the moonshine she outlawed so many years ago.
Known for: Small-batch spirits, from the Sledge family moonshine to Sir Cooper's Southern Gin, a citrus-forward take on the typically juniper-heavy English gin
Don't miss: Seasonal moonshine crafted with whatever's freshest. This year it's Peach Pie moonshine.
Get the SideDish Newsletter
Dallas' hottest dining news, recipes, and reviews served up fresh to your inbox each week.