I was on my way to meet Les Beasley at his Whiskey Hollow Distillery, located in an old bank building in Valley View since 2014, when he asked if we could change the plan. How about you come to the new distillery, in Muenster, he asked. When I asked for the address, he gave me directions instead. Google Maps has it wrong because it's new construction, he wrote in his email.
"Easy to find. 1 1/2 miles west of Main St., Muenster  on Highway 82. Main Street is the only stoplight in town on Highway 82.  North side of road looks like the Alamo on steroids no signs out front just pull up to the front come on in."
And, yeah, at the end of a big, empty gravel parking lot there was a structure that very accurately could be called "the Alamo on steroids," sort of a Field of Dreams for alcohol. Its similarity to the Alamo is a very intentional homage. The old mission that was at the heart of the Texas Revolution is pictured on bottles of Whiskey Hollow's Frosted Star Vodka, along with a brief history lesson written by Beasley, and it features prominently on the distillery's site. "Let's never forget 3/6/1836, a thirteen-day siege that ended with 182-257 Texan defenders losing their lives at The Alamo," it begins. He went to quarries near Austin and San Antonio to hand-pick stone similar to what was used in the original. Beasley considers it the embodiment of Texas.
What is inside his 54,000-square-foot Alamo, or what will be soon, is the embodiment of every idea he's had for a distillery. He's been working on it since breaking ground in June 2018, and it would be open now if not for the pandemic; Beasley shut down construction when he switched to producing hand sanitizer. If everything goes to plan—basically: if 2021 is different than 2020—the new Whiskey Hollow will be up and running this spring.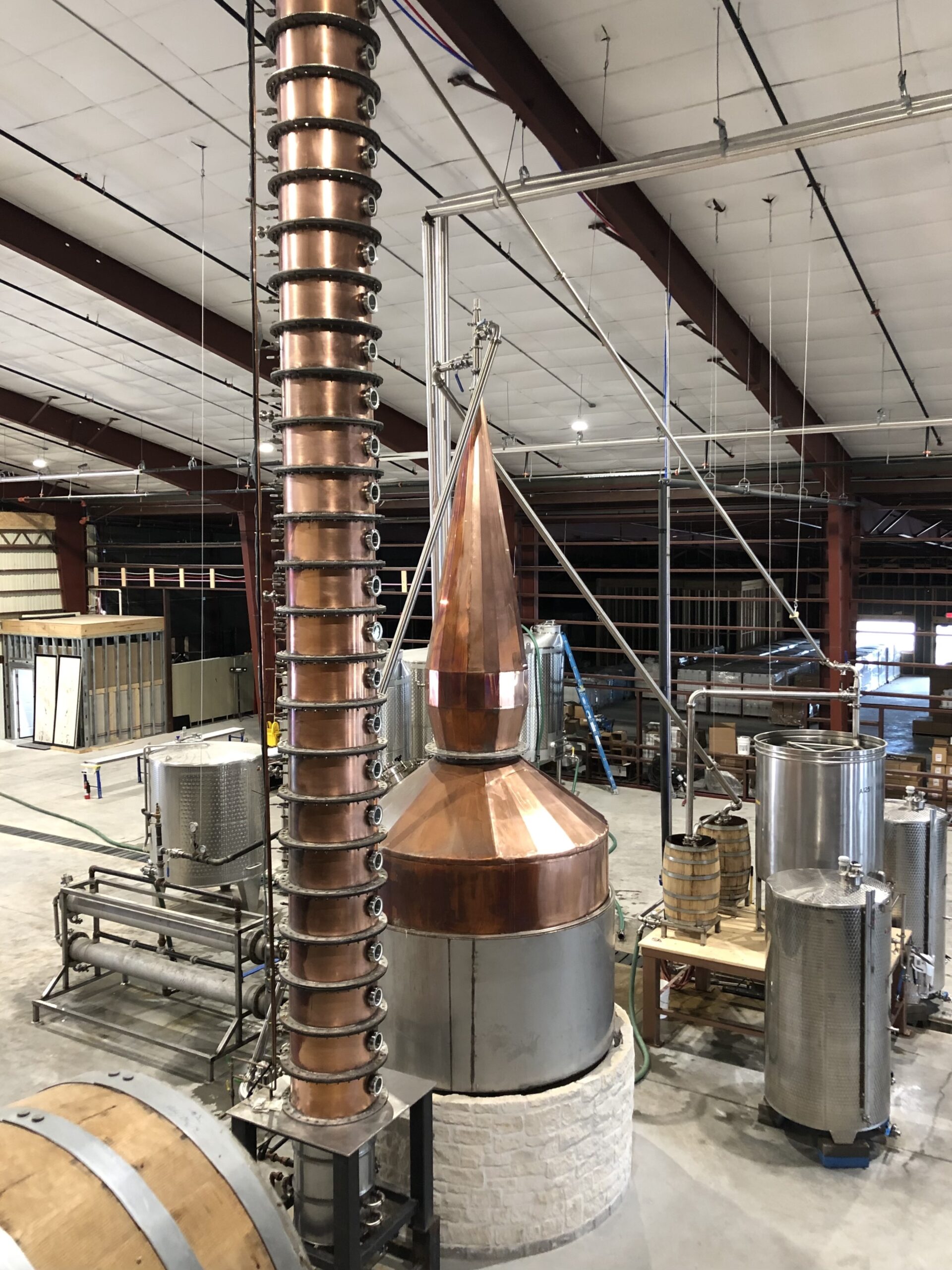 For now, you have to use your imagination to see what Beasley sees. Mostly. He shows me the front doors leaning against a framed-out wall in the back, two laser-cut cowboys he says will be backlit with LEDs. And there is the pizza oven up front that can cook eight pies in 90 seconds. But the rest—two restaurants, banquet space that seats more than 600, a live music venue, a couple of bars, and a VIP area overlooking it all—is still only in drawings for the contractor.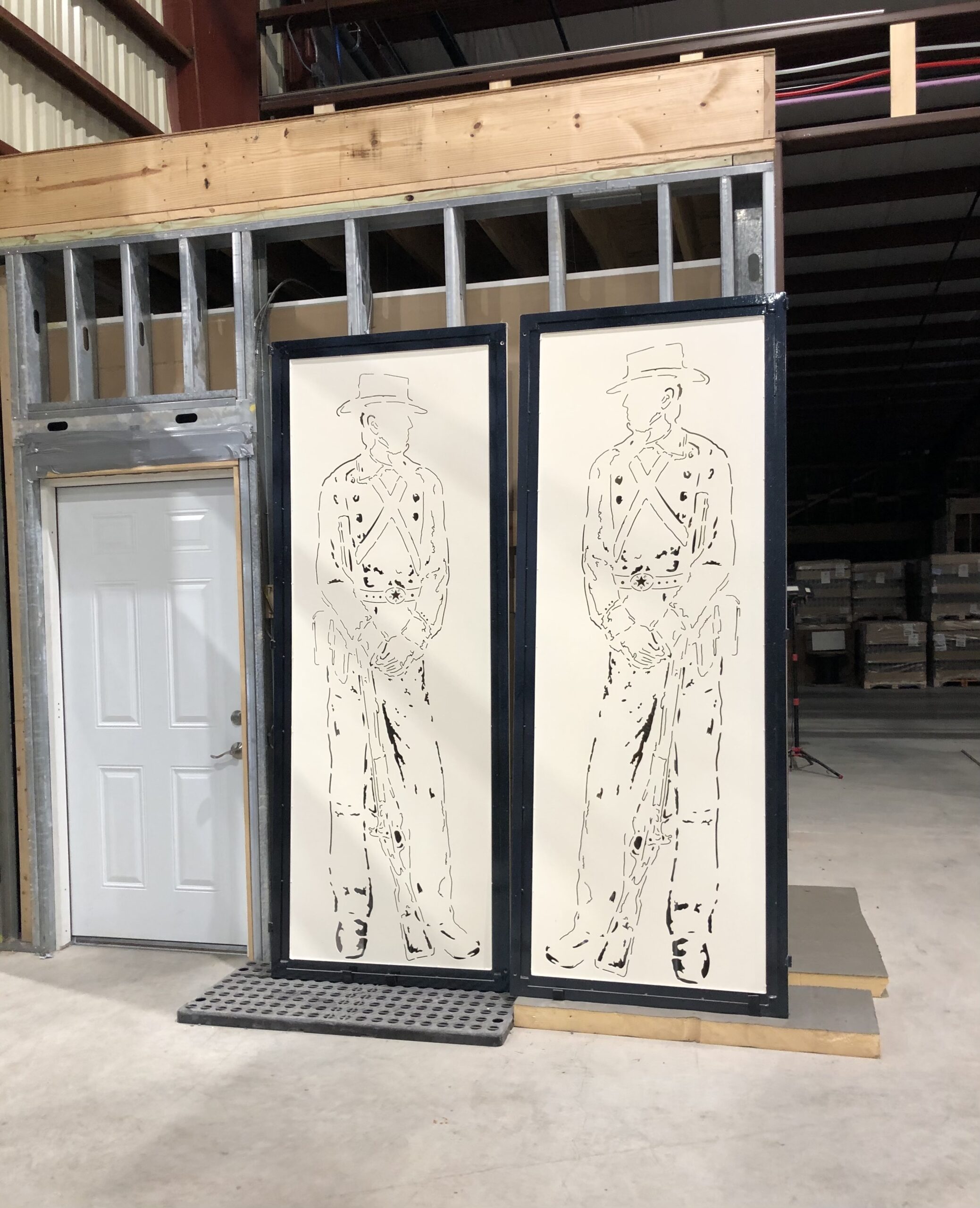 It all revolves around his handmade copper stills and the double-thumper still, which Beasley uses to make Whiskey Hollow's 110-proof, $150 Texas Gold bourbon. He plans to ring one of the bars with barrels of Texas Gold and call it "The Million Dollar Bar"—which, given the price point, will be true.
It's reason enough to come all the way to Muenster. Not that Beasley is leaving much to chance. Just like his distillery, which offers bourbon and vodka and rum and moonshine, he is covering all of his bases with the distillery's expansion. If you don't drink, you can eat. If you're not hungry, you can dance. If you're tired, I'm sure he'll find a cot somewhere.
Get the SideDish Newsletter
Dallas' hottest dining news, recipes, and reviews served up fresh to your inbox each week.