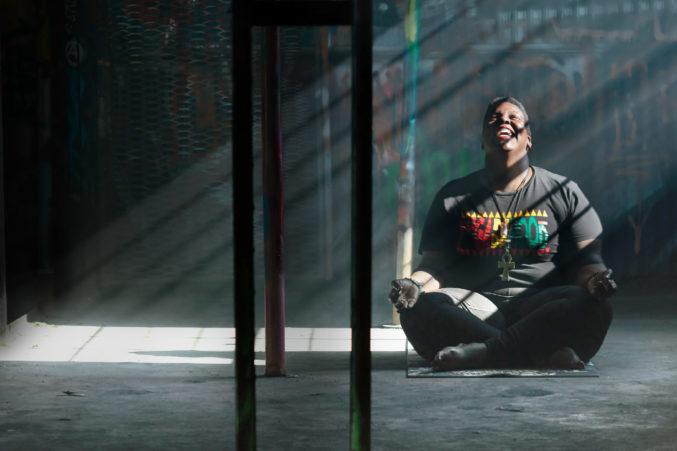 Ebony Smith Is Bringing Affordable Yoga to All
Her nonprofit, Yoga N Da Hood, is dedicated to making wellness more accessible.
"Now, your right hand is going to reach into the sky. And if you are from Texas, throw the deuce," Ebony Smith says with a joyous belly laugh during one of her free yoga classes in a park near Oak Cliff. Women of all colors and sizes on yoga mats across from Smith can't help but giggle with her and throw their peace signs in the air while sitting in sukhasana. The Ghetto Guru's open-air yoga sessions are among the more defining components of her nonprofit, Yoga N Da Hood, an organization dedicated to making wellness accessible to everyone—especially those in underserved communities.
Smith began practicing yoga around nine years ago when she was pregnant. A doula suggested that she do yoga to help her prepare for the birth of her child. "I was like, 'Black people don't practice yoga,' " she says. She decided to give it a go anyway, but the closest studio at the time to her native Oak Cliff was more than 20 miles away. Despite feeling far from welcome in the space, Smith says, the class awoke something in her. "It taught me that if you can change your mind, you can change the world around you."
Five years and many hours of yoga teacher training later, Smith decided to use the tools she learned to help people in her community improve their lives. She started offering free yoga classes at Kiest Park. "Not only is yoga inaccessible location-wise, but everything about it is expensive: the yoga mats, the clothes, the classes, everything," she says. "I just stripped away the things people would need but might not have the capability of getting."
For months, no one showed up, yet she held out hope. Then her following began to grow. "One day, there were 200 people," Smith says. "I didn't even think those people were there for me. I was like, 'Who's in my yoga spot?' "
Yoga N Da Hood is still growing. Smith now offers community yoga teacher training as well as corporate yoga classes. And she's working to introduce yoga into the public school system to help students develop social-emotional competency. By providing underserved communities with a safe environment in which to practice self-love and compassion, Smith believes she can teach people to breathe through all of the things that come with life. "I hope to create a space where people can just tap into themselves," she says, "and get whatever they need."