An hour before her 8 am photo shoot, the 9-year-old artist and streetwear wunderkind known as Dear Giana arrives for hair and makeup wearing an oversize Superism tee, knockoff Fendi joggers, and gleaming Air Force 1 sneakers. All of it was sent to her for free. Her look will be refined by Jenn Karsner, the only makeup artist in town Giana's mom has found who understands the meaning of "natural kid glam." Others, she says, can be too heavy-handed. (A little highlighter and brow filler is fine, but eyeliner on a fourth-grader?)
"G, do you want to hear something so funny?" Karsner asks while fixing a loop of hair with her neon acrylic nail. "One of my best guy friends is, like, obsessed with you. He works in fashion and he has a little girl, and he saw you on my Instagram story one time and he messaged me and was like, 'Oh, my gosh, you know her? I looove her. Can you get me an autograph?' "
Giana scrunches her shoulders and lets out a shy giggle, revealing a quad of missing teeth. That toothless smile is not something often seen on her Instagram account (
@g.von.g
, 21,000 followers and counting), where the pint-size star strikes assertive poses she's gleaned from fashion magazines and documentaries—her chin cocked, knee bent, hand on hip or popping a peace sign, and, these days, always sporting a pair of Nikes. She recently agreed to a partnership, giving the megabrand exclusive ownership of her petite feet.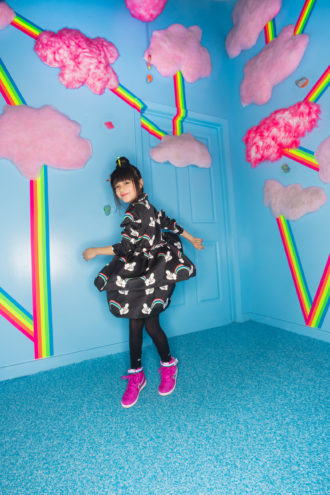 Giana's rise to internet hype-dom began at 5 years old when her mom, juggling two younger kids, gave her eldest colored pencils and an old
Vogue
to keep her busy. Giana cut a fashion editorial in half and illustrated the other side. Her mom began posting these half-drawings and Giana's self-styled ensembles on Instagram.
"When I was even younger I used to make collages," Giana says. "I would get all these magazines and design the clothes and cut out a shirt and just make a whole outfit." Her mom also recalls a wee Giana walking her parents through a makeshift art exhibition consisting of artfully arranged rocks in their backyard. Her innate creativity makes sense: her dad is a creative director and her mom studied set design before starting a family.
"I would get all these magazines and design the clothes and cut out a shirt and just make a whole outfit."

Giana
In the last couple of years, Giana has been invited to show her work at art shows in Seattle, L.A., and New York, and she has collaborated with a smattering of brands—illustrating packaging for a gift box company, designing clothes for a kids streetwear line, and most recently working on a project with Nike to be revealed this month. When
Vogue
posted a video of Giana creating three Fashion Week-inspired drawings last February, she accrued 4,000 more Instagram followers in one day.
Let her rip: Giana tears through her mom's massive collection of fashion magazines for source material.
Between setups at her photo shoot within the trippy walls of Dallas' Sweet Tooth Hotel (yet another Insta phenomenon), Giana plays with a faux stack of filthy dishes in a faux sink and pokes her head in a checkered faux bathroom. After the photographer calls it a wrap, she asks if she can return to a room lined floor to ceiling with plush toys and illuminated by black lights. She flashes her mom a smile before stealing away for a moment to just be a kid.
Not many of Giana's public school classmates knew about her online presence, and this year she started online and co-op classes to pursue more creative options such as sewing. Plus, the family is considering a move from the Dallas suburbs to the West Coast, perhaps a better locale for a child who hopes to be a fashion designer and artist when she grows up.
Then again, she's already doing both.
Get the ItList Newsletter
Be the first to know about Dallas' best events, contests, giveaways, and happenings each month.