The Star in Frisco is a continuation of what the Cowboys started at AT&T Stadium, massively scaled and art-filled, a world within a world. Outdoor neon screens make an artificial day of night. Tom Friedman's stainless steel sculpture Huddle fills a circular, turf-covered median. Huge parking structures dwarf a strip of restaurants. Zaytinya's vast, airy dining room, with its sophisticated accents of white and sapphire, appears uncannily matched to the blue and white of the giants who clash just a few hundred yards away. But its look is deceiving.
This modern Mediterranean restaurant at the Cowboys' headquarters is the second Zaytinya location for Michelin-starred chef José Andrés. The media-savvy, Spanish-born king of tapas has a 30-restaurant empire that includes the original Zaytinya in Washington, D.C., widely lauded when it opened in 2002. Its genesis lies in a lifetime of relationships with Greek and Lebanese friends, and olive oil—zaytoun, the Arabic word for olive, is embedded in the name—serves as the link connecting the foods of Greece, Turkey, and Lebanon. At the Star, a team led by head chef Jon Thompson and D.C.-based concept chef Michael Costa delivers Middle Eastern food that is abstracted through an exciting contemporary lens but still hews to traditional roots.
During any evening, the critical moment comes when you choose a path through the multitude of small dishes. Maybe you begin with a pickleback, raki and Turkish pickle juice served in small glasses on a silver tray, before moving on to the wine list, with its Chateau Musar red blend or crisp Assyrtiko white. Now you're contemplating the beauty of h'tipiti, a spread of silky roasted red bell peppers and feta, hinting faintly of thyme and Cyprian olive oil, like wind in the cypress trees. This is the beginning of a feast of wood-grilled meat and mezze.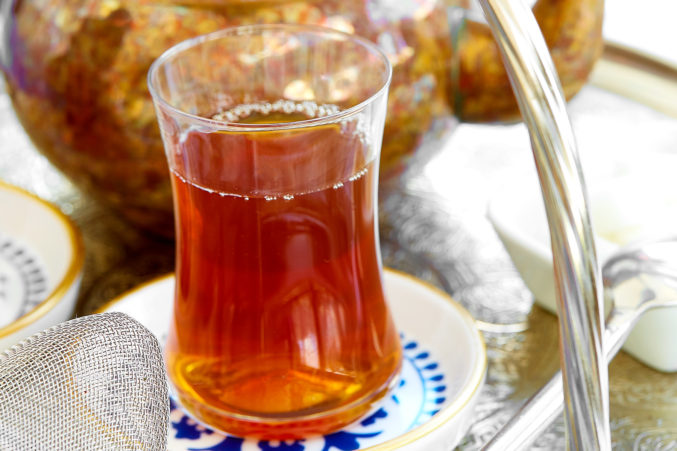 The plates arrive in waves that break over your table like the Mediterranean Sea that unites the interwoven cuisines—not flawlessly, but with a dynamism that would look attractive at 10,000 feet. It would certainly translate to a Jumbotron. You happily sink into the velvety depths of hünkâr beğendi, Turkish braised lamb shank that fills a beaten copper dish over lush eggplant whipped with kefalograviera cheese that reminded me of a decadent béchamel.
The best Middle Eastern food looks simple but is an aria. Pastirma, a strip of cured beef, comes with a plush apricot, radish slivers, and mint, ready to be rolled in a swift movement and popped into your mouth for an hors d'oeuvre-size bite with a medley of pleasures—sweet, spicy, and cured. The presentation would be unusual elsewhere, but it's a classic Turkish flavor profile. Swirls of color elevate other dishes. A salad of kale, smoked olives, and pistachio brittle rests on a luxurious flourish of saffron-yellow fava bean purée. Under tender, wood-grilled octopus set off by pea tendrils and capers is another yellow swish, this time of golden lentils infused with saffron. There are Brussels sprouts, fire-roasted until they're mahogany-tipped, then generously topped with yogurt sauce and barberries, not maple-sweetened or done up with bacon. (I've been told in many places I should order the Brussels sprouts. Here, the servers, who seem to know their stuff, are right. You should.) All the while, fresh pita arrives, warm and ethereally fluffy.
Since my visits, I've been thinking about a vision from a magazine article I dog-eared years ago—a lavishly set table under spreading olive tree branches on a hillside overlooking the sea. The vigor I saw there is the same I find here, where the cheese platter includes Turkish tulum, matured in a goatskin casing, or Greek manouri, made from whey left after feta-making, or sheep's milk vlahotiri.
Zaytinya rewards the adventurous with crispy fried mussels set over a dusky mauve walnut-based tarator sauce. A lamb phyllo packet holds a divine, juicy mix of feta, lemon, and herbs in its embrace.
Lamb, in fact, is a major motif, spitted on a wood-fired rotisserie. The kitchen harnesses its power in the $85 shoulder—one of four "family-style" plates—that arrives carved into slices, with a blackened crust melting down into the musky flavor of rendered fat and rosy meat, glorious and strewn with oregano. A fleet of servers delivers accompaniments: lettuce leaves for swaddling as well as the anointing balms of cucumber tzatziki, bright-red harissa, and toum—the garlic sauce to end all garlic sauces, so potent it rivals any pungent cheese and lingers like a coda to the perfect bite.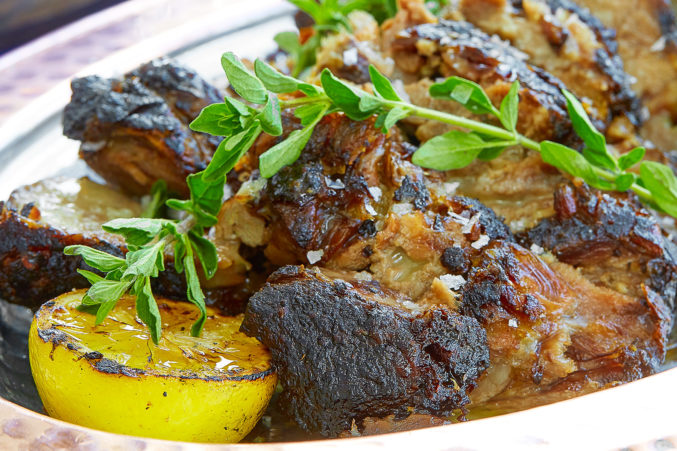 Was everything a dream? Chickpea flour-battered fried oysters could have been crispier. Eggplant was sometimes bitter. A chicken skewer veered alarmingly pink. My experience shows that all of this is swiftly forgiven when a table encounters the regal lamb shoulder.
Desserts might include piney mastic ice cream, yogurt mousse, or custard espuma. (Vegetarians fare very well here. Vegans, less so.) I found the endings uneven, at times aimlessly busy, but I admired standouts like the Turkish Delight, with walnut ice cream, honey gelée cubes, and a moat of heavenly orange caramel. Or the mesmerizing Chocolate Rose that marries rose, raspberry, and an airy cardamom mousse. In the best of cases, the line shivers between fragrance and flavor.
And then there is the tea service that comes swinging to your table, as the çayci (tea servers) in Istanbul would bring it. Perhaps the resident tea specialist advises you on the delicate notes of rose hip or camellia and serves your choice from a double-decker teapot that rests on an ornamental silver tray. Strong Turkish coffee comes in a cup as intricate as a sultan's dais. You look up to find that the dining room has cleared. It is only 9:30 pm. You were very far away. Now you take stock of the surroundings. Not a neighborhood but a sports complex, a place to visit and then leave. Which you do, taking the Tollway, imagining tomorrow's leftovers as a lamb wrap—with more of that toum.
Get the SideDish Newsletter
Dallas' hottest dining news, recipes, and reviews served up fresh to your inbox each week.