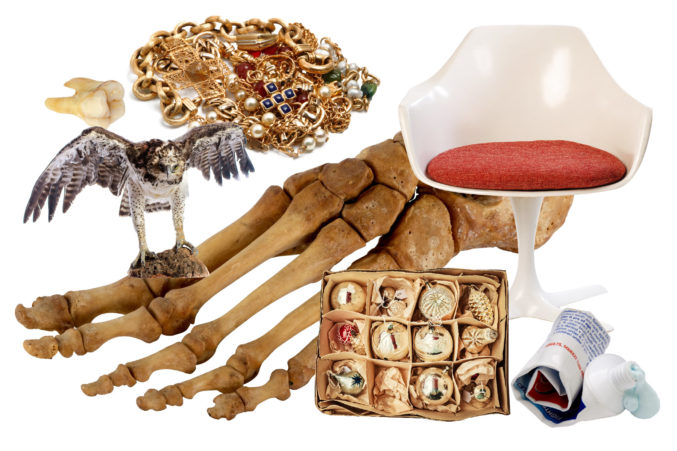 The Good, the Bad, and the Strange of Dallas Estate Sales
Take a look at the possessions of the city's elite, from teeth to ashtrays.
When your business is selling all the earthly possessions of Dallas' elite, you're bound to collect a few stories. We asked Remington Estate Sales' co-owner Jose Tamayo to dig up some of his.
---
"Anything morbid, anything to do with taxidermy, anything that's an oddity does really well. Pictures of anyone dead, any Victorian pictures of open caskets, those are usually highly collectible. One small black-and-white photograph can go anywhere from $10 to $40, depending on quality and size."
"Sometimes costume jewelry does better than gold, silver, and diamonds. Even Joan Rivers jewelry brings good money, especially now that she's passed."
"If I see a sale with Beanie Babies, I just want to shoot myself. There were spades of Beanie Babies collectors in the '90s. We've had sales with hundreds or thousands, and we can't sell them for more than $1. Maybe the top 10 still bring in a pretty penny—and by pretty penny, I mean $12 or $15. Sometimes we cost average it and price them all at $1, and sometimes we go through all of them to find that one Princess Diana Beanie Baby that's worth $14."
"We find things we can't even mention that are so crazy. We found a skeletal human foot, which is now on my desk. I'm the one who bought it because everyone else was grossed out by it."
"People are always looking for vintage holiday items. Those aluminum Christmas trees of yesteryear don't even last five minutes. They fly out the door for anywhere from $60 to $250."
"If I have a house with midcentury furniture, I just say cha-ching, because people will buy midcentury. It doesn't matter how expensive it is."
"Teeth are a big thing. The tooth fairy comes, the parents collect the teeth, they keep them, we find them, we bag them, we sell them. There are artists who make stuff out of human teeth."
"I always tell my clients, nothing is off limits, just leave it behind. Let us determine what's trash and what's treasure, because we know. You can bag used lotions, put it out for $4 or $6, and people will buy it. Jewelers use toothpaste to clean jewelry, and they'd rather buy it at an estate sale in a baggie with a toothbrush they can use to polish a ring. Those are things that even though they're used, they have a value. The only thing you can't sell is booze."
"We also know a guy who does sculptures out of sex toys, so instead of putting them out at the sale and embarrassing the homeowner, I call the artist and he pre-buys them."
---
Hidden Treasure
Cory Crites of DFW Estate Liquidators will never forget the most expensive ashtrays he ever sold.
"I put some preliminary photos up for a sale in Benbrook and started getting phone calls from people all over the country, from the East Coast to the West Coast, asking how much these little brass ashtray-looking things were. I'm already being offered thousands of dollars in cash, and I didn't know what they were talking about. I spoke with a colleague and we determined they were two ancient Chinese bronze censers from the Yuan dynasty used to burn incense. They were potentially valued at $20,000 apiece, and if they went for auction they could be valued upward of $40,000 apiece. It was mainly the Chinese community that was interested in the items. We had people showing up two days before the sale, sleeping out in rented vehicles. I had one guy following me the day before the sale. I stopped my car and the guy pulls out a wad of $100 bills, probably 4 inches thick. He says something like, 'Big boss, big boss. You sell to me now.' He shows me an airplane ticket. His boss flew him down from New Jersey to purchase the censers. I told him no, we don't do presale, he'd have to wait in line like everybody else. We ended up selling them to someone in line before him. I sold one for $17,000 and the other for $20,000."
---
Bringing Down the House
In January, Rhonda Hunnicutt's DFW Pre-Demolition and Estate Sales handled one of the biggest pre-demo sales in recent Dallas history: the takedown of the former Trammell Crow estate, now owned (and razed) by billionaire Andy Beal. Here are her notes on what was salvaged:
"Anything can be sold when houses are getting torn down. At the Trammell Crow estate, I sold everything from light switches ($5) to bank vault doors on the basement wine cellar ($1,000 apiece). It took four men to carry out each door."
"The great-granddaughter of the man who built the house in 1913 flew in from Denver. I picked her up at Love Field and we pulled out small windows on the third floor for her to make side tables for her children's homes."
"A woman redoing a cottage in Waco hand-chiseled all the tile out of the kitchen, piece by piece. It took her a day and then some."
"The backyard had Pennsylvania bluestone done in a Versailles pattern. A couple who owned a ranch in McKinney brought in two Bobcats to knock it up, and they filled three flatbed trailers. They knew what they were doing."
"One of the first things that usually sells are the toilets, because really nice houses always have expensive Totos. It's the Viking Range of toilets."