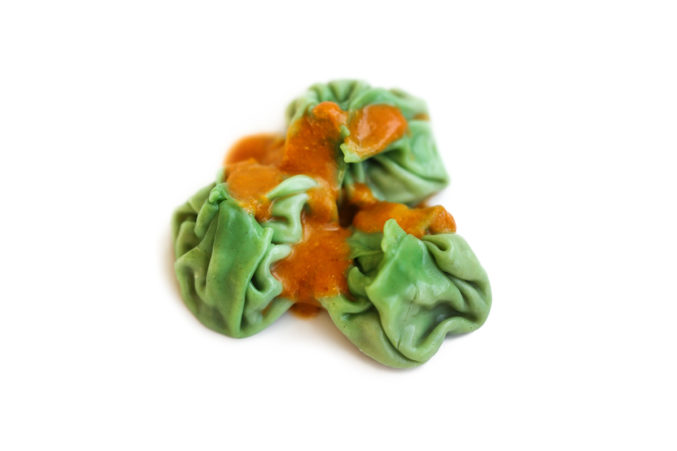 Eat This Now: Muda Flavors of Nepal's Dumplings
Made from freshly ground spices and local produce, these are bursting with flavor.
When Dipesh Acharya moved to Texas from Kathmandu as a student in 2008, he no longer found momo, traditional Nepalese steamed dumplings, on every street corner. Cravings for the flavors of home sent him into Indian and Nepalese grocery stores, and then into his kitchen. Now, his Muda Flavors of Nepal offers handmade dumplings that burst with flavor, made with freshly ground spices and often produce from its Dallas Farmers Market neighbors. (In Nepal, the word muda denotes colorful hand-woven stools of bamboo or cane. "I chose this name," Acharya says, "because it's something you'd find in every home in Nepal.")  Chicken dumplings set green onion against a background of ginger, garlic, and spices—cumin, coriander, turmeric, and chile powder. Smoked paprika is a personal touch, as is Acharya's focus on vegetables. Vegan dumplings in their bright-green broccoli wrappers are excellent with a silky tomato dipping sauce. And his chai will have you dreaming of the Himalayas. Soothing and milky, it's made with organic milk, tea leaves from Nepal's Ilam region, and a touch of local honey. It's blessedly not too sweet, a complement to the savory food.